Reading Time:
4
minutes
By Tom McCabe
In the world of volleyball, players like Xander Ketrzynski don't come around very often.
Throughout the first half of his rookie Ontario University Athletics (OUA) season, the six-foot-nine outside hitter has been wreaking havoc on the province and serving as a vital piece of a very young Ryerson Rams roster.
"He has been incredibly important to our team this season," says interim head coach Niko Rukavina. "His strength in attacking has provided the coaching staff some options in terms of our lineup ro tations and decisions which have helped the program."
Through nine matches, Ketrzynski currently leads the OUA in kills (170), kills per set (5) as well as points per set (5.8), while also ranking third in service aces with 17.
His current season high of 29 kills, which came against York back on Nov. 23, is good enough for second in Rams history for kills in a match. The record belongs to recently graduated Lucas Coleman, who had 30 in 2018.
There is potential that Ketrzynski will have his name instilled throughout the Ryerson record books when all is said and done, but he insists he has plenty of room to grow as a player.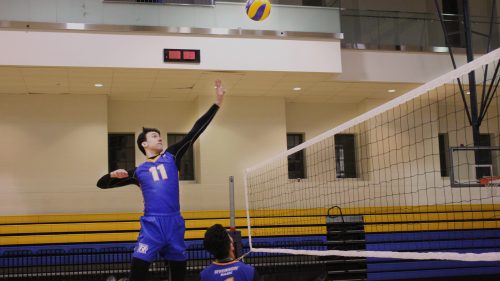 "Managing unforced errors, whether it's blocking or attacking, I really need to stay disciplined," he said.
He outlines his ball control as an area to improve upon. While Rukavina is thrilled with his star rookie, he echoes these sentiments.
"Defensive preparation and positive dig touches are always something we can get better at," Rukavina said. "The main thing with Xander is having him working on technical skills that will get him to the next level."
Ketrzynski also relies on the advice he receives from his father Alex, which usually comes in the form of a (sometimes lengthy) post-game text message.
Alex represented Canada at the 1984 Summer Olympics in Los Angeles for indoor volleyball, and he's also the one who initially introduced Xander and his brothers to the sport.
He took to the game naturally and was playing club volleyball by Grade 7. By Grade 10, he was playing two years above his age group for the 18U Pakmen Volleyball team, one of Canada's premier volleyball clubs.
It was there that Ketrzynski first started working and building a relationship with Rukavina and Rams head coach Matt Harris, who recruited Ketrzynski to Ryerson.
As he continued to improve, it seemed that wherever Ketrzynski played, he excelled. He spent three summers with Team Ontario, highlighted by the summer of 2017 when he won both the Canada Summer Games and the USA Volleyball High Performance Championship, where he was also named MVP.
Recently, he won the national championship MVP in his 18U club season and spent last summer with the Canadian junior national team, which he cites as one of his most memorable volleyball experiences.
An impressive club resume throughout high school led to Ketrzynski becoming among the most sought-after recruits in North America. Calls came from schools across Canada, as well as some strong NCAA programs in the United States.
Despite all of the attention he was getting, Ketrzynski says it was the trust he had built with both Harris and Rukavina during his Pakmen and Team Ontario years that made it appealing to stay in Toronto.
"I know that he's a one-of-a-kind player that stands out from the rest"
"At the end of the day, Ryerson had the program that suited me the most and Matt was really straight up with me," said the Toronto native. He also appreciated Harris' honesty about which areas he and Rukavina wanted to help him improve.
Since walking through the doors of the Mattamy Athletic Centre in September, Ketrzynski has felt like he's fit right in. He had played with a handful of current Rams with Pakmen and the continued support he's received from Rukavina has contributed to the natural fit.
"I've known Xander for a while now," said teammate Navreet Suhan. "I know that he's a one-of-a-kind player that stands out from the rest." Suhan also added that it doesn't "matter what age group he plays against."
In addition to preaching the importance of academics, Rukavina is able to pull from his own experience as an OUA volleyball player to offer advice to Ketrzynski.
"The main advice I've been discussing with Xander is how the length of the OUA season is taxing on the body and mind," said Rukavina.
Ketrzynski is hesitant when asked about his personal goals within the sport of volleyball. He admits playing professionally would be a dream come true, but for now he is focused on the season in front of him and working toward building a winning culture at Ryerson.
With his physical skills, Rukavina says that "the sky is the limit for an athlete like Xander."
It will be his efforts in the coming years as a Ram that will help shape his future, which is a promising one for himself and his young team as they seek to return to the OUA Final Four provincal tournament for a fifth straight season.
If the rest of his OUA career resembles the trajectory seen in the first half, expect to witness something special whenever he touches the floor. Players like Ketrzynski don't come too often.