Reading Time:
4
minutes
Profiles by Alex Ramsay
Roy Luo — @ROYLUOART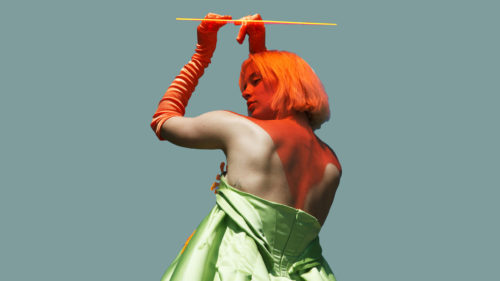 The most exciting aspect of designing fashion to Roy Luo is being able to curate every aspect of the design process and give his own personal touch to each element. "I like seeing my ideas become tangible," he says. "I often am so holistic in the process of my designs." Every element of a garment, down to the labels and textile prints, is often manipulated or treated to suit his designs.
Now a third-year fashion design student at Ryerson, Luo's work often straddles the line between typical fashion and wearable art.
He points to his piece "Sick Day" as an example: a dress he designed in his first year that doubles as a richly coloured allusion to childhood feelings related to the notion of 'sick days,' and also as an incredibly gorgeous piece of fashion.
Themes of queerness, memory, childhood nostalgia and identity often factor heavily into many of Luo's pieces. "A lot of the time I draw from images and textures and feelings that I have from childhood," he said. "All of my ideas are constantly and consistently informed by my queer identity. That's where I've found my voice."
Luo says that art was one of the very few subjects that he genuinely enjoyed while attending high school. "I basically knew for sure that I sucked at everything but art," he says with a laugh.
Most recently, Luo crafted a piece called "The Pierrot Suit" that explores clowning and performance in relation to, and as an extension of, queerness. "I got to explore identity not only theoretically, but also incorporate it into a garment as practice." LED lights are woven throughout the garment and sensors in the gloves lead the suit to light up with undulating colours based on the wearer's hand movements.
"I always like to do something that's queer or quirky in a way, and in that way I like to think I'm helping to queer fashion" Luo says. "That's where I've found my voice."
Olivier Élie — @DOSSIER.STUDIO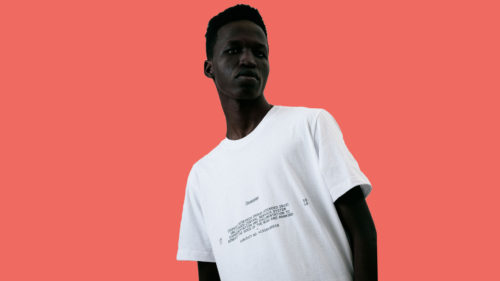 Olivier Élie's interest in fashion came after his first heartbreak as a teenager. Binging Suits in the midst of his post-breakup depression, he was inspired to start dressing better.
"I started dressing better and taking better care of myself aesthetically and I realized how much that made me feel better and brought me confidence," he says.
Today, Elie and two of his best friends, Noel Goertz and Ryan Davis, collaboratively manage the clothing brand Dossier, an amalgamation of each of their divergent tastes in fashion. "We're all very into fashion but we also have significantly different styles, so we tried to find a way to bring them all together," says Elie, who has grown an appreciation for the minimal and understated designs of Scandinavian fashion.
Meanwhile, Goertz bring an interest in high-end, vintage fashion from Japan and Italy while Davis is drawn to the subtle designs of underground styles respectively.
Music also plays a significant role in how Dossier crafts and markets their designs. "For each collection and each piece I like to bring in a story attached to it," he says. "And often that comes from music."
An upcoming collection is inspired by indie rock band The National's 2017 album Sleep Well Beast for instance, using images to translate the album's themes and the band's overall melancholic romanticism in a visual fashion.
Although he brings a diverse range of inspirations to his work, Elie says he enjoys his work the most when it comes from a personal place. "My most genuine creative work comes from me expressing myself," he says. "My favourite thing to create on is my emotions."
Amanda Perlin @DVORADESIGNS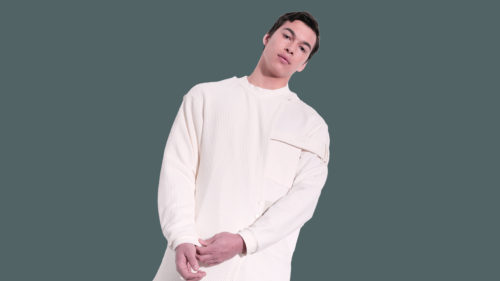 Amanda Perlin has been drawn to visual arts since a very young age, going so far as to try and communicate with her mother through drawings before she was even able to speak. "My hand always gravitated toward a pencil," Perlin says.
For years, illustration was largely just a casual pass-time for Perlin but after taking an arts course in high school as an elective, Perlin said that she realized "I need art in my life." Although her background was largely in illustration, Perlin was drawn to the challenge of creating pieces in a more physical and tactile way.
"I didn't own a sewing machine before coming [to Ryerson], I'd never even touched a sewing machine," she explains.
In Perlin's words, much of her personal designs that she showcases through her brand, Dvora Designs, are meant to combine functional and traditionally feminine fashion, adding aspects like extra pockets and storage space, while still maintaining their aesthetic appeal. "I want to play on what it means to be feminine and how clothes can be interpreted as feminine. I'm always going to be that person saying that women's wear is not as functional as men's wear."
Much of Perlin's work is a balancing act between finding something that is practical without becoming soulless and pretty without sacrificing utility.
"If I'm wearing something and I go out dancing, am I going to have to change because I only have certain clothes that I can dance in without ripping them?" she asks as an example.
"That what it always comes back to for me," she says. "Being able to find clothes that you can look good in but that aren't restricting you."