Reading Time:
4
minutes
By Madeline Liao
The Ted Rogers School of Management is usually home to Toronto Metropolitan University's (TMU) business-oriented student body, but last week, it also housed a renowned culinary event. 
The Met Dining Room had the opportunity to participate in Summerlicious, a city-wide foodie event highlighting over 200 local restaurants, which had been on hiatus for two years due to the pandemic. 
TMU's The Met Dining Room participated in Summerlicious for the first time this year, offering Toronto a taste of the university's culinary and hospitality talents. From Aug. 12 to 28, students and visitors alike got to experience a high-class dining experience with a three-course prix fixe menu for $27. 
The menu included a variety of dishes featuring Canadian, European and French cuisines. The meal included an appetizer, entrée and dessert, with three options—including vegetarian and vegan ones—for each course.
Restaurants were given a choice of four price points to set their meal at. The Met Dining Room chose the cheapest option, allowing students to afford a dining experience they may not be able to elsewhere in the city, said Tommy McHugh, the executive chef of The Met Dining Room. 
"We're offering a two or three course meal for the price that you would pay for a burger, fries and a drink somewhere around here," he said.
Food accessibility was a key aspect of the menu, according to McHugh. He said much of his menu planning was based on bringing a palette of local ingredients at a reasonable cost. 
"Everybody should be able to have access to good food"
McHugh trained at various institutions in London, including L'Atelier de Joël Robuchon and The Ivy Restaurant. He found that high-quality food was still priced at a reasonable rate across the pond, allowing students and those with lower incomes to access things like fresh produce. He wanted to apply that same philosophy to The Met Dining Room, starting with the Summerlicious menu. 
"Everybody should be able to have access to good food," he said. "If people have an appreciation and understanding of food, it means that there'll be more support [and] more demand for these products."
Christine Balaong, fourth-year hospitality and tourism management student, has worked as a co-op student at The Met Dining Room since the fall of 2021. She said it's been a "roller coaster of a ride" given how pandemic restrictions have changed throughout her time at the dining room.
Balaong said working at Summerlicious in a primarily student-run facility came with many learning curves which required her to adapt—especially since The Met Dining Room isn't a large-scale restaurant. While most Summerlicious venues have professionally-built restaurant environments, The Met Dining Room is a less conventional setting, surrounded by classrooms and lecture halls. 
"We are very different than most other Summerlicious venues," she said. "So we definitely had our lows but we managed to pivot and create the best experience for our team as well as for the guests who were to come."
Balaong also said having a different demographic with guests from outside TMU was a good way to spread the word about the hospitality and tourism management program and The Met Dining Room itself. 
Summerlicious is over, but this is just the start for The Met Dining Room. It resides on the seventh floor of the Ted Rogers School of Management building and will be open on Tuesdays and Thursdays from 11:30 a.m. to 2 p.m. 
The Eyeopener had a chance to catch the event before it ended on Aug. 28, squeezing into a fully-booked schedule on its second week. Here is Madeline Liao, The Eye's arts and culture editor's, review of the courses we tried:
Appetizer: Treacle Cured "BAP" Salmon
3.5/5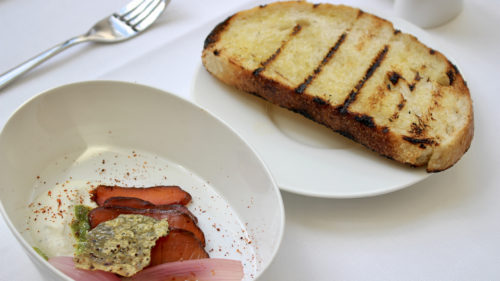 This dish was an unexpected but refreshing start to the meal. The salmon had a soft texture and its smoky and salty flavours paired nicely with the herb and garlic cream cheese. The sourdough bread served on the side however, was a bit overly toasted for my liking and had a rough edge. Overall, this appetizer offered a flavour I am not typically used to…but in a good way. 
Entrée: Sous-vide Chicken Breast
4.5/5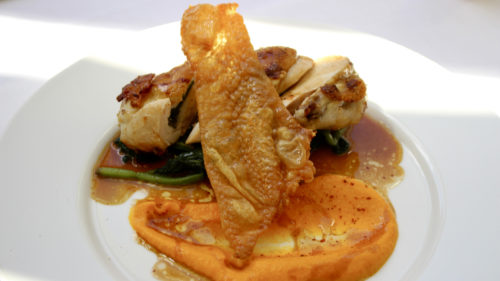 This dish was my favourite of the three courses. The chicken was nicely prepared, flavourful and paired well with a carrot and ginger purée. According to McHugh, the technique for preparing the chicken breast is elaborate, from brining the chicken to cooking it at the perfect temperature. While I'm not a food expert, to me the rich flavour and amicable plating reflected its careful preparation. 
Dessert: Milk Chocolate and Raspberry Budino
4/5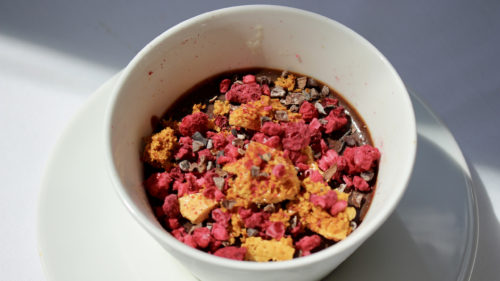 Described by McHugh as a "really really fancy chocolate pudding," this dessert was incredibly smooth and rich. The honeycomb's crunch contrasted with the smoothness of the budino. It was pretty delicious and surprisingly not too sweet. I wasn't a fan of the texture of the cocoa nibs in the dish, but that was just a personal preference.
Overall Experience
4.5/5
Overall, Summerlicious at The Met Dining Room was a pleasant and memorable experience. The food was delicious and well-prepared, and the service was warm and friendly. Even though the dining room had many visitors and the staff were busy the entire time, I still felt as if we were the only customers in the room.