Reading Time:
4
minutes
welcome to the new and (kind of) improved TMU
Words By Mariyah Salhia
Visuals By Sonia Khurana and Vanessa Kauk
O
n April 26, 2022, a lot changed for Toronto Metropolitan University (TMU) students scrolling through Twitter when they came across a video of president Mohamed Lachemi announcing the new name, along with a definition of what it means to be "metropolitan." A cheerful Lachemi, standing in the light of a city facing window at the Sheldon and Tracy Levy Student Learning Centre (SLC), invited the TMU community to join him in writing the school's new chapter together.
With the news making national headlines, the school got to removing some of the campus' most well known references to the former Ryerson name, like the neon "RU" sign that used to adorn the front window of the SLC. Still, a short walk down Gould Street will quickly reveal that there is still much to be changed. "Ryerson University" signage still lives and is visible throughout campus and inside buildings.
And while these nods to the school's past can still be found on most buildings, the rebrand has slowly but surely begun. The new name comes with some fun, new physical changes around campus that will hopefully help us all feel a little more like the new chapter is being written. So, from the corner of Yonge-Dundas Square, to the very end of Gould Street, here are some new sites students should look out for.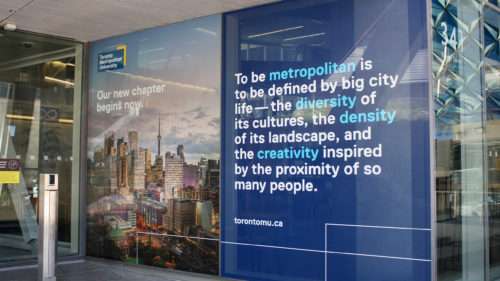 A new sign on the SLC window
Running up the grimy steps of the SLC, most likely while holding their breath, students will notice in place of the school's old, neon "RU" is a new sign on the SLC's front window, telling students that their "new chapter" is beginning, while also reiterating Lachemi's message on our new identity as being "metropolitan." If there was ever a time for urban planning students to feel seen on campus, apparently it's now and specifically in front of the SLC. Just past this window, students will find another TMU staple; the SLC Starbucks. Rumour has it that nobody has ever seen this Starbucks have adequate stock of all three cup sizes at once.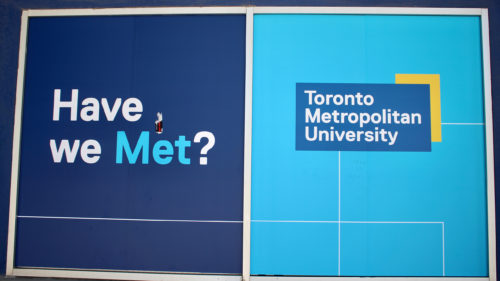 New Met-cetric puns…literally almost everywhere
After passing the SLC and hopfully avoiding being hit by a truck turning out of the alleyway, students will notice signs with the new TMU logo, as well as the revamped "Toronto Metropolitan University" logo. With the loss of the "RU" puns, including the ever-favourite RU-Secure Wi-Fi network name, students can look forward to the new onslaught of "Met" based puns, many of which they'll probably have to read against their will, like across the new signs on the Campus Store windows. From "Have we Met?" to "It's nice to have Met you," the puns are coming in pretty hot and there is seemingly nothing anybody can do to stop them.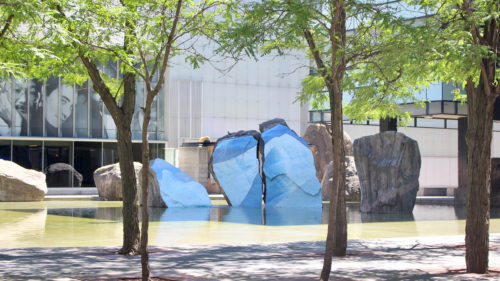 Art at Lake Devo
Once students make their way past the Campus Store, they can look to TMU's Devonian Lake, better known as Lake Devo, for some much needed rest from the sites and smells that waft over from the corner of Yonge and Gould streets. A favourite hangout spot for students who like to people-watch and live out their dreams of feeding ducks, or in this case, pigeons, Lake Devo's iconic Precambrian boulders recently got a facelift. Floe/Flow, an installation by Inuk artist Jimmy Manning features an original photograph of an Arctic iceberg, painted onto the boulders. The installation makes for a beautiful addition to the campus, and creates a rather poetic juxtaposition between it and the pond's ever-changing pollution.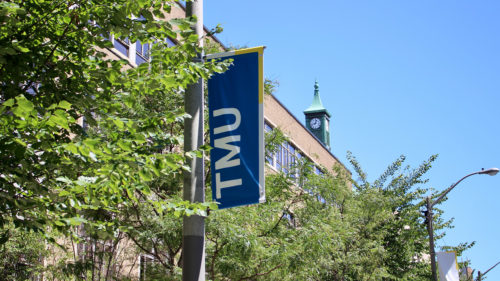 TMU banners. All over the place.
Looking just past Lake Devo, students will see a row of brand new TMU banners hanging from the lamp posts, lining Gould Street and beyond. With the font and colour scheme exactly the same as the school's previous branding, the signs might make students feel like they're witnessing a real life glitch in The Matrix. Rest assured, students, as far as The Eyeopener knows, The Matrix does not have you. Yet.
The bridge (almost)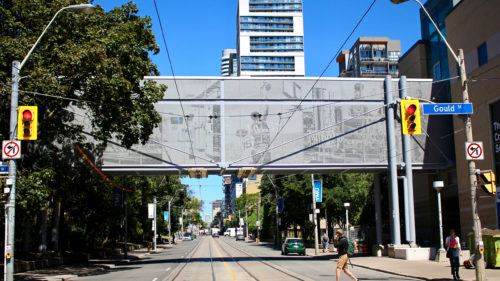 When students get to the corner of Gould and Church streets, they'll be greeted by the brand new KHE-RCC bridge. This pedestrian bridge connects Kerr Hall East (KHE) and the Rogers Communication Centre (RCC), which makes traversing campus and getting to class without facing the elements much, much easier. Last year, the bridge was closed down to repair its leaky windows and skylights. After a year of construction, the bridge is finally done! On the outside of the new bridge, students can see images that seem to have been painstakingly chiseled into its exterior, some even depicting TMU's best known architecture, like the SLC. Based on real life accounts of reporters at The Eye trying to walk across this bridge, it's not actually open for pedestrian use, despite the latest update from TMU Facilities Management and Development stating the bridge was to be opened for use in April 2022.
F
rom what our school's new mascot is going to be, to whether or not the SLC Starbucks will ever have venti-sized cups, this next semester is sure to have everyone full of curiosity. And while TMU's new aesthetic changes are the least pertinent to the school's new identity, everyone on campus is hoping for this first chapter in our school's new history to be one that we're all proud to be a part of and hopefully new signs will help move it forward.