Reading Time:
8
minutes
By Prapti Bamaniya
Financial controller, Harj Grewal, was dismissed from his position at the Toronto Metropolitan Students' Union (TMSU) Board of Directors (BoD) meeting on July 26.
Confidential documents obtained by The Eyeopener state that Grewal failed to fulfil duties as financial controller. Specifically, they say he failed to send in payroll for staff on time, didn't send transit grants to a student on time, submitted an outdated budget package and did not answer emails on time.
The documents were to be discussed during an in-camera part of the meeting, but were mistakenly sent to all student groups by President Marina Gerges.
This violates section 8.13 of the TMSU bylaws, which states matters within in-camera meetings must remain confidential.
Last year, a motion to impeach TMSU board member David Jardine stated they shared confidential information to the Canadian Union of Public Employees (CUPE) Local 1281. The motion to impeach Jardine passed.

The documents were meant to be sent to student groups directors but mistakenly went to student groups, said Gerges. She sent an apology email asking recipients to delete the initial email.
"I made the mistake and was very upset about it, " she said.
Also at the meeting, Salar Syed was temporarily suspended as vice-president operations after receiving two complaints.
Shirin Kalavi, a representative from the faculty of science, said the oversight committee received two complaints that Syed wrongly accused others of breaking bylaws.
Syed did not deny the allegations.
An investigation was conducted into the complaints. In addition to his suspension, Syed said an apology to the complainants was something he was "willing to write."
Additionally, vice president education, Umar Abdullah, announced his resignation from the TMSU at the meeting after saying he accepted an opportunity in his field.
"I think that it would be great for my personal growth—so I will be resigning from my position. The board can take this as my formal notice of resignation from my position. This is my two-week notice," he said at the meeting.
While congratulatory messages rolled into the chat, President Gerges said she was surprised to hear the news.
"I am in shock and I will miss you," she said at the meeting.
Here's everything else you missed at the July BoD meeting
Contributing $150,000 to new furniture at the Student Campus Centre (SCC)
The Palin Foundation will be putting new furniture in common areas on every floor of the SCC. The TMSU will contribute 50 per cent of the cost of the new furniture.
Gerges said since most TMSU members utilize the shared space, they will pay half the cost—a total value of $150,000.
New ex-officio positions ratified
The following positions were ratified after BoD elections outside the meeting: Ayra Rajpal as student groups representative, Arezoo Rafkhani as course union representative and Nathan Sugunalan as senate representative.
Executive updates
President Gerges said she selected emergency grant recipients for this year and met with course unions and student groups. She also met with an accounting firm, Yale and Partners, to look into internal accounting practices.
Vice president operations Syed said CopyRite equipment will be ready and working by the beginning of the school year.
There were no updates after the Toronto Transportation Commission student discount pass announcement at the June BoD meeting. Gerges said she has plans to create a committee that will focus on the pass.
Here's what you missed from June's BoD meeting
---
Students finally receive transit grant after seven months, president claims at June BoD meeting
By Edward Djan
Students are finally receiving the transit grant they were first able to apply for back in December 2021.
The previous Board of Directors promised to provide a one-time grant to students taking public transit based on financial need.
Toronto Metropolitan Students' Union president Marina Gerges also revealed that the students' union is working on eligibility requirements for an emergency grant.
Eligible recipients will be able to receive at least $100. Gerges said $40,000 has been allocated to the bursary and she is hoping to make it available to 400 students.
A non-BoD member simply known as "Riana" was granted permission to speak during the meeting. They used their time to ask Gerges why it has taken so long for students to receive the emergency grant.
Gerges responded by saying it was taking a while since the students' union is working to change the eligibility requirements because the current requirements are "as excessive [as a] student loan."
Gerges also added that she was "choosing to take it on as it lies under the portfolio of VP operations and no hand is offered to me."
Salar Syed, vice-president operations, said he told her that was his job, "but you ordered me to stop."
"I feel like that's really disrespectful to throw my name under the bus," Syed continued. "If you ordered [me] to stop that means you should say that, Marina. The president ordered [me] to stop."
A timeline has not been provided as to when students could expect to see the grant.
Here's what else you missed at the June 17 Board of Directors meeting:
Committee and Commissioner Elections
Elections for committee and commissioner spots went off without a hitch for the most part, with the exception of the athletics commissioner position.
Joel Kuriakose, the Board of Governors (BoG) representative, was initially the only person in attendance at the meeting to put his name forward to run for the athletics commissioner position.
Gerges then asked the meeting chair, Corey Scott, to table the election for that specific position for the following month's meeting because Faculty of Communication and Design (FCAD) director Vincent Lecompte was not present.
"I feel like he would really like it and it is only one position, so just in the name of fairness, I feel like we should table it," Gerges said.
Scott refused, explaining that, "board members should be indicating if they want to be on committees ahead of time and are able to be present."
Appearing to try to reach a compromise, Scott asked Kuriakose if he wanted to wait until the next meeting to hold an election for the position. Kuriakose declined and said, "I have given hours for this meeting. I showed up and it's unfair if we are tabling it."
Both Gerges and fellow FCAD director Dalia Chami offered to nominate Lecompte.
Scott then asked if someone in the meeting could contact Lecompte for him to accept the nomination.
Lecompte was able to join the meeting via an executive's phone. The meeting minutes did not disclose which executive's phone Lecompte joined the meeting from.
Lecompte expressed concern over a potential conflict of interest that he might have as the executive of a soccer club at the university, which receives funding from the students' union and also pays him to work there.
Scott then proceeded to read the students' union's bylaws. According to the meeting minutes, Scott was reading from page 18, which describes the role of the athletics commissioner, under section 5.6.
After reading the section, Scott then said, "I don't see a huge direct conflict here."
Following a vote, Leompte beat Kuriakose for the position of athletics commissioner.
Section 9.16 of the bylaws states that if any BoD member believes they may have a conflict of interest regarding an issue the board is considering, they must state the interest at the meeting the issue is being discussed, which Lecompte did.
While the athletics commissioner is not responsible for the funding of any student group, if the board were to hold a vote regarding student group funding that may affect the group Lecompte is a part of, he may need to recuse himself from discussion and voting on the matter as per section 9.20.
According to section 9.23, a person will have a conflict of interest if they do not reveal that they stand to gain a "direct or indirect personal, financial or material benefit."
Here are the other members voted onto committee and commissioner positions: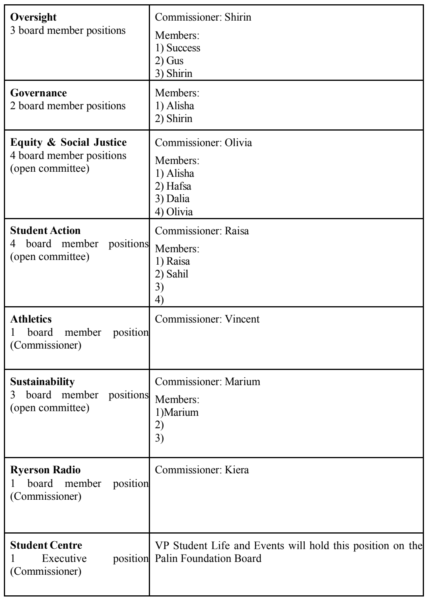 Reanna Maharaj appointed as sole person responsible for labour and employment issues
Despite opposition from Kuriakose, the board voted to make executive director Reanna Maharaj the sole person responsible for dealing with labour and employment issues regarding individuals on the board.
Union rules, as set out in the collective agreement between CUPE 1281 and TMSU, state that one person from management must be appointed to deal with labour relations issues.
The motion brought forward by Gerges also added that the president must be informed of all labour relations issues, excluding ones that may include the president.
Kuriakose expressed concern that the president shouldn't "be given that much power."
He wanted the executive committee to be notified of labour and employment issues in the event the president is the subject of one.
"We have seen this in the past that previous presidents have been in charge of the credit card rights, confidentially dealing with the executive director. Things were not amazing," Kuriakose said.
Gerges defended the motion, pointing to the clause that recuses the president from being privy to any information if they are the subject of a labour issue. "It is obvious what the goal of the motion is," said Gerges.
While the motion requires all employment and labour issues to stay confidential among the executive director, labour counsel and president, the executive director must give updates during monthly BoD meetings.
Executive Updates
A motion by Gerges for "executive roadmaps and reports" to be accepted was not passed since quorum was lost.
According to section 8.1 of the students' union's bylaws, "a majority of the voting directors shall form a quorum for the transaction of business."
Syed said he wanted to market the legal clinic that was being offered by the students' union's health and dental benefits provider Gallivan as of May 1. According to Syed, the clinic will provide up to $1,500 in "advice" to students for issues ranging from civil lawsuits, eviction notices or immigration concerns.
He clarified during the meeting that the legal clinic will not send a lawyer to represent students in court and after $1,500 worth of services are used, students are on the hook for any legal help they need.
Gerges expressed concern about the legal clinic and asked not to proceed with it.
She alleged that both she and Syed agreed that it was unnecessary for Gallivan to provide legal services as well. Gerges also alleged that she has not seen how much Gallivan is charging the students' union.
Syed responded by saying he tried to hold a meeting with Gerges and Gallivan, but that Gerges was unavailable.
Gerges responded by saying when she asked for documents, Gallivan wanted to meet in person, adding she "thought it was better to send the docs instead of meeting."
Vice-president education Umar Abdullah said he has been reaching out to other schools to see how they provide discounted transit passes to their students, adding that he'd only received a response from one university association.
According to Abdullah, for the proposed Toronto Transit Commission pass to become reality, two schools must be involved in the program.
Vice-president student life Ozioma Molokwu said she is working on discounts for SPC cards and events for orientation.
---
CORRECTIONS FOR STORY ON JULY 26 BOD MEETING: A previous version of this story stated that the in-camera information was sent to The Eye and student groups, however, The Eye only obtained the documents.
A previous version of the article did not include comment from TMSU President Marina Gerges and said ex-officio members Ayra Rajpal was elected senate representative, and Nathan Sugunalan as student groups representative. This article has been updated with comment from Gerges.
A previous version of the article stated that former TMSU board member David Jardine was impeached for sharing confidential information to the Canadian Union of Public Employees (CUPE) Local 1281. The story has been corrected to say that a motion to impeach Jardine stated that Jardine shared this confidential information and the motion to impeach Jardine passed.
A previous version of this article stated the complaints issued against Syed were anonymous, when in fact the committee merely did not reveal the identities of the complaint issuers.
A previous version of this article stated that an investigation into the complaints would be taking place. However, an investigation took place and was completed prior to the BoD meeting.
A previous version of this article said that Syed would issue an apology to the complainants as a penalty alongside his suspension. Syed voluntarily offered to write an apology to the complainants.
The Eye regrets these errors.