Reading Time:
6
minutes
THE BEST MICHELIN-REVIEWED RESTAURANTS FOR TMU STUDENTS
Visuals and Words by Jes Mason
On Sept. 13, Michelin released its renowned guide for Toronto—the first for a Canadian city.
Michelin awarded stars to 13 restaurants in the city. Five of them were in and around Yorkville and many of them boasted several-hundred-dollar tasting menus featuring Japanese, Italian and contemporary cuisine. As a student who's into food, I've never eaten at any of these restaurants and I know I won't be able to afford to any time soon.
But students are in luck! Alongside the guide, Michelin also released its lesser-known but "just-as-esteemed" Bib Gourmand recommendations, recognizing 17 affordable spots in the city. On behalf of The Eyeopener, I set out to find the best Michelin-reviewed restaurants for students. From Nashville-style fried chicken to sweet-and-sour eggplant, one of these spots is sure to hit the spot. The reviews are based on a few things: affordability, ambience and of course, the food. We adhered to a Michelin-esque rating system of one to three 'eyes': one is good and three is goddamn amazing.

On the outer edge of a run-of-the-mill suburban plaza in Scarborough lies a smoked meat restaurant that is anything but ordinary. SumiLicious takes after its owner and namesake Sumith Fernando—unassuming, welcoming and captivating. The counter-service deli seats about 20 people but the line to order was nearly out the door by the time I got there on a Saturday afternoon.
I ordered a smoked meat sandwich combo ($17.50) and Fernando kindly threw in a black cherry soda, a staple drink for smoked meat delis. Despite the growing crowd, I only waited about ten minutes to eat. Two cooks behind the counter were taking orders and slinging sandwiches like a well-oiled machine. They were quick and calm, hallmarks of a good kitchen.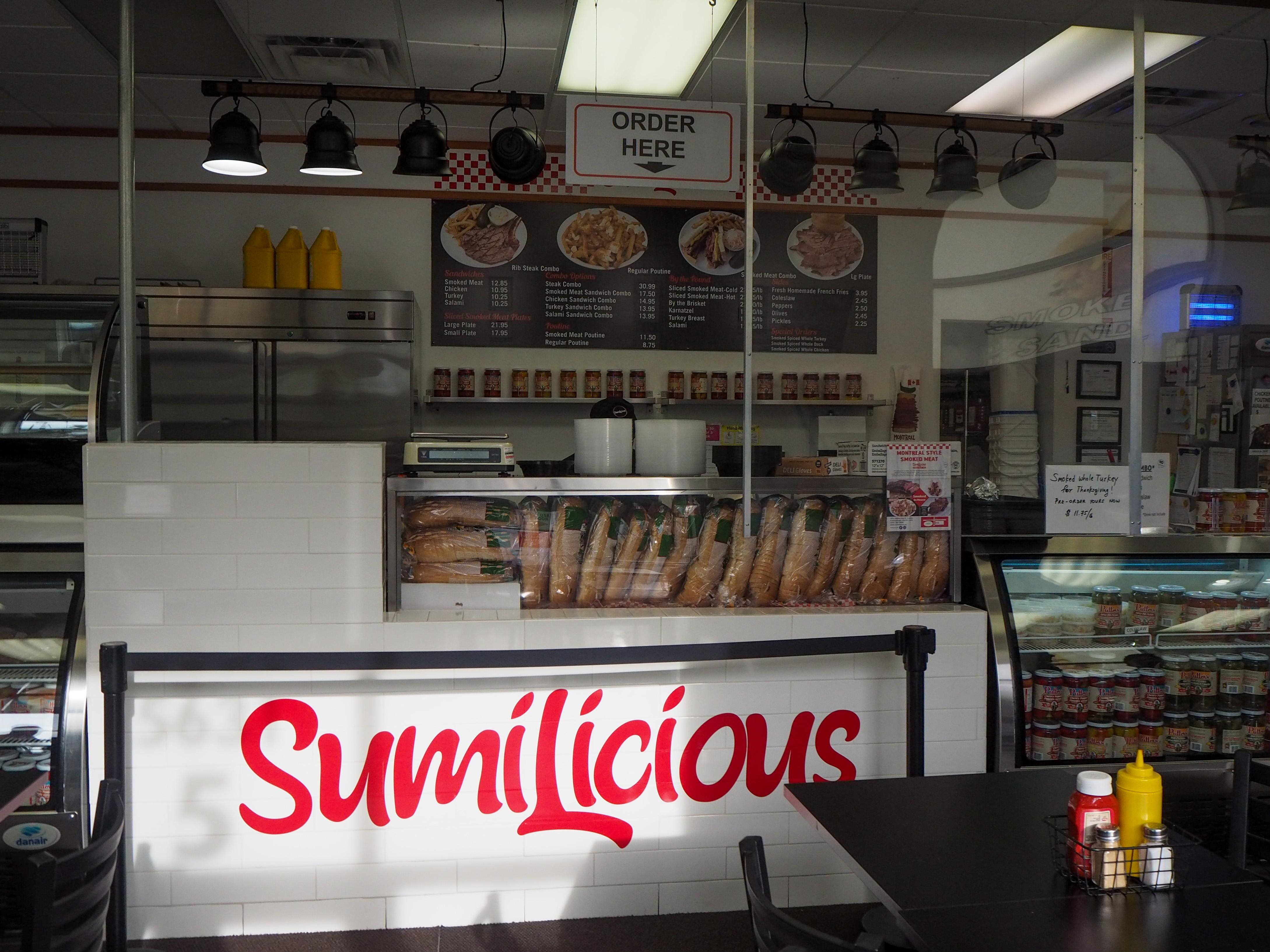 The combo comes with a sizeable side of fries, a small coleslaw, a dill pickle and the iconic smoked meat sandwich. The soft sliced rye bread is drizzled with Heinz yellow mustard and absolutely stacked with brisket that falls apart in your mouth—tender, rich and salty thanks to a 10-day brine and several hours of smoking. It's surprisingly not messy to eat. The fries are perfectly crisp, seasoned with a bit of paprika, and the coleslaw is tangy and refreshing. The serving sizes were on par with most fast food combos. I showed up on an empty stomach and left feeling full, but not stuffed. Granted, I brought half the sandwich home, which was still delicious after a couple hours in my fridge. If sandwiches aren't your thing, the smoked meat poutine is also worth trying.
For east-end students in the area, the sandwich is a great take-out option for dinner, located about 20 minutes from Scarborough Town Centre by bus. If you have the time, the hour and a half commute from campus is absolutely worth it. It's a daunting trek for a sandwich, but I've already done it twice this week.


Chica's Chicken is an inconspicuous fried chicken joint located on the south-east corner of Keele and Dundas streets. I walked in around 7:30 p.m. Saturday night, just before closing time. It was still bustling with cooks packaging take-out and calling out orders to a soundtrack of Wu-Tang and the unmistakable sound of a sizzling fryer. The vibes are cool and casual, courtesy of a hip-hop playlist and lowkey decor that borders on dingy.
I ordered the OG Sando ($12.50) over the phone about a half hour prior. The restaurant is counter-service but they recommend calling ahead to order—20 minutes before on weekdays and as early as possible on weekends. They often sell out of everything. Thankfully, my food was waiting for me by the time I got there.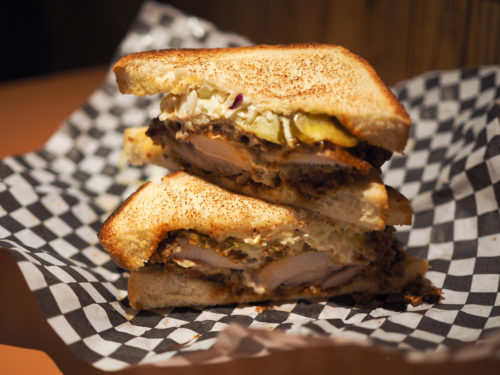 The titular fried chicken is the star of the show. The halal chicken thigh is dry brined and breaded beautifully, giving it a perfectly consistent crunch that complements the tender meat. It's topped with a few pickle slices. The country-style white bread is lightly toasted, smeared with buttermilk ranch and slaw. I opted for the medium spice level and it was, well, medium spicy. Exactly as expected. The ranch and creamy slaw balanced out the spice nicely and the pickles added a bit of acidity. The serving size was generous—more than enough for a one-man lunch.
Chica's would be the perfect spot to hit after a closing shift or a night of bar-hopping through the Junction. Unfortunately, it's only open until 8 p.m. Monday to Saturday and 6 p.m. on Sundays. Regardless, if you're in the mood for some deep-fried goodness, it's worth making the 40-minute trip from campus before starting a nighttime study session or heading home for the night.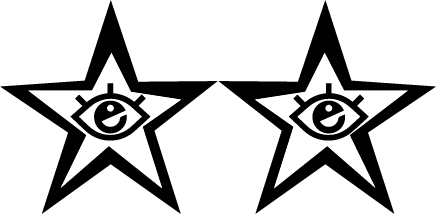 At the entrance of Indian Street Food Company, the rules of the restaurant are painted on the wall in bold letters. They include: no topless sunbathing, no running away, no flirting, no outside food and no feet on table. The quirky wall art is prescient. Mostly lighthearted with a few actual rules thrown in, it was the perfect primer for the ambience of the rest of the night.
This quaint spot near Bayview and Eglinton avenues toes the line between casual and fine dining. You wouldn't feel out of place in business formal attire but you could also get away with jeans and a hoodie. Its out-of-pocket decor is juxtaposed with highly professional waitstaff and candle-lit, cloth-clad tables. The dining area can seat about 50 people. I booked a reservation for two but it's likely not necessary on weekdays—the place was only half-full when former Eye editor Laila Amer and I got there on a Sunday evening. The kitchen offers two rotating tasting menus—a three-course meal for $62 and a "street vendor's" menu for $72 (without wine pairings)—and the menu boasts an excellent selection of chaats, Indian snacks commonly served as street food. At the server's recommendation, we opted for two vegetarian mains: their sweet-and-sour eggplant dish ($17.75) and Maa Ki Dal, a black lentil dish ($15.25).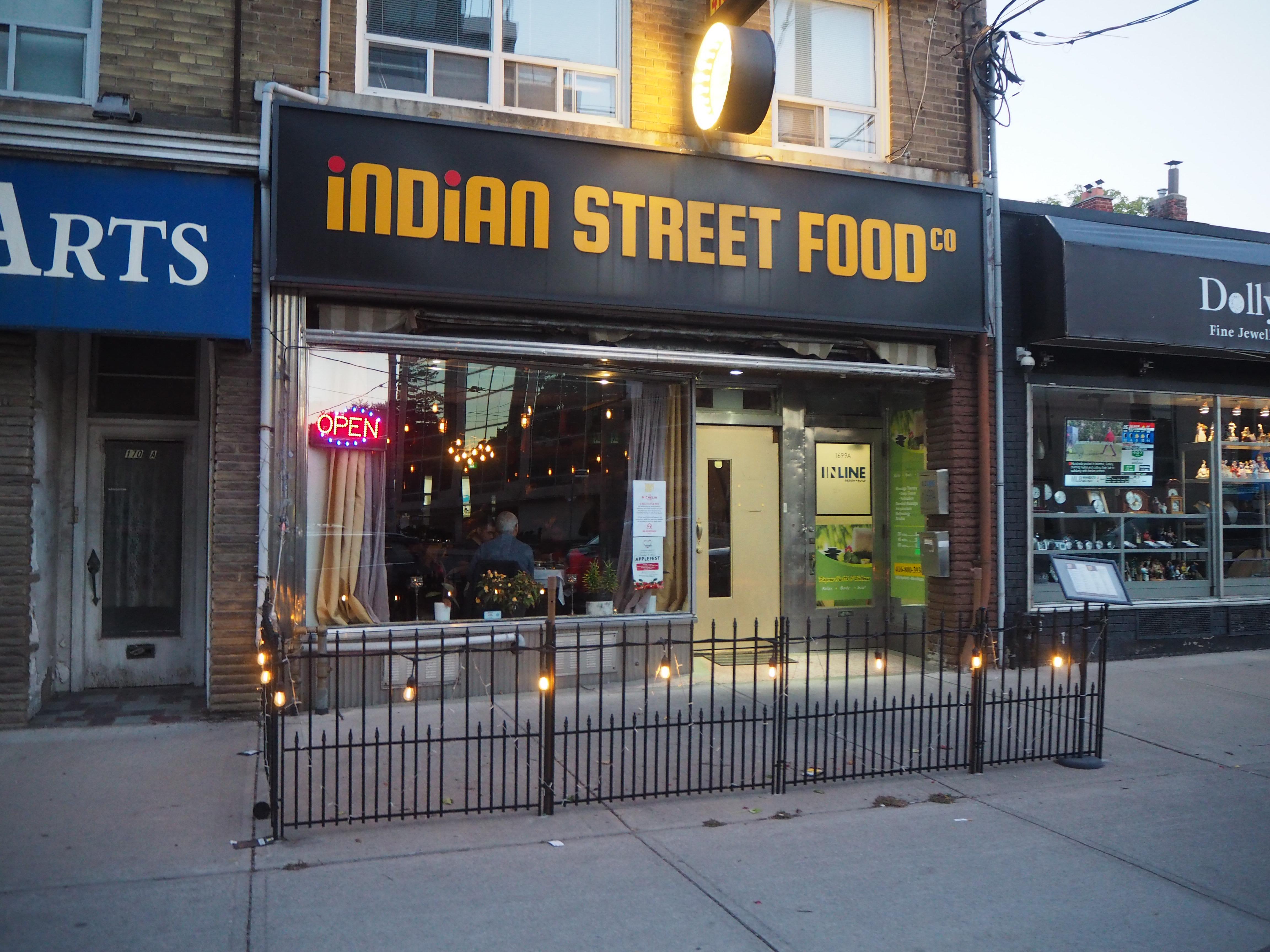 Both dishes were packed with flavour. The first dish had a generous portion of eggplant and hints of coriander and cayenne in the sauce. The eggplant size did, unfortunately, matter, as we both lamented it hadn't been cut up into smaller pieces. The black lentil dish was definitely the favourite. It was rich, creamy and salted to perfection without being too heavy. We devoured it. We also ordered garlic naan ($4.90) and aged basmati rice ($5.95) on the side — they don't come with the mains. The naan was the highlight of the evening. It was warm, fresh and light with the right level of stretch and crisp.
Amer said she would be back if she was "nearby and hungry." Personally, I'll be returning in order to try the chaat dishes. For students, Indian Street Food Company is an excellent option for a semi-fancy date night that won't break the bank. The low-lit dining area and soft music lends itself well to romance. Be warned, though, it can get a little messy, so maybe save it for the second date. Hopefully they'll make an exception to their no flirting policy.