By Jake MacAndrew, Racy Rafique & Gabriela Silva Ponte
This story will be updated with an election ruling and comment from the Chief Returning Officer of the TMSU
Toronto Metropolitan University's (TMU) Indian Students' Association (ISA) endorsed candidates—many of whom are non-slate—on its Instagram stories, according to an email sent to The Eyeopener, directly breaking the Toronto Metropolitan Students' Union's (TMSU) Elections Procedures Code.
Section 8.1.31 of the TMSU Elections Procedures Code states that "Endorsement(s) of Candidates from Campus Groups is prohibited."
The Eye and TMSU Chief Returning Officer (CRO) Adrian Aziz were sent screenshots from Team Revolt in which the ISA endorsed several candidates, including presidential candidate Marina Gerges, by sharing their campaign posters on its Instagram stories.
They endorsed several other non-slate candidates, including vice president operations candidate Angie Awadallah, international student director candidate Olivia Okoro, vice president education candidate Sherry Pourghaz*, vice president equity candidate Aya Bakir, vice president student life candidate Ozi Molokwu and The Creative School faculty director candidate Gus Cousins.
Ted Rogers School of Management (TRSM) director candidate Ayub Mohammed was the only candidate endorsed who is part of a slate—Team Ayub and Brandon.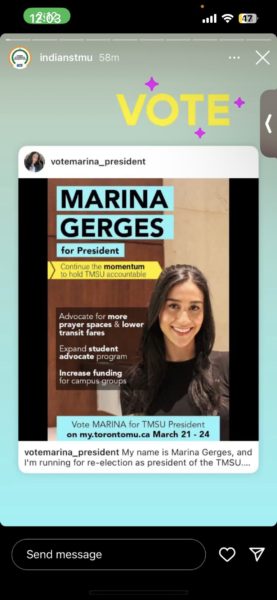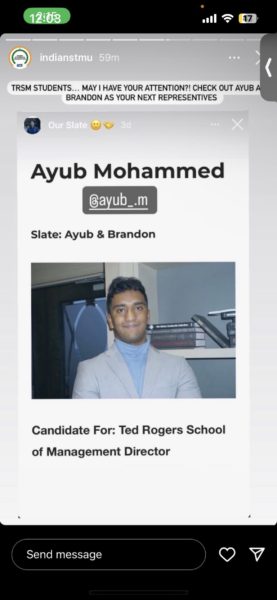 "We actually didn't know about this rule," the ISA told The Eye in an Instagram message. "Within 3-4 hours of us posting the story, we got messages from candidates who shared the bylaws with us."
The Eye obtained screenshots showing three candidates who were endorsed by the ISA asking them to take the Instagram stories down.
After one candidate asked the ISA to take the story featuring them down, the ISA sent back a series of confused messages, which were obtained by The Eye, with one saying, "As far as I know, as long as you didn't ask for endorsement directly, we should be good but still let me know."
The student group told The Eye that upon finding out its Instagram stories were against the Elections Procedures Code, it immediately took them down and began sharing general election information instead.
"We just wish there was more information about elections out there and it was [easier] to find rules," it said. "You don't know what rule you're violating until you break them and get an email from the concerned people."
On March 22, Aziz warned student groups at TMU that the endorsement of an individual candidate is contrary to the Elections Procedures Code, in an email obtained by The Eye.
Aziz told student groups in the email that if they continued to endorse election candidates, the respective candidates would receive demerit points.
"Anyone/group found to be endorsing a candidate even without the candidate's position will result in demerit points for the candidate," he stated in the email.
He also said student groups could face monetary penalties for endorsing candidates. "Over and above the demerit points for the candidate, Campus Groups Budget funds that have been allocated will be deducted from [student groups'] budget account for this year and next year," read the email.
In a separate emailed statement to The Eye, Aziz said that despite budget reductions not being a formal part of the Elections Procedures Code and TMSU bylaws, as CRO, he has "a certain discretion" in making decisions and rulings. "As the CRO for the TMSU, my authority comes from the [Elections Procedures Code] and the bylaws, and therefore I am able to make rulings on the overall electoral process specifically in regards to those that are voting," he told The Eye.
"It seems that our team has been singled out and targeted unfairly," said Team Revolt vice president operations candidate Mahira Shoaib in an email sent to The Eye and the CRO.
As previously reported by The Eye, Team Revolt was recently issued 25 demerit points for "accessing a student's voting portal on their behalf."
In the email to The Eye, Shoaib cited "false accusations" made against Team Revolt and requested for the CRO to take action against candidates endorsed by the ISA.
There has been no ruling posted to the TMSU election website regarding this incident as of yet.
TMU's Faculty of Community Services Society (FCSS) also released an "anti-endorsement" of TMSU election slates Team Revolt, Team Ignite and Team Revive on Wednesday night, as previously reported by The Eye.
According to the TMSU website, the FCSS is not listed as a group under the students' union. However, section 8.1.32 of the Elections Procedures Code states "Endorsement(s) of Candidates from Student Societies is prohibited."
The Eye has reached out to the TMSU CRO for clarification on whether candidates can still be penalized for receiving endorsements from student groups and societies that do not fall under the TMSU.
"The issue with endorsing one candidate infringes on the fair process of voting and in fact falls under actively campaigning and endorsing a Candidate," Aziz told The Eye in his emailed statement. "​​I am able to make rulings on the overall electoral process specifically in regards to those that are voting."
Aziz said the intention of his email was to make student groups aware that they were in "contravention of campaign rules around endorsing individual or slate candidates."
*A previous version of this article listed this source under a different name but has since been updated to reflect the source's preferred identification.