By Anastasia Blosser
Toronto Metropolitan University (TMU) hosted an Ontario Liberal leadership debate in the Sheldon & Tracy Levy Student Learning Centre as part of the school's democracy forum. All five declared candidates, Bonnie Crombie, Nathaniel Erskine-Smith, Yasir Naqvi, Ted Hsu and Adil Shamji were in attendance.
The debate was moderated by the Toronto Star's political columnist, Martin Regg Cohn and organized by the Dais, a public policy and leadership institute at TMU.
During the debate candidates discussed housing, the cost of living, healthcare and the Greenbelt.
Adil Shamji is a Canadian physician and the MPP for Don Valley East. (SAMMY KOGAN/THE EYEOPENER)

Bonnie Crombie is the current mayor of Mississauga. (JERRY ZHANG/THE EYEOPENER)

Ted Hsu is a Canadian physicist and the MPP for Kingston and the Islands. (JERRY ZHANG/THE EYEOPENER)

Yasir Naqvi is the MP for Ottawa Centre. (SAMMY KOGAN/THE EYEOPENER)

Nathaniel Erskine-Smith is a former lawyer and the MP for Beaches—East York. (SAMMY KOGAN/THE EYEOPENER)
In her opening comments, Roberta Iannacito-Provenzano, the provost and vice-president, academic emphasized TMU's commitment to fostering dialogue and diverse perspectives. She explained the democracy forum is a nonpartisan platform for politicians to increase democratic engagement.
In addition to asking the candidates about their policies, Cohn also tested their knowledge on minimum wage, French and other languages they may speak.
Lila Mansour, a second-year student in the Lincoln Alexander School of Law, had the opportunity to ask candidates questions about climate change, equity and Doug Ford's 2019 tuition freeze.
Christian Miller, a third-year philosophy and history student said he appreciated that Mansour brought up topics that affect him as a racialized university student.
"I want to explore my options of who's going to lead the province," he said. "A lot of issues or concerns I have, whether it be housing, education or the environment, are the responsibility of the province."
Miller said he received a lot of information through the debate, but was looking for more in-depth conversations about equity policies and the possibility of an Equity Act in Ontario.
"So people like me who are underrepresented—I'm Black—have an equal chance of reaching senior positions and making changes."
Kara Nguyen, a second-year politics and governance major, attended the debate to learn more about the potential Liberal party leaders.
She said this is an important moment for the party, ahead of the future provincial election. "We're kind of in a precarious state right now," Nguyen said. "Especially with the slow privatization of health care and the rising costs of living in Ontario."
Following the debate, Hsu, a Kington Liberal MPP and leadership candidate, spoke to The Eyeopener on the importance of motivating students to voting through debates at universities like TMU.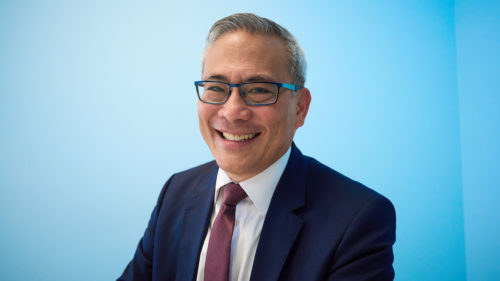 "If somebody votes the first time they're able to, they keep voting for the rest of their lives," he said. "I think it's really important to show young people that politics matters and it makes a difference that their participation matters."
Hsu said it is important that post-secondary schools are funded properly. "Universities are struggling. They're charging international students what the market will bear, which is not really fair in the long run," he explained. "All of these things can be traced back to the government not funding."
Erskine-Smith, a Toronto Liberal MP and leadership candidate, told The Eye he would focus on eliminating cost barriers to post-secondary education if elected.
"That means free tuition for low-income students. It means expanding OSAP, especially grants for the students of modest means and middle income families," he said. "We're also looking at flexible repayment options that are commensurate with the income that people earn after graduation."
Erskine-Smith says this not only means supporting skilled trades, but also graduate research. "We have to care about both if we're a serious government."
He also said he hopes students see politics as the most important way to make a difference in their lives. "If you want better, the answer is participation."
Party members are scheduled to vote on a new leader on the weekend of Nov. 25 and the winner will be announced Dec. 2.
A full broadcast of the debate was posted online by the Dais at TMU.