Reading Time:
2
minutes
By Badri Murali
As the world continues to be fascinated with 3D printers, two Ryerson students are making their own mark with these devices.
Eric Reid and Carrie Groskopf, two fourth-year architecture students, are finalists in the Stratasys Extreme Redesign 3D Challenge, which asked participants from around the world to use the technology of 3D printers to create a device that would make a task easier. Reid and Groskopf's product is named Straggling Laces.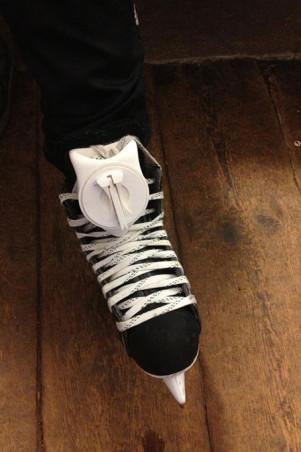 "Our concept was simply, 'how could we make tying laces easier?' More specifically for extreme sports, the trouble many [athletes] have tying their laces with gloves when snowboarding," Reid said.
This device consists of three parts: a hook, a lever and a set of gears. The laces attach to the hook and the lever tightens and loosens the grip of the laces. The gears allow the lever and the hook to function. The laces are stored in the device, preventing them from untying.
"Eric and I went to a few sports stores and were looking around for ideas, and saw that safety is an issue, especially for snowboarders. We thought that a shoelace device would be best to prevent them from untying while they are in action," Groskopf said.
The competition has three categories, which are middle school students, high school students and university students.
Groskopf said that this was originally a class assignment for an architecture course called Digital Tools, taught by Professor Vincent Hui. The two became partners for this assignment and together came up with this design. They used the architecture school's old printer for their model.
After they finished the assignment, they had the opportunity to submit it for the competition. For Groskopf, this has been an educational experience.
"The chance to even work with this technology is amazing. You always hear of working with the new 3D printers, but when you create something from it and look at the product, it feels really good," Groskopf said.
The winners will be announced by April 4. First-place winners will receive $2,500 in scholarship money. The winners' instructor can use the company's 3D printer in their classes for a set period of time.