Reading Time:
2
minutes
By Aj McDowell
Just because the wall came down, doesn't mean the wall is gone.
Ryerson image arts professors Vid Ingelevics and Blake Fitzgerald considered this 10 years ago at the 15th anniversary of the fall of the infamous Berlin Wall. They decided to undertake a massive project — documenting the travels of fragments of the wall as they spread out around the world.
"With all the hype and sudden visibility of the wall that accompanies these anniversary dates, we started to wonder how its meaning might change as the wall moves geographically and as time passes," said Ingelevics.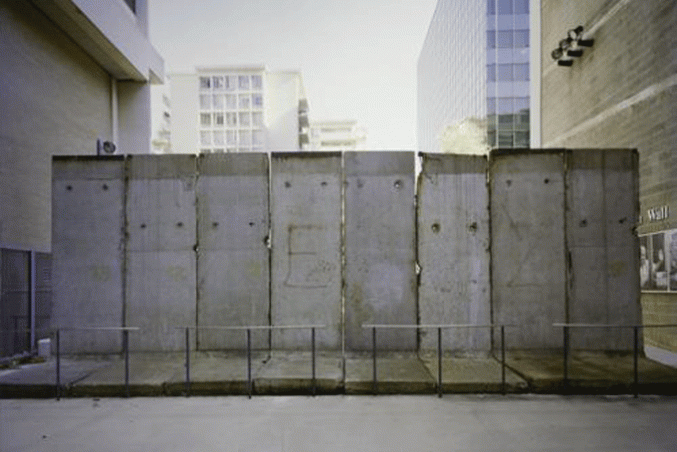 Segments of the Berlin Wall stand in Arlington, Virginia's Freedom Park. Photo courtesy Vid Ingelevics and Blake Fitzgerald.
These image arts professors have been playing a game of Marco Polo with fragments of the Berlin Wall ever since.
They began their research in Washington, D.C. and in the following years, travelled across North America from Austin, Texas to Truro, Nova Scotia, taking pictures and collecting stories of the wall along the way.
"We've also travelled to Berlin itself several times now as we've become interested in the nuances of the wall's presence there," said Ingelevics. "We'll be there for a month this fall to look at the 25th anniversary commemoration events there."
The aim of the project, documented on their website freedomrocks.ca, is to not only document where the pieces are, but to investigate and record the meaning of the wall and how this meaning changes depending on who possesses the fragment.
"We realized that there was a big difference in the way that individuals and ourselves related to the large and small pieces," said Ingelevics. The large slabs tend to be fixed, and finding out how the fragment got there and who facilitated it can be difficult, he said. The smaller pieces however, have much more personal significance.
"The small souvenirs are very much alive and idiosyncratic as memorial objects in that they are almost always firmly rooted in their owners' personal memories — who was with them when they got it, who gave it to them, the process of getting it, etc," said Ingelevics.
The project is easily accessible to the public through the Freedom Rocks website, as well as several exhibits and publications — a few of which will be featured in a variety of venues in Los Angeles and Berlin this fall, as well as the photography publication Prefix.
The ultimate goal is to present an exhibition in an "off" year, like the 27th anniversary, said Ingelevics.
"The off years are never celebrated and we'd like to work with that concept," he said.