Reading Time:
2
minutes
By Andrea Vacl
Opportunities for Ryerson students to go to China for a youth entrepreneurship program may become available in the near future.
Members of Enactus Ryerson, a part of an international network of student groups that use business entrepreneurship to create a better world, went to China as spectators for the Enactus World Cup from Oct. 22 to 24.
A few of the members extended their trips when the group was invited by Sarah Kutulakos, an Enactus judge and Executive Director of the Canada China Business Council (CCBC), to attend a CCBC Youth Entrepreneur Program from Oct. 28 to 30.
Enactus members Lediona Canellari, Alif Ruhul and Ambreen Khan got funding from Ryerson in order to make the opportunity possible. They were the only students to attend the program.
They are now trying to get more funding to enable more students to attend the program next year.
"We spoke to RBC who is the main sponsor. They are willing to give more money. If the school is willing to fund it let's get more Ryerson students to China," said Canellari, who has spoken with both Kutulakos and Ryerson President Sheldon Levy about growing the program, which she says they both support.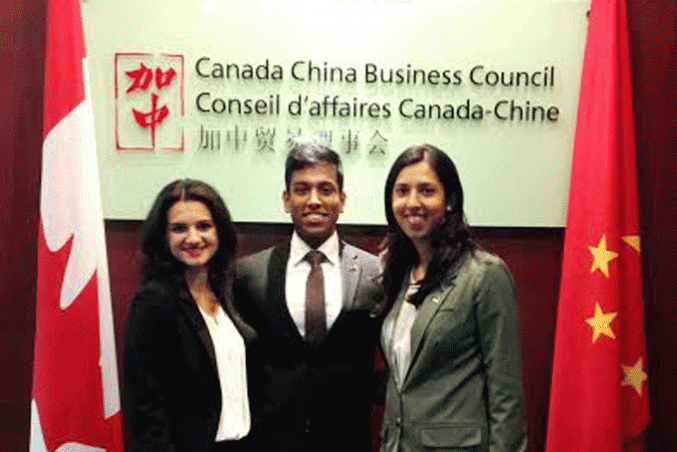 Photo courtesy lediona Canellari
Through the program, students attended the Borden Ladner Gervais, the largest law firm in Canada's reception for the opening of their new office in China, the CCBC Gala and panels about the promotion of Canadian-Chinese business relationships.
Canellari, Ruhul and Khan were able to meet and network with Canadian premiers from Ontario, Quebec and PEI, many of the 500 plus Canadian and Chinese business executives that attended the CCBC Gala and university students in China.