Reading Time:
3
minutes
By Jacob Dubé
The new Centre for Urban Innovation (CUI) will be housed in the old, but soon to be renovated, Theatre School Building.
The centre, which was announced on Sept. 29 as part of a $36.63 million investment from the federal and provincial governments for research at Ryerson, is set to be a hub for scientific research on campus and will allow different research faculties and organizations to collaborate more easily.
This is the most recent in a string of new developments for Ryerson, including the Student Learning Centre (SLC), which opened in early 2015, and the Daphne Cockwell Health Sciences Complex on Church Street, which is still in development.
Research groups such as Ryerson Urban Water, the Centre for Urban Energy, the Data Science Laboratory and the Food Research lab are slated to move in to the centre.
Finance Minister Bill Morneau announced that $19.89 million of federal funds, along with $25.8 million from Ryerson, will be going towards the new centre. Ryerson applied for the Post-Secondary Institutions Strategic Investment Fund in April 2016. Two conditions for approval were that the project had to be a renovation of an existing structure, and it had to be "substantially completed" by April 30, 2018.
According to the blueprints of the CUI obtained by The Eyeopener—which are not final designs, due to possible changes being made later on in the building process—the Theatre School Building will be completely renovated to suit the specific lab's needs, in addition to a three-storey expansion in the back of the building and a five-storey expansion on the east side.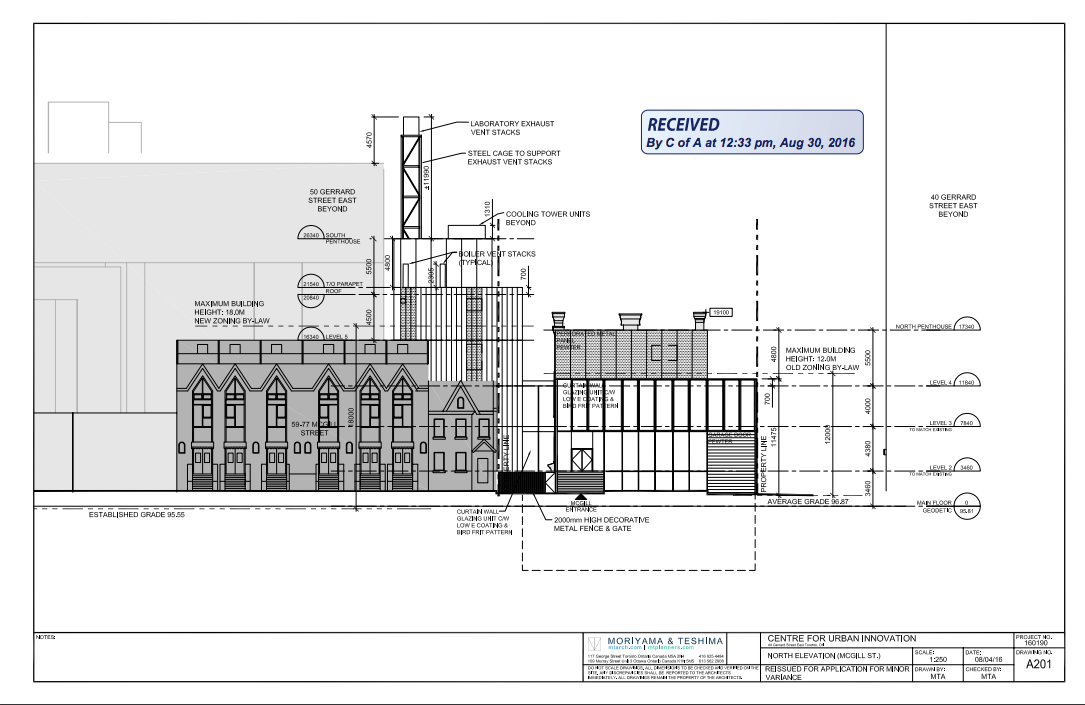 Peggy Shannon, chair of the Ryerson School of Performance, previously known as the Ryerson Theatre School (RTS), said that while her faculty was residing in the Theatre Building, they tried doing some minor renovations but couldn't make more major changes, due to the unique requirements of her classrooms (for instance, the need for stages and studios).
"What became problematic was there was never a place to put us on campus in order to do simple renovations, let alone major renovations," she said.
The RTS was placed in the building, despite it not fitting any of their needs. In 2014, an initial plan was announced to move the program out and into somewhere more appropriate.
Shannon said the entire building will have to be gutted and renovated for the CUI to move in, which is difficult due to the historical significance.
"There are historic preservation issues around the building because certain walls are historic," Shannon said. "But it's crumbling—there were mold issues, and termite issues and structural beam issues."
According to Nick Reid, executive director of Ryerson Urban Water, a big part of Ryerson's pitch was that the CUI will bring together applied research in energy, water and food, which he says are very connected fields.
For Ayse Bener, director of the Data Science Laboratory, a big selling point for moving into the CUI, which she described as the equivalent of the new SLC, but for research, was the increase in space and easy access to other labs and scientists.
The Data Science Laboratory is currently housed within Eric Palin Hall, and Bener says they've been trying to find new space to expand for years.
"Currently, I have more than 20 people, graduate students, in my lab, and it's packed," she said.
Bener said it's good for her graduate students to be able to interact with other researchers in such close proximity because "we don't do research in isolation."
"It's always struggling to share resources and sometimes we don't become the priority," she said. "So for the first time, research will have its own building and will be a priority."