Reading Time:
3
minutes
By Kourtney Meldrum
If you were to pass by the Air Canada Centre on the morning of Sept. 28, you would have seen thousands of youth lined up—their voices excited and their energy palpable for the tenth annual WE Day held annually across North America.
WE Day encourages students to shift their thinking from me to we. It comes from a charity called WE run by brothers Craig and Marc Kielburger who started the organization when they were young and looking to make a difference.
The event boasts a long list of diverse speakers and performers with celebrities like Kelly Clarkson, Shawn Hook, Lilly Singh and Sabrina Carpenter. They also had a special guest appearance from Prince Harry.
Although it wasn't just celebrities who showed up to share what they had to say. Among them were three former and current Ryerson students preparing themselves to speak on stage as change makers in their communities.
Ryerson alumna Lisa Charleyboy, the Editor-in-Chief of Urban Native Magazine spoke about how the death of her indigenous father at a very young age helped her to connect with her indigenous roots much later in life and prompted the creation of the blog Urban Native Girl.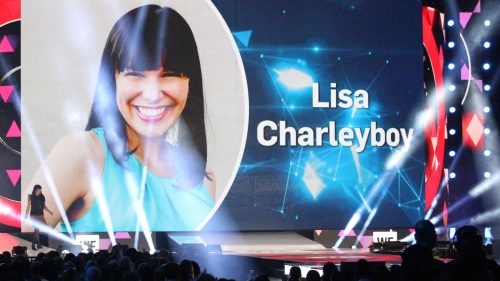 "Be proud of who you are and where you come from … deep within yourself, it's the truth that forges who you and that never changes—embrace it," said Charleyboy to the 20,000 eager young minds who sat in that stadium yesterday.
Soon after, another Ryerson face welcomed the stage. Fourth-year entrepreneurship student Seokhoon Jun spoke about his non-profit program called Stadium that sets up soccer games across the city for immigrants.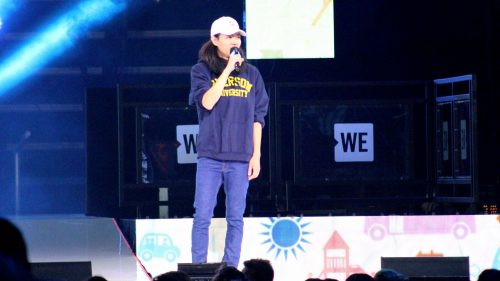 "I was inspired to launch Stadium for people who are new to Canada so they can connect through sport," said Jun, who began this capstone right at Ryerson through the Ted Rogers School of Management before it was incubated in the SocialVentures Zone. He plans on expanding the project across Canada.
Second-year business and commerce student Celeste Ceres graced the stage with her sister Crystal on their charity Sacraspice—an initiative that teaches culinary skills to youth in Toronto's neighbourhoods who don't have easy access to nutritious foods.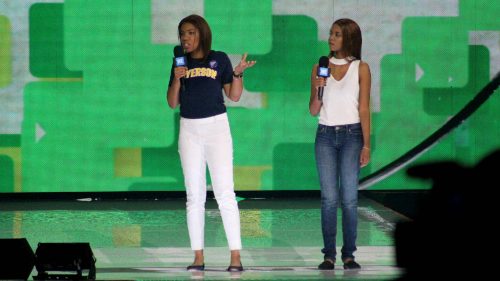 "As students, it's nice to be able to speak to other students who are younger and encourage them to pursue their own dreams, whatever they may be," said Ceres.
If you're looking for your own way to get involved, Ryerson Me to We is a group on campus "dedicated to uniting the Ryerson community by raising awareness about local and global issues while raising funds to support WE Charity."
[ngg_images source="galleries" container_ids="359″ display_type="photocrati-nextgen_basic_slideshow" gallery_width="864″ gallery_height="486″ cycle_effect="fade" cycle_interval="5″ show_thumbnail_link="0″ thumbnail_link_text="[Show picture list]" order_by="sortorder" order_direction="ASC" returns="included" maximum_entity_count="500″]