Reading Time:
3
minutes
By Madi Wong & Ashley Alagurajah
Lights, camera, fashion! The 30th Mass Exodus fashion show by The Ryerson School of Fashion filled Daniels Spectrum with thriving fashion students and fluorescent purple stage lights. By planning, producing and creating all components of the event, they all made their grand exit—or exodus.
The day consisted of three showcases with a subsequent curated show for chosen fashion graduates. Show C, the third showcase of the day, had a lively atmosphere with friends and family of the fifteen designers that presented their work, as well as the busy yet professional production and communication teams that efficiently led the runway to success.
Designers found their inspiration in various places; from cultural elements, myths, experimentation of various materials, and more, all of which contributed to their final products.
Victoria Cellucci is one of the fashion graduate designers  who showcased her line Friday. Her collection is inspired by the popular Greek myth, King Midas, who is known for his greed and touch that turns anything to gold.
Final products from Victoria Cellucci's graduating collection "Avarice: The Touch of Precious Metals" at Mass Exodus 2018. 
This tale to tell came to Cellucci prior to entering Ryerson, and she wanted it to be her exiting collection. As for her favourite part of the process, she said that she loves watching her final garments walk the runway, "It's so rewarding and makes you want to go through all the highs and lows of designing all over again," she said.
Cleo Power, without shining gold or tons of glam, brought power to the runway—Power Lingerie, that is. Her intriguing line titled "Completely Covered Completely Exposed," brought a confident and luxurious moment to the audience.
"I was inspired by 1980s movies and the styles with high waisted thongs and long line bras. I was also inspired by wet t-shirt contests and the idea of being completely covered yet being completely seen," said Power. She credits her fascination with lingerie to curiosity, which she also claims is the reason she went into fashion studies.
Beverly Tse innovative collection "Personify" uses unconventional materials to bring her audience into a new realm of thinking. (Madi Wong)
Beverly Tse, another designer from Show C put a new spin on suction cups and door hinges; her models designs had models wearing them. "I wanted to really push the limits of what fashion could be," said Tse.
Her line "Personify" is meant to add 'a new level of depth' to what people think of using different materials for different innovative advancements, which was essentially the message of her collection.
She believes that personifying artificial objects will allow people to view these materials in a different light. "I wanted my collection to have futuristic and technological undertones through using unconventional materials applied in fashion," Tse said.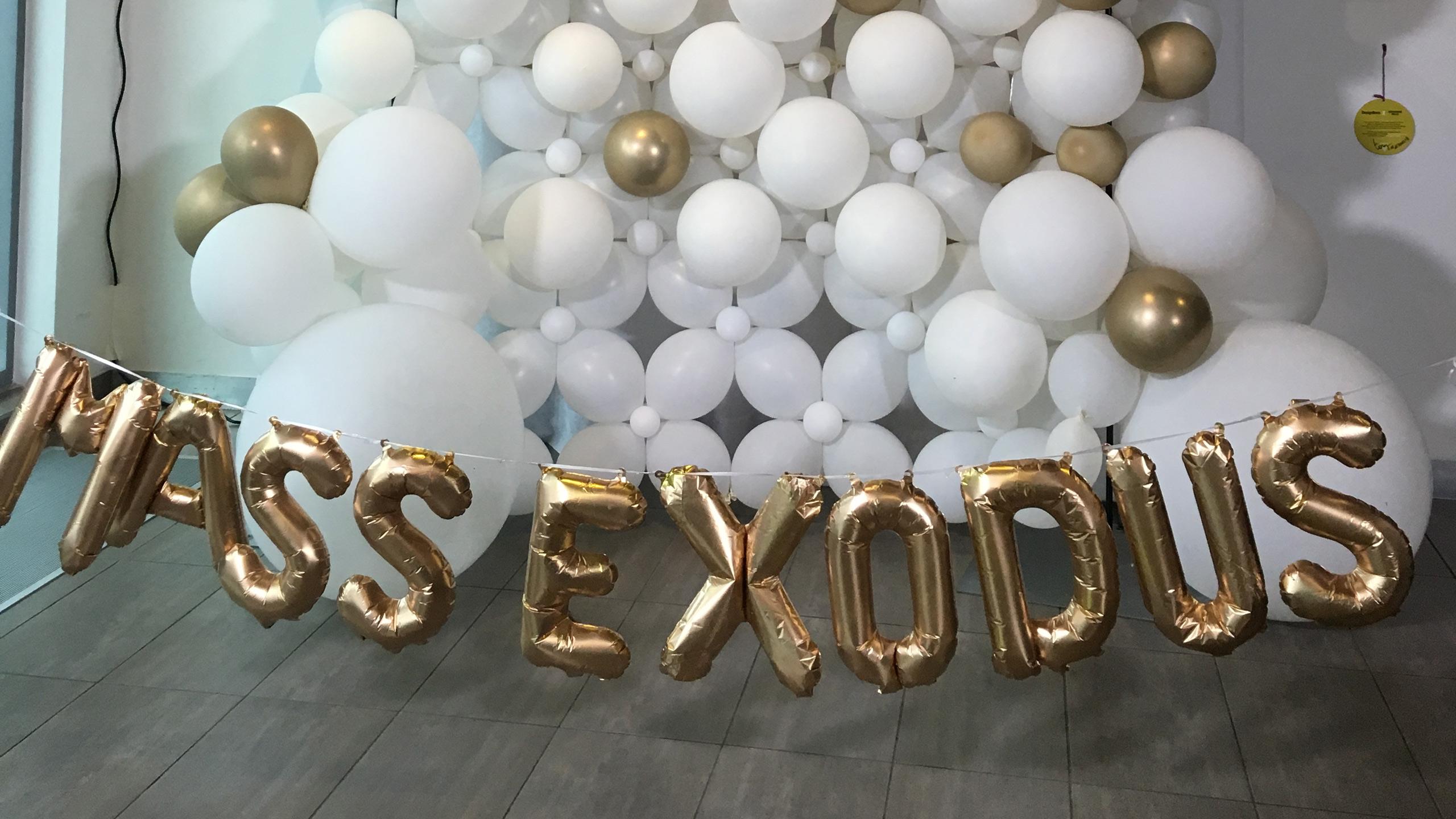 Mass Exodus was also planned and ran by a production team that performed various roles behind the scenes of the glamourous runway.
Chelsea Atwood, runway lead, loves the face paced environment. She and her two teams designed the look of the runway, organized the students and models, and made the entire event run smoothly.
Atwood explained backstage was crazy because of the limited space in Daniels Spectrum. However, they made it work. They stored all 48 collections, had four small dressing rooms and had the line-up for each show start in the second floor stairwell.
Atwood said she felt so lucky to be apart of Mass Exodus. "Fashion is like a moving car, you can either jump on and enjoy the ride or watch in drive by. I like to think I'm jumping on and taking in everything it has to offer," Atwood said.