Reading Time:
8
minutes
By Sarah Tomlinson
In a letter published on the Yellowhead Institute's website on May 11, a group of Indigenous students called on Ryerson community members to remove Ryerson's name and replace it with an "X" in their email signatures, CVs and other professional communications.
The letter followed an article written in the Globe and Mail by Anne Spice, a Ryerson Faculty of Arts professor and Tlingit member of Kwanlin Dün First Nation. In the article, Spice wrote about the burden of having Egerton Ryerson's name attached to her bio and accomplishments as well as the need to rename the school to prevent carrying on his legacy.
"In the meantime, I will remove his name from my emails, from my CV, from my bio, and replace it with an 'X,'" she wrote in the article. "Historically, Indigenous people have signed with an 'X' under conditions that do not fully recognize or honour Indigenous lives. It is a sign of assent under duress."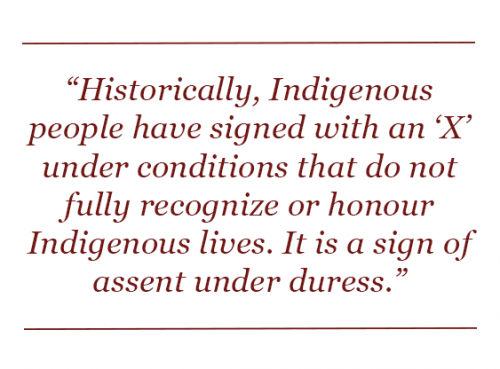 According to the letter, this action supersedes Ryerson's slow pace on changing the name and acting on the Indigenous community's demands for reconciliation.
In September 2020, Ryerson created a task force composed of alumni, students, staff, faculty and community representatives—including Indigenous and non-Indigenous voices—after more than 10,000 Ryerson community members signed a petition demanding the Egerton Ryerson statue be removed from campus. The petition came after Black Lives Matter – Toronto protesters tagged the statue multiple times throughout the summer of 2020. Prior to that, in June 2018, the university, along with Ryerson's Aboriginal Education Council, agreed to place a plaque beside the statue that mentioned Egerton Ryerson's role in the creation of residential schools.
According to the Yellowhead Institute, the Standing Strong (Mash Koh Wee Kah Pooh Win) Task Force places a focus on the statue "and [curates] an academic debate on the degree of harm Ryerson is actually responsible for," rather than working towards changing the university's name.
The letter states that in doing so, Ryerson denied Indigenous people the right to determine what reconciliation means to them.
"The task force itself is a symptom of a broader problem. We don't hold anything against members who've joined in an effort to pursue some degree of change. But it was designed to answer the wrong questions," the letter reads.
Sam Howden, a fourth-year social work student, is Red River Métis from Treaty 1 territory in Winnipeg and equity coordinator at the Indigenous Students' Association. Howden was involved in writing the letter, and said they believe changing the name is the only way to reconcile Egerton Ryerson's legacy.
"What's in a name is a very important thing, especially coming from the community that I do. It has the significance of a life, of a direction," they said.
Further, they said the letter was written to place an emphasis on changing the name, which they said the Task Force hasn't adequately focused on.
"These responsive techniques taken up by governmental bodies or institutions follow a very colonial framework. They'll try to make and shift policy. But we won't necessarily see the material effects of that," said Howden. "The university is even getting us to think just about the statue, so that we don't have to think about the name."
Other Canadian universities like Queen's, Carleton and the University of New Brunswick have removed statues and renamed buildings for Indigenous reconciliation. In addition, Ryerson has changed its name three times before. In 1964, it changed its name from Ryerson Institute of Technology to Ryerson Polytechnical Institute, then in 1993, it was renamed Ryerson Polytechnic University. Finally, in 2002, it was named Ryerson University.
In an email sent to students on June 1, the Ryerson School of Journalism (RSJ) announced it had voted to change the names of its school-run masthead publications, The Ryersonian and the Ryerson Review of Journalism. RSJ said The Ryersonian's name would be changed by the fall and have the magazine masthead, the Review, renamed by November. Last school year, the Review's masthead elected to pause the use of 'Ryerson' in the title of their publication for the upcoming school year.
"The horrific legacy of the residential school system…was too great to continue using the Ryerson name," the email reads.
According to Howden, they chose the letter X not only as a temporary name, but because it's what Indigenous communities previously used when signing treaties with settlers.
"We didn't have the same language," they said, adding that Indigenous people had "a different type of understanding" of treaties compared to settlers.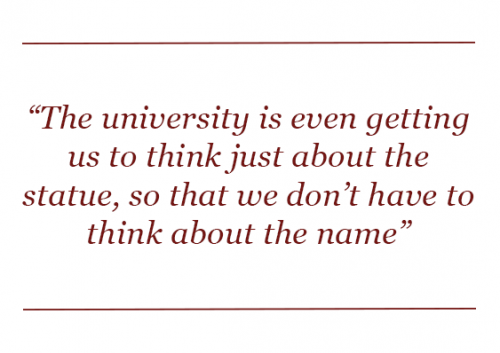 They added that X is also historically relevant to Black and other marginalized communities.
"It matters a lot to many different groups of people who are racialized and traditionally have been oppressed under colonial governments and spaces and who have been pushed into indentured labor," Howden said, citing the example of Malcolm Little who went by Malcolm X, with the 'X' signifying his lost, original African family name.
"X is also a floating signifier in mathematics. When you are searching for a value, you're solving for X. To me, it's very symbolic of a place that's in-between space," they said.
Howden said they feel proud to be continuing the work done by other Indigenous community members at Ryerson, like Lila Pine, a Mi'gmewi'sgw who teaches at the RTA School of Media.
She wrote a chapter from a book published by Coach House called Indigenous Toronto: Stories that Carry This Place about the need to change the university's namesake to a name that will "stand the test of time. A name that has the courage to let history be its judge."
Howden also mentioned Phyllis Mckenna, Danielle Sinclair and Sarah Dennis, who were involved in the presentation of Ryerson's consultation report in response to the 2015 Truth and Reconciliation Commission of Canada (TRC) in 2018.
The report encouraged enhancements to Ryerson Aboriginal Student Services, increased funding and grants for Indigenous students, as well as the incorporation of Indigenous teaching and learning practices. It also called for more Indigenous staff and faculty.
"Regardless of whether you're Métis, First Nations or Inuit, you end up taking on the work that your ancestors did before you. It's a responsibility," said Howden.
When asked about the pushback and slow-moving pace of changing the university's name, they said there are many who're still resisting the name change to preserve the status quo.
"We're not trying to change those people's minds because we don't have to argue with them about who we are, what our histories are and what we've encountered, what kind of intergenerational trauma we've introduced into this world," they said.
Instead, they want to know who their allies are so they know who to go to for support.
"We need to know who is here to sit amongst the difficult truths, the realities that Indigenous people have to endure, so that we don't have to graduate from an institution with an oppressive name of somebody who tried to eradicate people who came before us," Howden said
Jeremie Caribou is a fourth-year public administration and governance student who is half-Cree, half-Mohawk from Pukatawagan, Manitoba. He said another challenge is the lack of education both at Ryerson and outside of Ryerson "of the nation-to-nation relationship that has been formulating for hundreds of years now."
"From a system that was designed to vaporise our languages and cultures, it has mutated into the impervious partially dysfunctional superstructure that it is today, which is education," said Caribou. "It fails to mention that Indigenous peoples were active agents in the establishment of this country and does not mention our contributions to society which only allows anti-Indigenous racism to thrive."
In an email sent to The Eye, the Standing Strong Task Force said it's grateful for the "extensive and thoughtful" contributions it has received, including survey submissions, open letters, media publications, and community conversations.
The members say they plan to review the documents over the next few months and make recommendations to president Mohamed Lachemi and board of governors in the fall 2021 semester based on what the university can do to reconcile the legacy of Egerton Ryerson.
After hearing about the movement through Indigenous students, president of the Continuing Education Students' Association of X University (CESAX) Maddy Fast said they changed the name of the organization from CESAR to CESAX.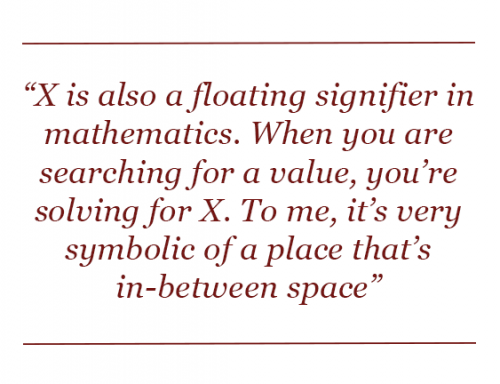 "We really see it as part of our mandate as a students' union to pursue equity issues and to be supporting what students are doing—particularly the most marginalized students," she said.
When it comes to changing their name, Fast said CESAX still needs to update its social media, email signatures, bursary forms and other internal communications, a process she said is very easy and only requires "political will."
Lynn Lavallée is the strategic lead for Indigenous resurgence in the Faculty of Community Services and is Anishinaabe Métis registered with the Métis Nation of Ontario. She said she removed Ryerson from her documentation after reading Spice's article.
Lavallée said she wanted to be part of the momentum created by Spice and the "next" generation of Indigenous students.
"The younger generation is always moving us forward," said Lavallée, adding that the growing number of Indigenous faculty members will also help the movement.
"For us as faculty, we've had little influence, but now that we have 26 Indigenous faculty [members], if we all add X, if we all speak out, hopefully this task force will seriously consider it…It's harder to ignore when there's more people doing it."
The university's efforts to create a task force and implement a land acknowledgement have been performative, according to Lavallée.
"How can you do a land acknowledgement when you're still not willing to listen to Indigenous students who feel harmed every time they walk by that statue," she said. As a result, she and a group of Indigenous faculty members wrote a letter demanding the removal of the statue and the renaming of the university.
Lavallée said the Indigenous community is constantly going against powerful voices at the university who refuse to change Ryerson's name or to take down the statue because they believe it's "erasing history" and that Egerton Ryerson was a "man of his time" who tried to "better Indigenous people."
"It does not erase history. Our history was never really told anyway," she said, adding that resources like Egerton Ryerson's report published on the website for the National Centre for Truth and Reconciliation (NCTR) on advocating the use of Residential schools for educating Indigenous children are not displayed visibly enough on Ryerson's website.
Damien Lee is an assistant professor in sociology, Canada Research Chair in Biskaabiiyang and Indigenous Political Resurgence and member of Fort William First Nation, an Anishinaabe community near Thunder Bay, Ont. He said he put X University in his email and Twitter bio as a signal that things need to change.
"Because it's a transition, the best we can do is something like an X. It's not a name, per se, but it's also something that doesn't accept the status quo," he said, adding that it broadens what he described as a "narrow" focus on issues surrounding the statue and commemoration.
Showing solidarity
Joshua Sealy-Harrington is an incoming assistant professor at Ryerson's Lincoln Alexander School of Law. He said he's replaced Ryerson with an X in his Twitter bio and in his CV to act in solidarity with calls by Indigenous faculty and students who he supports.
"We're in a moment of global reckoning with the legacies of colonial violence, and, in my view, things like Ryerson's name are artifacts of those legacies that have been overlooked for far too long."
He said he hopes his support will provide additional "political capital" to pressure the administration to "cease venerating white supremacists at an institution that's meant to be at the frontlines of social justice advocacy."
Further, Waubgeshig Rice is a 2002 graduate of Ryerson's journalism program and is originally from Wasauksing First Nation. He said he feels inspired by students who worked on the letter.
During his time at Ryerson, he was a peer support worker at the Aboriginal Student Services (ASS) and remembers having discussions with other Indigenous students about the challenges of accepting their institution's legacy.
Nevertheless, he remembers he and his Indigenous peers also having positive conversations about their success at the university.
"If [Egerton Ryerson] had his way, we wouldn't have all been there. But there we were, as Indigenous students, succeeding and getting our degrees," he said.
Looking forward, Howden said they're working with CESAX to write a letter with an email template that can be sent to various faculties and students for more people to show support for X University.
"Especially at a difficult time like during a pandemic when nobody has the energy, a very simple thing to do is change your email signature, change your CV, change your Facebook status, so that we know who we can reach out to next," Howden said.
A National Indian Residential School Crisis Line to support residential school survivors and those affected has been set up. You can reach the 24-hour national crisis line at 1-866-925-4419.