Reading Time:
2
minutes
By Al Downham 
Obaid Ullah — the Ryerson Students' Union's (RSU) vice-president operations and presidential election candidate — filed a slander complaint with the chief returning officer over posters regarding his slate and Gilary Massa's layoff.
The posters — containing links to the I stand with Gilary Facebook page — criticized Ullah's RSU electoral slate, Impact, for Massa's lay off last December. "SHAME" is written overtop candidates' faces and names.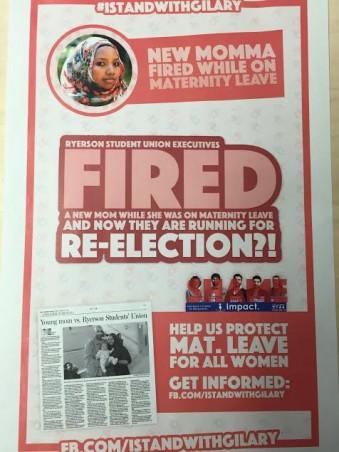 Massa, who was on maternity leave before her lay off, was the RSU's executive director of communications and outreach (EDCO) until the position's elimination by current executives Dec. 1 over "financial constraints."  
Ullah and Harman Singh, the current RSU vice-president student life, are both candidates on the Impact slate.
Ullah said the poster is incorrect in stating Massa was fired — she was laid off. He added that no slate members other than himself and Singh were involved in the restructuring process.
"Yes, me and Harman were two executives on this year's team who are returning again," Ullah said. "But the three other candidates had no say in what happened. They're being affiliated with something for no reason."
Ullah said he saw the posters Sunday night and called campus security. He said his team took them down because they were not stamp-approved for posting and slandered his team  The posters were spotted inside the Student Campus Centre, Kerr Hall, Student Learning Centre and Ted Rogers School of Management.
The presidential candidate filed a complaint over the posters shortly after. The election's chief returning officer said the posters are "extremely disappointing."
"Advocacy is encouraged, but shaming is not," RSU chief returning officer Lisa Durnford wrote via email. "We ask that advocates do their research before vilifying students using false information. This behaviour will not be tolerated."
Current RSU Board of Directors member and Impact's vice-president education candidate Victoria Morton said the posters were "unfactual."
The current RSU executive has been criticized by numerous Ryerson groups, including the Continuing Education Students' Association of Ryerson (CESAR), the Anti-Racism Coalition, the Ryerson Feminist Collective, Reignite Ryerson and other external groups, including the University of Toronto Students' Union.
On Monday, RU Connected — another RSU electoral slate — posted a statement via Facebook saying their members weren't involved in the postering.
"Because of the contentious nature of this issue, we've been asked repeatedly about where we stand, and have repeatedly answered as such: we believe that the labour rights of women who want to start families should be respected and protected in any and all circumstances, and that elected representatives have a responsibility to be equitable employers as well," read the post.