Reading Time:
6
minutes
By Sarah Krichel
The Ryerson Students' Union (RSU) held their Semi-Annual General Meeting (SAGM) on Nov. 29, and the dominating topic of the evening was a motion put forward asking for the resignation of vice-president education Victoria Morton. The motion did not pass.
The motion, put forward by engineering student Matthew Smith, cited bylaw violations, more vacation days than allotted and drinking alcohol in her office. It was rejected by the membership voting 82 against and 41 in favour.
Morton said after the SAGM she is grateful but "full of self-reflection."
"I think I'll be more conscious of the effect I might have on individuals," Morton said. "But I stand strong to the sentiments I've expressed, and I stand strong to the values that I've run on."
Smith said that he was surprised by the amount of people who were against the motion, but was not expecting for it to pass.
"There's no way to remove a director or an executive on the board as a student," Smith said. "It has to be someone [in] house, and I really don't see that happening since they're all friends with her and support her."
Here is a breakdown of the topics discussed for Morton's dismissal.
Consuming alcohol in RSU office
Screenshots of a video were passed around on Facebook of Morton drinking in her office, which she apologized for. "On a scale of stupid things I've done in my life, this is ranking pretty high. And I'm sorry, it was absolutely stupid."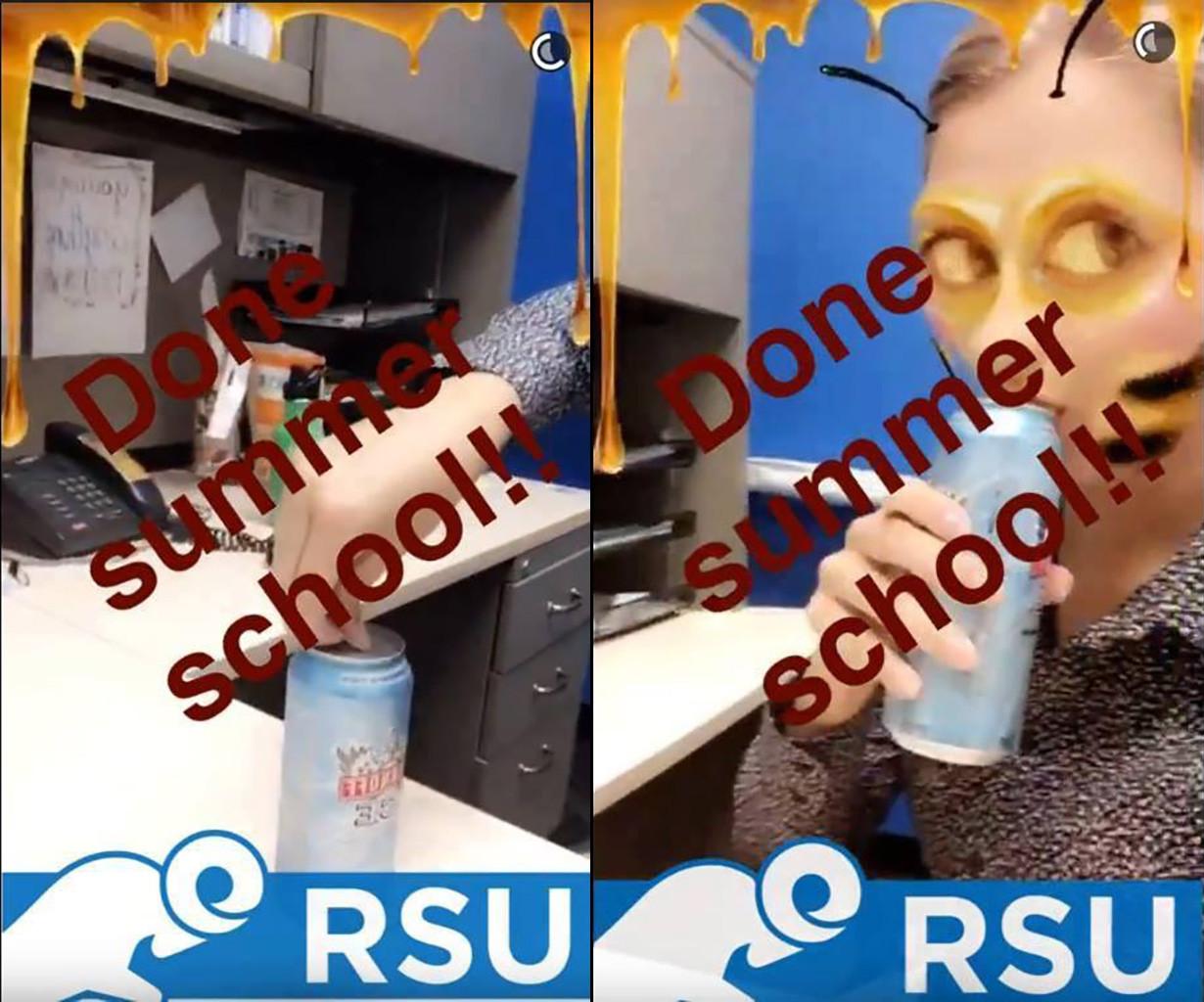 Drinking on campus violates Ryerson's Non-Academic Code of Conduct. Morton said that a report has been filed by campus security and a separate one by the conduct office. According to Morton, Smith told Ullah that he would post the photos at 7 p.m., unless Obaid came up with a solution before then. Morton said she sees this as extortion but added that the conduct office's report is looking at this as a potential case of harassment by Smith.
Smith told The Eyeopener that there was no form of a threat. He said that he simply made Ullah aware of his plans to post the photos, and that Ullah then told him he would try to come up with a solution with Morton before then.
Morton said that she was told about the "deal" by Ullah, but he left the decision to resign up to her.
Ullah denied to comment on Morton's recount of the situation.
Lack of support for the Canadian Federation of Students (CFS) campaigns
At the first board of directors meeting of the academic year, the motion stating that the vice-president education must support and attend CFS campaigns was struck out. In order to be fully passed, the strike-out was to proceed as a bylaw change at the SAGM to be voted on.
But the RSU bylaws state that amendments made are not applicable until 48 hours after the membership's ratification at the SAGM. Speakers at the SAGM said that Morton not supporting the CFS movement was a bylaw infringement in this respect.
In Morton's opinion, it was not a bylaw infringement due to a post she said she shared on the RSU's Facebook page about the CFS' National Day of Action. The post was from the Continuing Education Students' Association of Ryerson.
But during the rally the next day, which she did not attend, Morton posted tweets expressing she did not believe in any productivity with the Fight the Fees campaign.
Doing the same thing over and over again and expecting different results. But hey, #FightTheFees right?

— Vic (@VictoriaMMorton) November 2, 2016
"I'm not a bylaw person, but there could be a strong argument saying I did break a bylaw," Morton said. "But it was unfair for that bylaw to ever be in there."
Morton said she believes her lack of participation was justified. "The board voted to take that bylaw out, so even if it's kind of a grey area, I think it was a grey area that was fair to take."
Ullah said that it is one thing to break a bylaw, but the bylaw that was struck out does not specify in what capacity you need to support CFS campaigns.
"A simple social media post could say [you're] supporting the campaigns, or it could be rallying outside in the same protest," he said. "It's not really clear in the bylaws what the definition of supporting means."
Morton said that she will continue to hold the federation accountable, but Smith said that this does not dismiss her from the rules.
"Just because you don't agree with the rules doesn't mean you shouldn't have to still follow it," Smith said. "The idea that an executive or an executive director of any group [can] just decide that they don't like the rule [and] they don't have to follow it anymore, is kind of ridiculous."
Morton added that going forward, she will put in costless resources to support what students are passionate about.
"Even if it goes against what I campaigned for, [students] are the ones expressing interest, they're the ones who want to go ahead with it," she said. "I'm happy to promote it on social media, I'm happy to be there to physically support if students ask that of us."
Complaint against the Ryerson Communication and Design Society (RCDS)
According to David Jardine, vice-president events and operations for the Ryerson Computer Science Course Union, the meeting minutes he took at the RCDS' SAGM on Oct. 27 were non-partisan and an accurate reflection of what conversation had taken place. Morton spoke critically of the society at the RCDS' SAGM, and she said she believes that that is why the minutes were one-sided.
Morton emailed the vice-president administration of the RCDS with this complaint on Nov. 3. She requested editing to be made on the minutes to more accurately reflect what she was trying to say. She also brought up that her comments were being made in third-person, while others' were all in first-person.
The vice-president admin responded saying that tense/grammar can be changed for consistency, but that they cannot alter any contextual content. She tweeted out the complaint afterward.
Jardine said that there were several tweets and Facebook posts that addressed, as Morton put it, biased interpretations.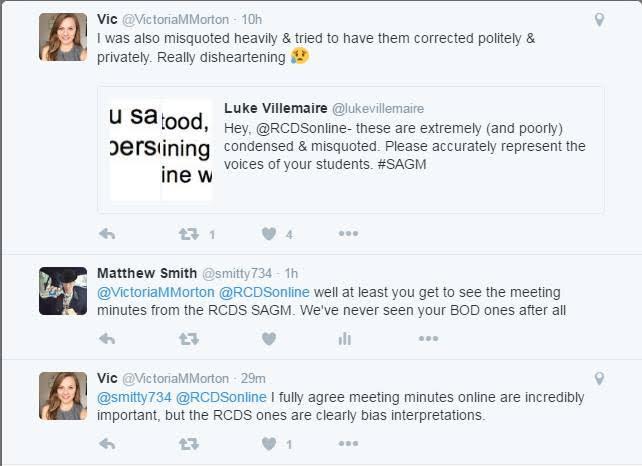 He added that there was no meeting or discussion with the chair of the faculty regarding what should be taken in the minutes. The only editing of the minutes that took place was for grammatical errors, Jardine said. "I just felt like I had done a favour for her, and she had then dragged [the RCDS] so much and attacked them on Twitter, that I felt bad because I felt like I had let them down," Jardine said.
Jardine said despite her apology at the SAGM, a change in behaviour remains to be seen. "She was a detriment to my mental health for sure and tends to put others in a position where she could be traumatizing them in that sense, and that was the point of this motion. To just bring the membership her actions, or non-actions in terms of her job, and see what they think about it. They voted, so I respect that, obviously."
Morton said that the tweets at the organization never once mentioned that it was Jardine who had written the meeting minutes. She said she spoke to Jardine later on and they came to a conclusion where they were on fairly good terms.
"It was never meant for him to be at the focal point of that … it was up to the organization afterward to fix their wrong, which they didn't," Morton said. "So it's really unfortunate he had to get in the middle of that because he didn't deserve to at all."
Extra vacation days
Morton was accused of taking more vacation days than are permitted by the RSU bylaws.
At the SAGM, Morton clarified that she had taken the vacation days allotted, but also took an extra week off unpaid, and that she had made that time up on the weekends.
Smith said Morton was not accessible to students during this time, and that for this reason she didn't deserve her $5,000 raise this year. "Sure you didn't cost [students] any money, but you still weren't accessible," he said.
Ullah put forward a motion to bring the initial motion to a vote immediately because he said he believed people were abusing the fact that she was onstage.
"It turned into a personal trial about how Victoria is as a person and not how she is in her role as a vp education," he said.
Smith said he was not surprised that somebody on the board called the motion quickly to question.
"The RSU board, regardless of what slate wins, it's like they've always stuck together closely," Smith said. "They try and deal with it [inhouse] instead of letting students have a say or have a discussion about it, and they just try and kind of stifle the discussion around it."
On Nov. 30, Smith published an open letter requesting that the RSU make three changes in order to ensure "transparency and accountability to the membership."
The letter included requests such as another general meeting take place at the start of the winter semester, that the board ensures that meetings maintain quorum and that it is not dominated by a single group of friends or supporters, a rundown of Robert's Rules before the meetings begin and for a bylaw amendment allowing the membership to impeach an executive. Currently, only those on the board of directors can impeach an executive.