Reading Time:
5
minutes
By Jennifer McGregor
He controls her. She only comes out when he lets her. He decides what she wears, how she styles her hair and how she behaves. He doesn't let her sleep around. She's Daisy, and you won't hear her complain.
Daisy is a dress, a pair of shoes and a wig. Most of the time she stays in the closet. Daisy comes out on special occasions as the alter ego of Dave Knott, a 21-year-old gay man from Kingston.
Dave brings the makings of Daisy to the crowded, smoky apartment at the corner of Church and Wellesley Streets where an eclectic group of friends are gathered before a night out in the gay village. A man in his mid-50s, dressed in baggy pants and a trendy t-shirt; with flawless hair, pierced ears and a tattoo passes a joint to a guy half his age as Dave enters the apartment.
"I brought Daisy," he announces over the energy music pulsating from the stereo.
She is packed in his luggage, among enough clothes and toiletries to last a busy weekend in Toronto.
In the apartment, Dave finds a spot on the crowded couch, and gets ready for show and tell. Slowly he pieces together Daisy from the contents in his knapsack, obviously enjoying showing her off.
First her dress — it is black, satin and sexy, probably a size nine. It's the style of dress suitable for a New Year's Eve party. Then her breasts — cup size C — are perfectly packaged to protect shape and form. The tits raise a lot of questions from the group. How do they stay on? How much? Do they feel real? He wears a strapless to keep them in place. Next, he explains that Daisy isn't picky about her hosiery. She wears cheap nude nylons from the dollar store, disposable after a long night of dancing. And now for her hair. Daisy has a many hairstyles, short and long. This time it's a smooth jet-black bob.
"I think of Daisy as a drag princess," he says. Daisy give a little more attitude than Dave does.
Dave realizes that he is in a bit of a predicament. In the confusion of packing for the trip he forgot Daisy's shoes. She's a size 11 — big feet for a girl. He isn't sure how to address this complication as none of the men in the room appear to share Daisy's taste in footwear.
There is nothing about this guy that indicates that he like to dress up as a woman, though when she's all dolled up, Daisy could give Toronto's most famous drag queen, Enza Anderson, a run for her money.
"I am most comfortable being both Dave and Daisy," says Dave. "Daisy is an entertainer, a performer."
He looks innocent with his baby face and reddish-brown hair. He's about 5 foot 9 and has an average build, not a body builder type, but not too scrawny. He could be the next shirtless model on a Yonge St. billboard. It is easy to tell that he takes care of himself, but Dave is hardly a princess.
He transforms himself into Daisy when he wants to portray his more feminine side, he says casually as he smokes a Player's Extra Light cigarette. Cross-dressing doesn't define who he is — it is merely a part of him. It's more about expression, and Daisy is a way of expressing himself. Sometimes he feels like dressing up as Daisy and it is that simple. It isn't about kinky sex acts or a fetish for his mother's underwear.
For Dave, defining Daisy is easy and rather cut and dry.
"She is part of me, but she is the entertainer part of me," says Dave.
A quick poll of the gay men scattered throughout the apartment provides varied opinions about cross-dressing and drag queens. Some of the men have dressed in drag a couple of times. Some say it has no appeal to them, others have slept with drag queens and others simply find the whole concept abstract.
Jeff Siegel, the host of the party, is a 52-year-old gay man. As he pours a package of cheezies into a bowl for his guests he explains that he doesn't cross-dress and has no desire to try it. Not all gay men feel inclined to dress as women, says Siegel. In fact, Siegel is more attracted to Dave than Daisy — she isn't his type.
Knott lives in Kingston where he works as a clerk at Fireworks, a gift shop. It is no secret that he is gay, but it isn't likely that Daisy will ever show up for a shift. She's a little too shocking for a day on the job. The dynamic on Church Street, a more vibrant gay community than any in Kingston, draws him down two or three times a month to party. He occasionally goes out on the town, in Kingston and Toronto, as Daisy.
"There is more going on and there are a lot more people," says Dave of the Toronto gay scene.
Dave remembers Daisy in her early days.
"She started off as a boy in a dress pretty much. A princess," he says. Daisy made her first appearance in high school.
In Grade 11, a few guys decided to dress up as women for Halloween.
"I don't know if all of them actually put work into it," he says. But he took the task seriously. "After that it stuck and my friends would lend me their dresses."
Then he began buying his own. And that was the origin of Daisy.
Daisy is sexy, sassy, delicate, girlish and ladylike.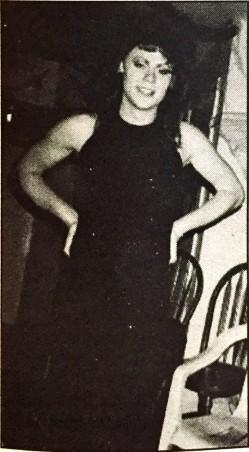 "She comes out when we want to show what we've got," says Dave. "When the dress comes out so does all the sleekness of being a woman."
Daisy might be a simple creature but creating her is no small feat. It takes a lot of time and expertise.
"You have to shave first," says Dave. His upper chest is mandatory as all of Daisy's clothing reveals a lot of cleavage. Applying her make-up, including foundation, usually takes about 40 minutes. Her outfit depends on her plans — for a drag show she usually goes all out, but she might dress down a little for an average night on the town.
"High heels and trying to get around and dance just doesn't cut it for me."
Dave says the physical transformation is the toughest part. Becoming Daisy doesn't take a lot of mental preparation.
"Actually it just kind of happens. When I have the dress on and the shoes on Daisy is just there," says Dave.
Daisy loves attention and she likes to perform. She made her first public appearance two years ago at Club 477, a gay club in Kingston. "My roommate at the time was also doing drag and wanted to do a show. Away we went."
"You go with the flow. That's what I do. You don't stick with any plan because it never really works out," he says of Daisy's stage techniques. The song starts to play, you find the beat and start to sing, says Dave. He has performed to a variety of songs, from artists such as Pink and Faith Hill. Daisy usually invokes a strong reaction from the audience. By the end of her performance most people are singing, clapping and dancing, says Dave. Never mind a few cat calls.
Daisy is a girl of few words. She'll ask the crowd how they are doing but she keeps it short.
"Daisy doesn't like to talk much because her voice doesn't really match her appearance," says Dave.
Her most recent appearance was at Wally's Bar & Bistro, also in Kingston.
As for Daisy's future, "she needs to work on her makeup a little bit, wear the right shoes and she could come out more often. She'll do a show here in Toronto soon," says Dave.
Still, she gets a lot of attention.
"I have had a couple of people come up to me and they thought I was a girl," said Dave. Daisy gets hit on a lot and she always turns down advances — Dave's not a virgin but Daisy is.
Daisy hasn't decided where she'll spend Valentine's Day. But one thing is for certain — wherever she is she'll be wearing a red dress.