Reading Time:
3
minutes
By Kourtney Meldrum
The Horseshoe Tavern was dimly lit, and there was a pool table and a scuffed up black-and-white tiled floor that set the stage for the homecoming of Toronto based band A Fellow Ship. 
On the night of Sept. 30, the Queen St. bar was full, awaiting the return of the folk funk band who was finishing up a two-week long tour through Ontario, Quebec and New Brunswick.
"It's been incredible," said guitarist and lead vocalist, Joe Dent. "We've played out of town a bunch before, but this was the first two straight weeks everyone takes everything out of their life and goes on tour." 
The crowd was filled with friends and family, music lovers and people on a night out.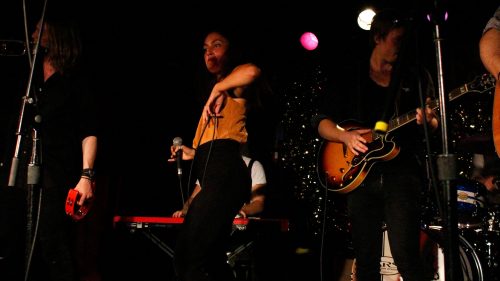 Saturday night also marked the release of the band's new EP, "The Black Sheep." Teddy Liptay, former Ryerson student and the band's keyboardist, describes the new EP as energetic. "It's fun to listen to. It's just about getting people up and on their feet really." 
Liptay has chosen to take some time off from Ryerson where he was enrolled last year in the English program. The decision to take time off was hard because he loved going to Ryerson, but he felt like he needed to put school on hold to focus on his music.
"I could definitely see myself finishing a degree at Ryerson, but I'm not in any particular hurry. This is going well," said Liptay about the success the band is having. Keep your eyes out for him on campus—Liptay feels like he could be back as early as January.
But Liptay isn't the only part of the band that goes to Ryerson. Band manager Matthew Gibbs is currently enrolled in the creative industries program. 
His involvement with the band started a couple of years prior when he accidentally showed up early to one of their shows. After an awesome gig, lots of drinks and food, Gibbs knew he had to work with the band.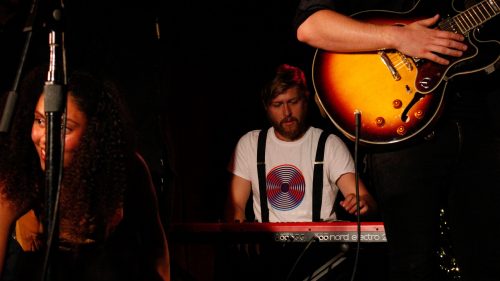 "My program is so relevant, it's so heavy with course material which is so incredibly relevant [with the band]," said Gibbs. 
The tour may be over, but that doesn't mean that the band plans on slowing down. Already reliving moments from the tour, vocalist Forest Van Winkle recounts one of her favourite moments from their show in London, Ont the night previous, which happened to be in a residential house. 
"The fame and the fortune, someone else can have that. I wanna play [in] people's sweaty basements and just have a wild lovely time," said Winkle. 
"The Black Sheep" has just been released but the members say that they're already working on new content. 
"Having finished the EP, we already have all these songs we want to record," said Winkle. Previous songs have been written by Dent but most of the upcoming songs have been a collaboration of the entire band. They're all eager to get back into recording.