Reading Time:
2
minutes
By Nathaniel Crouch
The SLC is usually host to a fair bit of noise on a Friday night, however on Sept. 29, it was filled with a chorus of styled music, crowd reactions and the unique sound of new shoes making their mark on the floor.
The second annual event DEVO, hosted by Ryerson's Urban Hip-Hop Union, was a collection of performances by freestyle rappers, R&B singers and break dancers all wanting a quick moment in the spotlight.
As the event name suggests, it was originally supposed to take place at Lake Devo but due to rainy weather, it was moved to the first floor of the SLC. This location had its advantages, however: it attracted students getting out of the elevator, so even though the event started off with a limited crowd, it quickly grew to encompass nearly the entire floor.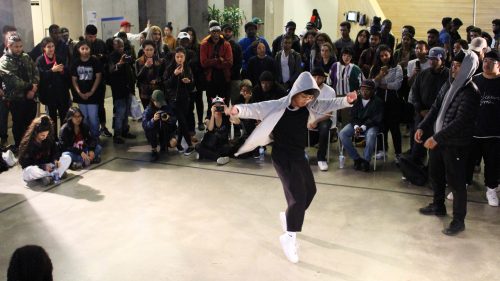 It started with a freestyle rap battle. Six contenders had a minute each for three tries to impress the judges: once with music, once acapella (using only their voice) and once narrowed down to the top three, judges would give them words on the fly they had to incorporate into their minute.
The winner of the rap battle was a 23-year-old breakdancing teacher, Gautam Siddartha Tiwari, who said he was ecstatic to have a chance to perform. "It's about being passionate. The more people who get into this the better—we feed off the energy of our competitors and the crowd."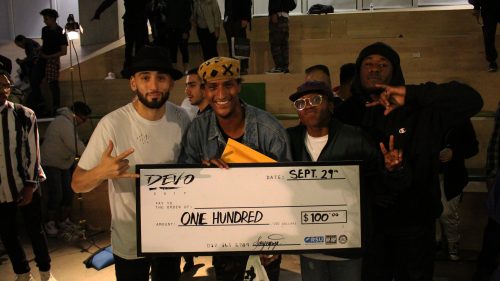 Tiwari went on to compete in the dance battle and placed second, losing in a tie breaker dance off to Raoul Wilke. The break dance competition was set up to be a one-on-one with the two dancers given 45 seconds each to win over the judges.
But even if you weren't immersed in the hip-hop dance world, the crowd's energy and the diverse moves were enough to get you into it.
Third-year sport media student Trae Nguyen, the main organizer of the event, said that it encourages hip-hop as "a culture that doesn't care about your background."
"Hip-hop brings you in and regardless of creed or colour, [it] allows you to be part of a unique experience. Every performer loves the stuff other performers can pull off, because with every new person added to this culture, that culture grows."
[ngg_images source="galleries" container_ids="363″ exclusions="5005,5007,5001″ display_type="photocrati-nextgen_basic_slideshow" gallery_width="864″ gallery_height="486″ cycle_effect="fade" cycle_interval="5″ show_thumbnail_link="0″ thumbnail_link_text="[Show picture list]" order_by="sortorder" order_direction="ASC" returns="included" maximum_entity_count="500″]