Reading Time:
2
minutes
By Erika Dreher
After opening the season with six consecutive wins, Ryerson's men's volleyball team had their first loss of the season Saturday night, getting swept by the University of Waterloo Warriors 3-0.
Waterloo, which now has a 4-5 record on the year, played a clean and effective game, while the Rams looked tired and unprepared, according to Ryerson head coach Adam Simac.
"We expected it to be easy tonight…we didn't prepare and it showed. We looked disjointed," Simac said.
After beating the Guelph Gryphons 3-1 the night before, the Rams were in tough against the Warriors, playing games on back-to-back nights for the first time this season.
"[it is] disappointing because we had the opportunity to build on what we learned last night and apply it tonight," Simac said.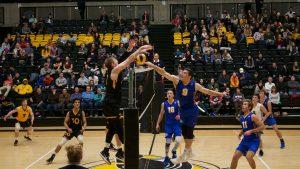 The Rams lost the first set 25-13. They were able to increase the pressure a bit after that, losing the next two sets 25-21 and then, 25-19.
While not an excuse, starter and fifth-year senior Adam Anagnostopoulos says the fatigue related to their tight schedule could explain Ryerson's first loss this year.
"There's a lot of things that went wrong," he said, "First things first, we didn't look our normal selves. We were a little tired… that and going up against potentially our hardest opponent of the whole season doesn't really bode well, obviously."
Moving into winter break and the second half of the season, the Rams will be taking a closer look at individual development to elevate their level of play, Simac said.
"We need a lot of individual work to make the collective better. That's what's holding us back right now," Simac said, "The next step will be to get those incremental improvements individually to add to the team level of play."
Despite the loss, Ryerson still leads the Ontario University Athletics (OUA) East division, and is tied with the McMaster Marauders for the league's best record at 6-1.
Up Next: The Rams are now breaking for the holiday season, but will be back on home court on Jan. 12, 2018 at the Mattamy Athletic Centre, facing off against the Western Mustangs.