Reading Time:
3
minutes
By Jonathan Dylan Bradley
Julianna Perkins, a second-year journalism student, said that her grandparents' cooking will be the greatest reminder of not only her half Italian heritage, but of home.
Perkins' grandmother is southern Italian, and her grandfather is from northern Italy. She said her grandparents are known to make very region-specific food.
"My grandma is one of those hardcore, stereotypical southern Italian grandmothers who wake up at 4:30 a.m. to bake bread. And her bread is fantastic. No matter how hard my mom and I try, we've never really been able to recreate my nonna's focaccia bread," said Perkins. "It's perfect: super dense, salty, and just the right amount of oil."
One of the most difficult parts about being away from home can be missing the familiar smells of traditional home cooking. Ryerson students from different cultures reflected on their memories of sharing food with their families, and how certain dishes especially connect them with home.
Perkins said that the northern Italian food her grandfather makes is distinct.
When it came to Thanksgiving or Christmas dinner, she remembers inviting a massive amount of family and friends to her house. She and her mother and grandmother would be in the kitchen for most of the day cooking for everyone.
"There's a lot of yelling involved, but I honestly think this is where I've learned most of my cooking skills from," she said. "To know you've had three generations work together to make a meal and have fed a ton of people good food is really special."
Perkins said while there aren't any restaurants in Toronto that make food like her grandparents, she recommends going to Scaddabush Italian Kitchen & Bar and the Kit Kat Italian Bar & Grill not too far from campus for good Italian food.  
Mohamedali Hirani, a second-year mechanical engineering student, is Indian, but he lived in the Democratic Republic of the Congo (DRC) for 18 years before moving to Toronto to study at Ryerson. Hirani said one dish in particular that reminds him of the DRC is Pondu Madesu.
Pondu Madesu is a stew made of cassava leaves and white kidney beans with added spices for a little kick.  
Hirani said that Pondu Madesu was his go to food because it was a delicious staple of the DRC.

"Whenever I think about it, I remember how my mom used to make it at least once a week and how I would come home after school and my siblings and I would just enjoy this refreshing and amazing food," said Hirani.
He said while being in Toronto he hasn't found any restaurants so far that make Pondu Madesu, but a Bangladeshi grocery store, Marhaba Supermarket Inc., about 15 minutes away from Ryerson, has the ingredients to do the trick.
Demiyah Perez is a second-year creative industries student from Kitchener with a half Jamaican background. She said she loves eating her family's Jamaican food when she goes home to visit.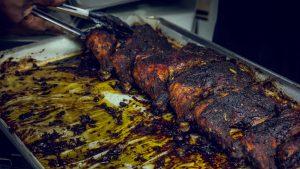 The Jamaican dishes that remind Perez of home are rice and peas and jerk chicken. She said she remembers eating curry goat and oxtail with all its added seasonings and spice, but a good place in Toronto that also serves up these dishes is The Real Jerk.
She said she misses the authentic taste of the Jamaican food she would have when her entire family was around.
"I have memories of big family get togethers …  like family celebrations where we would go all out with food, and we still do for Christmas and Easter," she said. "I guess food brings people together."