Reading Time:
2
minutes
By Lidia Abraha
Last night, dozens of Ryerson students gathered around Lake Devo in memory of Zainab Ansari, an eight-year old-girl murdered in Pakistan two weeks ago. Her story created a movement to bring attention to sexual assault across the globe with the hashtag #JusticeforZainab.
"Coming out to these types of vigils is to show people where we stand, because we are with the victims," said Aima Warriach, a second-year political science student attending the vigil.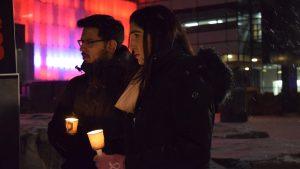 Ansari was reportedly kidnapped on her way to Quran class in Kasur, Pakistan. Her body was then found in a dumpster nearly a week later. According to senior police officer Imran Nawaz Khan, forensic evidence proved Ansari was sexually abused before the murder.
Protests erupted in the city of Kasur since Ansari's body was found. Two protesters were shot and killed by police amidst these protests.
The vigil led by Ryerson's Pakistani Students' Association (PSA) brought together a community to mourn the death of Ansari and advocate for sexual assault awareness in Pakistan. A recitation of the Quran was given by third-year industrial engineering student Ibrahim Khan, followed by a spoken-word performance from Hirra Farooqi, President of the PSA.
"No one knows how many Pakistani students are actually distressed by this since it hits so close to home," said Farooqi. "You hear about this growing up but you never hear it to this extent of what happened to Zainab…It puts a lot of distress into our communities."
Farooqi said one of the main objectives of the vigil was to bring the Pakistani community together and make sure Ryerson knows their students are suffering.
"Everyone should recognize this is happening to your fellow students," said Farooqi. "As Ryerson students, you should know that this is happening to the Pakistani student next to you. They're concerned about this."
Celebrities and activists have been taking the issue to Twitter and calling out the police and government for inaction. Malala Yousafzai took her own stance on the issue:
Both Ansari's death and the #MeToo campaign have made worldwide coverage. The campaign has generated a global dialogue of sexual assault awareness, particularly for marginalized communities.
"Zainab's case shows that the range of women in the #MeToo movement goes from a woman who's 80 years old to a girl who's seven years old," said Warriach. "#MeToo is an inclusive movement, which means that there are victims that are people of colour and from religious minorities."
Farooqi thinks attention should be given to students affected by this issue, instead of focusing on social media.
"In a way, the #MeToo campaign is part of their lives back in [Pakistan] too. People are giving it so much attention on social media, when we should be giving more attention to the people right next to us," said Farooqi.