Reading Time:
5
minutes
By Shanti Zachariah
Though day is fading fast, there is no lack of light in "Little INdia," Toronto's East Indian and Pakistani business community. Delicate cords of lights, adorn the store fronts. Warm, nutty and sharp spicy aromas catches your nose, as you walk slowly down the street. Sari stores glitter, their display windows strewn with silks in the deepest, most beautiful, garish shades the mind can conjure.
While all this can make a person feel very far away from the rest of Toronto, Little India is not some exotic, isolated enclave. Situated on Gerrard Street East (between Greenwood and Coxwell) in the heart of a dense residential area and minutes away from the downtown core, it is a vibrant commercial area that caters to all the Torontonians.
For this Indian business strip, it was a little movie theatre that started it all.
"The Naaz Theatre was showing Indian movies – this was around 1974," explains Kanwelgit Khorona, president of the Gerrard indian Bazaar Association. "But after the movie, there was no place to go. People wanted snacks, so small shops came about. Then restaurants followed and eventually, fabric and other shops came as well."
Today there are more than 100 shops that make up the community. "Little India is like a home away from home," says store owner, Reena Lalla. "People come here for the songs, for the books, to meet other Indian people, to find the food they want to eat. IT's a natural thing -we're not separating ourselves, we want all people to experience it."
Religious tolerance is a key factor in helping the community survive. The business owners are from various religious backgrounds. And it is this sense of openness that makes it an inviting place for anyone to visit, whatever their cultural or ethnic origin. Little India helps people retain some of their culture within Canada and as it grows, it helps to redefine Canadian culture.
If you want to buy some beautiful material. Or try some spicy and delicious food, here is a brief run down of some of the things you can find, and where to find them.
Clothing and Accessories
You won't have any problem finding saris or material – almost every other store is a sari shop. Saris are the traditional garb of Indian women. They wrap the large piece of cloth (about 1 m in width, six m in length) around themselves to form a dress. Because of its size, a sari can be used in a number of creative ways.
"Nowadays, People come because they have a lot of different ideas. They take the saris and make their own dresses," says Asha Madan, a salesperson at Sonu Sari Palace.
Some ideas for making a sari of your own:
-If you can sew: try turning it into a pair of slim ankle-pants, a feminine camisole or maybe a little slip dress.
-If you want something to pretty up your room or apartment try using the pure silk fabrics for slipcovers for throw pillows, as wall hangings, even curtains. Thicker fabrics could be used as slipcovers for duvets.
Where to shop for fabric and accessories:
-Sonu Sari Palace is a good place to start. It has a large selection of fabrics, ranging in price from $50 for polyester/silk blends to more than $3,000 for intricately embroidered and beaded pure silk.
-6 Kumars sells large squares of dyed cotton for less than $30. With beautiful design of elephants and flora, these would make great table cloths, bedspreads or wall hangings.
-The Maharani Emporium has a bit of everything; it's fun to browse around and there were some little gems among the cluttered shelves;
Hand-stenciling kits are a traditional decoration for women. Both sides of the hand are stenciled with intricate Islamic-like flowing and geometric designs. A henna mixture is used to actually stain the pattern onto the skin, so it can last for awhile. Felt stencils can be bought, as well as the Henna mixture for less than $10.
Self-adhesive tear-drops, paisleys and circles applied between the eyebrows could be a fun and pretty alternative to your regular jewelry. Delicate silk scarves, painted with scenes of Indian folklore will beautify a wall immediately between $25-35
Sandalwood prayer beads, which the owner informed me you don't need to use for praying. Wear them for the lovely, musky smell alone.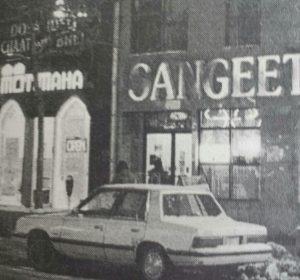 Cuisine
If half the stores in Little India are fabric shops, the other half of the businesses are restaurants. Most of the restaurants are buffet style – weekday lunch is about $6.99, dinner $7.99, which  is good if you're trying the food for the first time. Some facts to note:
If you're not used to spicy food, ask for someone working at the restaurant to point out what's hot, and what's not. A popular dish is tandoori chicken; it is savory without the pain.
For vegetarians, there is a lot of choice. Two good restaurants to try:
-The Madras Durbar, where you can get a Masala Dosai for 44.25. A dosai is a large circular pancake the centre of which is filled with potato curry and then folded over to form a half-moon. It's served with a great lentil soup, sambar, that can be used as a dip for the dosai. Or for a snack try their puri and potato dish for $2.75. The dish comes with two deep-fried pieces of bread (puri) and a helping of potato curry.
*At the Gujurat Drubar there's a great weekend buffet for $9.99, which includes several different curries, chutneys, rice, green and yogurt salads, and bread. The food is from the western state of Gujarat, in India and is flavorful and filling vegetarian fare. The cozy restaurant is owned by Kishor Mistry and his wife Daksha.
With hundreds of intermingling spices, an aroma of some sort settles into every corner of Little India. Some good prices for spices at the oddly named Toronto Cash and Carry:
*400 gr. Bags of cumin or turmeric go for $3.99
*Garam Masala, a popular curry mixture (you add a teaspoon or two of this to your potatoes, and you've got a basic curry dish) can be bought for $6.99 per 400 gr.
*4.5 kilo bags of basmati rice, the traditional rice for Indian dishes are $8.99. Also available are an array of sauces, relishes and chutneys that will make your veggies or meat savory and spicy.
Fun and film
Besides the food and fabric, there is still a small movie theatre in the community. The Bombay theatre regularly shows various "Bollywood" movies (India's movie industry is often called Bollywood, because it is the second-largest film industry after Hollywood). As well,there are two or three music shops stacked with the latest imports of Indian dance and club music.
If you go, it will be easy to see the success of Little India with its clean streets, and brightly lit shops. It is also a cheap and convenient way to experience genuine aspects of South-west Asian culture, With its Bhangra music blaring from storefronts, light spilling onto the street and color everywhere, Little India is a unique part of the great experience that is Toronto.