Reading Time:
3
minutes
One-time Ryerson student Caroline Azar's thespian side on display at Theatre Passe-Muraille
By Briar Stewart
In her BiWay tennis outfit and Nike sweatband, the character of Margot Kopechnie lights a cigarette and between drags tells the audience she first started smoking because she was stressed out about getting cancer.
From the tiny stage painted to look like a tennis court, Margot — played by Toronto actress Caroline Azar — sits and sips Smirnoff vodka from a wine glass.
The one-woman play, the betty dean fanzine, by Greg Kearney, takes the audience through the wilds of Margot's mid-life crisis where she is sued by Betty Dean, a childhood friend who was defamed in Margot's zine of the same name as the play.
Her envy of Betty's success as a Wimbledon champ and her bitterness towards her own mother, who had an affair with the tennis star, lead Margot to print an article claiming Betty had intimate relations with all the neighbourhood dogs.
To pay off the lawsuit Margot creates a hare-brained scheme to beat Betty at Wimbledon, but instead of immediately acting on her plan, she finishes the vodka and pines over the low points of her past and her lust for the high-life.
Margot sees herself as a potential tennis pro, who instead ends up with a dysfunctional marriage and a floundering catering business.
The play, which originally debuted at the Buddies in Bad Times Rhubarb Festival, has since undergone 40 revisions and now has Azar taking on the role of tennis-obsessed Margot.
Though it was Azar's childhood dream to be just like her favourite Peanuts character, the Toronto actress is now taking the court and serving up success.
"I used to read Peanuts comics when I was little," says Azar. "I really loved Lucy and it made me want to be a psychiatrist."
Her wish came true when she starred as Lucy in a camp play, but abandoned her psychiatric calling after realizing she wanted to be involved with the theatre.
She did some small productions as a child until she hit her awkward teen years.
"The agency asked me to leave gracefully, well… actually not gracefully at all," says Azar.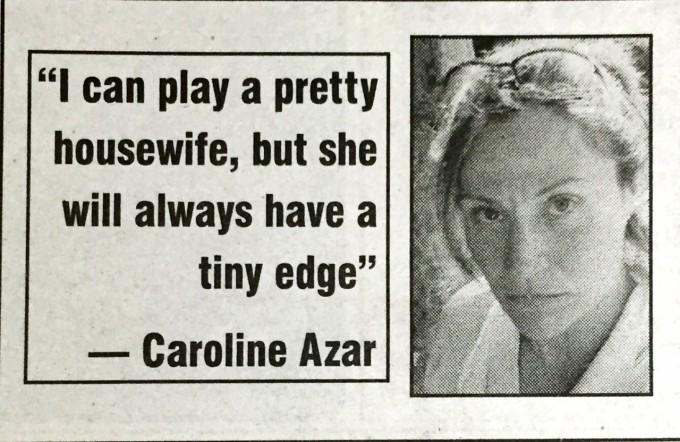 She got back into theatre in university and studied performance at the University of Toronto and 20th century dramatic studies at the University of California at Berkeley.
While the programs did help her tone her craft, she doesn't think they adequately prepared her for the world of theatre.
"Instead, I think what I did see is the social infrastructure of theatre making," she says.
She enjoyed the film course she took at Ryerson, and she says her teacher Peter Gerresten was "riveting" and a "great inspiration."
Though Azar may best be known for being a member of the punk group the Fifth Column, or for her work as a story consultant, her performance in the betty dean fanzine is showcasing her flair for the stage.
Azar's less traditional female presence perfectly lends itself to Margot's hard-edged personality, and brings vitality to Kearney's script.
Though it wasn't Azar's first time acting in a one-character play, she did find it hard to take on the role.
"My biggest challenge is not to be bored with myself," says Azar. "I don't enjoy acting alone."
Instead she said she uses the audience as a partner and lets its rhythms beat off of her.
Though Azar doesn't aim to play a particular character, she prefers those with a dark side.
"I can play a pretty housewife, but she will always have a tiny edge," she says.
The betty dean fanzine runs at the Theatre Passe Muraille until Feb. 24, but after that Azar has no intention of slowing down.
She wants to create a punk-indie musical and will be attending festivals as a story consultant to help frustrated writers find their voices.