Reading Time:
2
minutes
By Roderick Fitzgerald III and Alfea Donato
Ryerson's home for competitive gaming on campus, Gaming and Multiplayer E-Sports of Ryerson (GAMER), threw down a local access network (LAN) party on Tuesday evening. LAN parties are gaming gatherings where players bring consoles and games from home. While the LAN party started in Oakham lounge, players keen on PC games like League of Legends headed to the HUB cafeteria. The competition, while sometimes brutal (angry cries of "this guy ganked me!" and "lag" were overheard in a League of Legends match), had players mashing buttons from 5 p.m. to 10 p.m.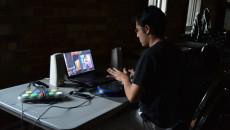 Player: Second-year computer science student Oscar Cortez.
Game: A port of Dancemania Deluxe 3 on his laptop.
"It's an arcade only game, the only machine in Canada is in Vancouver."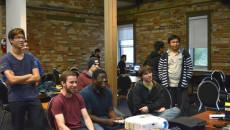 Players: Third-year computer science student Jeff Silva-Carlos (left), Second-year engineering student Dela Nyo (right)
Game: Marvel VS. Capcom 3
"He got his ass whupped," said Nyo, after winning. Silva-Carlos left as soon as the match was done and didn't shake his opponent's hand.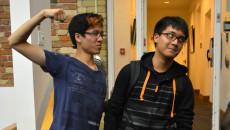 Players: First-year computer science student Jay Olazo, Third-year computer science student Justin Wong
Game: Marvel VS. Capcom 3
"I jumped into it [Wong's super attack] by accident," said Olazo.
"I used my super by accident," said Wong.