Reading Time:
3
minutes
By Mackenzie Davidson
Revellers braving the all-night experience of Nuit Blanche this year are in for not just one, but three, Ryerson-bred creations.
Behind the interactive light installations is the [R]ed[U]x Lab (Ryerson University Architectural Science Design Lab), a group of students led by architecture associate chair Vincent Hui.
The first of the works — all of which will be on display at the Bata Shoe Museum — is an installation called Ad Astra (latin for "to the stars"). The piece is made from hanging illuminated balls, some of which have sensors that can trigger pulsating light patterns and even change the audio that fills the dark space. By touching these special lights, users are able to assert influence over the space.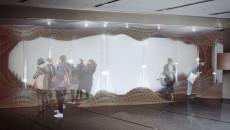 The second exhibit, Light_ Scape, allows users to move and manipulate 999 boxes of light, cycling through different hues of diffused light. The boxes stick to both a wooden substructure and each other, allowing the viewers to create their own lightscapes based on patterns and forms they construct themselves.
"The user interaction with the installation is the exciting part," says Jeff Mitchell, a masters of architecture student and one of the members of the Light_Scape team.
RevitaLight, the third installation, similarly focuses on creating a kinetic space that reacts to those exploring it. Its undulating structure is outfitted with a reactive array of lights.
The installations share com- mon themes; they all focus on light and explore emotional concepts through viewers' interactions with the spaces. Although the similarities were unintentional — the projects were selected from a pool of proposals from the ar- chitectural community at Ryerson — the focus lends itself well to the Bata Shoe Museum space, which is hosting exclusively [R]ed[U]x Lab exhibits this year.
The light-focused theme, which recalls [R]ed[U]x's pieces from last year's event, creates an interesting juxtaposition within the overall thematic elements of Nuit Blanche; the involving, kinetic light installations are contrasted by the darkness that blankets the all-night event.
Having architects exhibit at Nuit Blanche opens up an interesting dialogue: Do architects think of themselves as artists?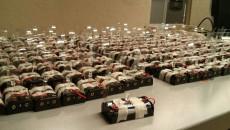 "I find that there's a lot more than just purely aesthetics. There's creation of atmosphere and the utility of things like the surfaces, and how you perceive spaces," says Matthew Koniuszewski, one of the designers of Light_Scape. "I wouldn't call it just purely art, and I wouldn't call it just purely building."
Nuit Blanche will also feature works from both established artists, like Ai Weiwei, and other schools like OCAD University. But Koniuszewski says the groups aren't worried about competition. "We're fairly supportive of each other," he says. "I think everyone just wants to make the best work they can."
Kevin Pu, one of the designers of Ad Astra, adds, "We want to showcase what we're capable of, so we can make a name for not only ourselves, but also for our department and professors and all the people who have supported us."