Reading Time:
3
minutes
Editorial by Marta Iwanek
I ended up covering the Ukrainian revolution by chance.
I had arrived in the country two weeks earlier to work on a film and decided to stay an extra week in the capital. I started to photograph the pro-European integration protests in Independence Square. Being raised in a Ukrainian-Canadian household, I was taught to be proud of my roots, and when I saw that the country that I loved was at a turning point, I decided I needed to stay.
On December 1, hundreds of thousands poured onto Kyiv's streets after being shocked by the images of police violently dispersing peaceful pro-European Union protestors — many of them young students. Something changed in Ukraine that morning. People were no longer willing to stick to the old Soviet mentality that had plagued the country and say "It's none of my business." They poured onto the streets not solely because of a want for European integration, but because they wanted rule of law to mean something. No longer were they willing to live under a government that didn't respect its people, its laws, its constitution. No longer were people willing to put up with its corruption. It became a revolution of dignity.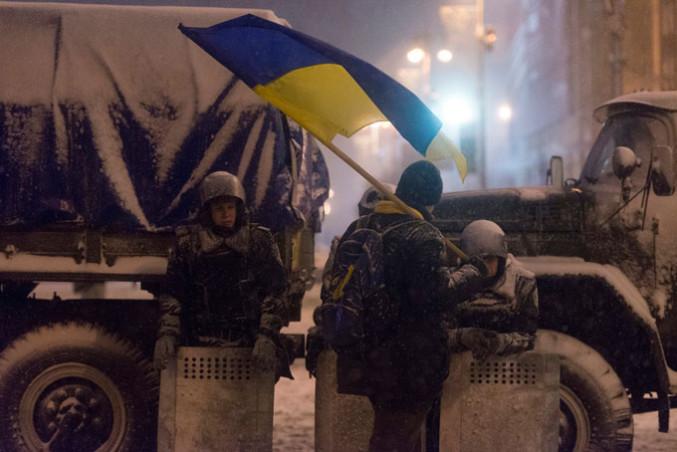 (Photo copyright Marta Iwanek, all rights reserved)
Barricades went up, tents were pitched and people settled in for the long haul. Before my eyes, people created a micro-city within a city. They created the country that they wanted to see within the heart of Kyiv. People worked together to keep each other safe. There were constant shifts of guards patrolling the camp and the streets off the camp. No one in the camp ever went hungry, with men and women working tirelessly in the kitchen to make intricate sandwiches and tea. "You must get your vitamins!" was a phrase I often heard. The kitchen was filled with stacks of jars and boxes of donations. After reports of activists being taken from hospitals, numerous make-shift clinics were made on the square to care for the injured. All the doctors were volunteers. All the medication was donated. I have never seen people work together so effortlessly and with such passion.
While the many media jumped on reporting about radical-fringe groups taking over, the Maidan I saw was made of a majority of people without any political affiliation who were in fact tired of any type of politics. People realized they could only rely on each other very early on. In fact, about 11 per cent of those on the Maidan belonged to any political party whatsoever. They were ordinary people, from all corners of Ukraine, ranging in many different ethnicities, out there for a better life. Many I talked to were willing to die for this cause, and unfortunately some of them had to prove that. Hundreds also disappeared throughout the months and hundreds have yet to be found.
With the President now gone and their number one demand fulfilled, the people of Ukraine were able to have a brief exhale but now face a new threat to their security as Russian troops have invaded Crimea and attempt to provoke the country. The Maidan, which became a state of mind rather than just a place throughout those cold, winter months, is far from over.