Reading Time:
2
minutes
By Jackie Hong
The number of high school students enrolling in Ontario universities has dropped for the first time in 15 years but Ryerson is kicking the trend, according to statistics posted on the Ontario Universities' Application Centre (OUAC) website last week.
Enrolment for first-year, fulltime programs at 28 universities across the province dropped an average of 2.8 per cent from September 2013 to September 2014. On the other hand, freshout of-high-school students enrolling at Ryerson actually increased to 6,259 students in 2014 from 5,918 students in 2013 -a change of 5.8 per cent.
"Ontario secondary school students are choosing Ryerson in record numbers – whether it's due to our program mix, our highly desirable experiential learning opportunities … our downtown location and our growing reputation for outstanding service to students," University Registrar and Director of Admissions Charmaine Hack said in an email.
Hack is also OUAC's Ryerson representative.
Seven other Ontario universities also saw an increase in enrolment; the University of Guelph Humber had the highest with a 19.3 per cent increase and Western University came in second at 11.1 percent. Ryerson came in third.
Besides the University of Guelph-Humber, Ryerson fared better than other GTA schools.
The University of Toronto's enrolment went up by 0.7 per cent, while York University's went down by 9.8 per cent. OCAD University was hit the hardest with a 15.4 per cent drop.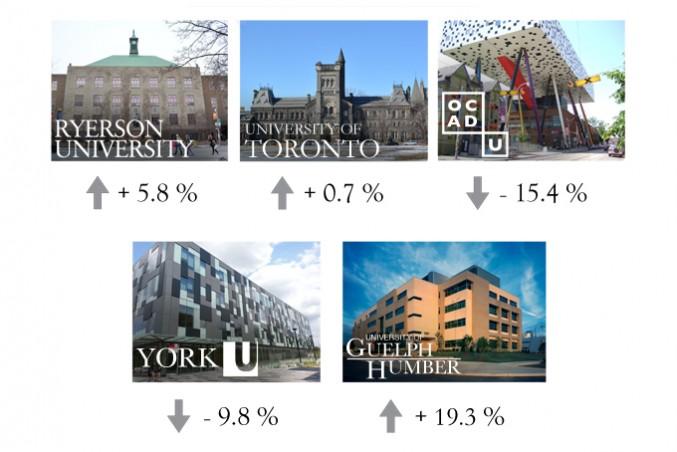 Infographic: Jess Tsang
Bonnie Patterson, president and CEO of the Council of Ontario Universities (COU), said that the drop in high school students enrolling in university can be attributed to demographic changes that began in 2011. A population boom that came from the children of the baby boomer generation is now moving out of the school system.
"If you look at elementary school classes now, what you see … is a slow decline of the number of students, and that's the cause behind the decline," Patterson said.
She added that percentage of students not coming straight from high school has actually increased by 4.6 per cent, in part due to adults returning to school to be more competitive in the job market and the popularity of taking "gap years" after high school to work or travel. The COU expects demographics to change again in 2021, when another large number of children are expected to enter the school system.
Applications from high school students to Ontario universities have also declined slightly for the first time in four years, another OUAC document showed. Ryerson got 0.2 per cent fewer applications from secondary students between 2013 and 2014, with total applications to Ontario universities dropping 0.8 per cent.