Reading Time:
2
minutes
By Josh Beneteau
It wasn't a perfect day for the Ryerson baseball team (1-7) but in the end they found a way to get their first win of the season, in their home opener, splitting a double header with the Waterloo Warriors.
Things did not start off great for Ryerson as Waterloo took the opening game easily 11-3. Shortstop Kevin Pingol's two run RBI double in the fourth, followed by an RBI single in the sixth were all the offence Ryerson would get in the game.
Kevin MacDonal got the start and took the loss for Ryerson, going 5.1 innings and giving up five runs.
The loss was Ryerson's seventh straight to open the season.
Between the games, head coach Ben Rich gathered his guys together and told them to not get frustrated.
"I told the guys if you make a mistake you can't just sulk on it," Rich said after the second game.
That message seemed to resonate with the team as the Rams got off to a quick start in the second game. Joey Armstrong's bases clearing triple put Ryerson up 3-0 after the first inning.
"He was leaving fastballs over the plate," Armstrong said. "So I just delivered."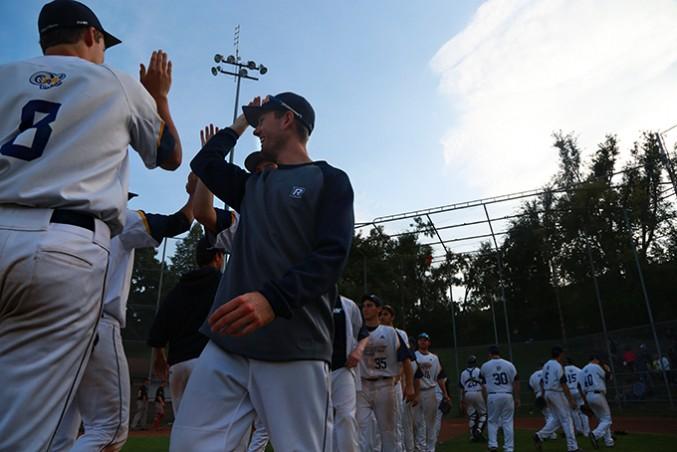 Waterloo slowly crawled back on a couple fielding errors from the Rams, and at one point led 4-3, but another three run inning in the fifth got the Rams the win.
A Jason Te triple that scored Armstrong got the scoring started. That was followed by first-baseman Josh Lund hitting an RBI single, stealing second and then coming around to score off a catcher throwing error to give Ryerson a 6-4 lead. Waterloo would get one run in the sixth but couldn't tie it up, giving Ryerson a 6-5 win.
Bryan Vardzel pitched a complete game (seven innings) to get his first win of the season.
"It's great to get into that w-column and just get that monkey off our backs," Rich said. "We've known that we were a capable team and a talented team and it feels so nice to get that done today."
The team will be back in action Sunday when they take host the University of Toronto at Talbot Park.