Reading Time:
2
minutes
By Brandon Buechler
Ryerson's women's soccer team (2-6-0) fell to the University of Toronto Varsity Blues 1-0 Saturday afternoon, ending their short two game win streak.
The first half was quiet for both teams, but Toronto held possession for much of the play.
Rookie Alex Rodkin was the MVP early in the game, as the first-year forward had several close scoring opportunities that were broken by a tough Varsity Blue's defense.
Ryerson's own defense held fast against a relentless Toronto offense that seemed to forever be in Ryerson's half. Ram's goalie Brittney Clendenan made several spectacular saves to preserve a scoreless deadlock through the first 45 minutes.
Clendenan was supported well by the defensive wizardry of Hanna Park and Katrina Gonyea, highlighted by a fantastic goal-saving play by Gonyea in the 55th minute. The fourth-year defenseman sprinted from the right flank of the play to the left, countering a Toronto forward preparing to fire into an empty net.
However, Toronto found a hole in the Ram's defense in the 69th minute, as they scored the only goal of the game. Varsity Blues forward Christine Zwimpfer fired a straight shot from the top of the 18-yard box past a diving Clendenan.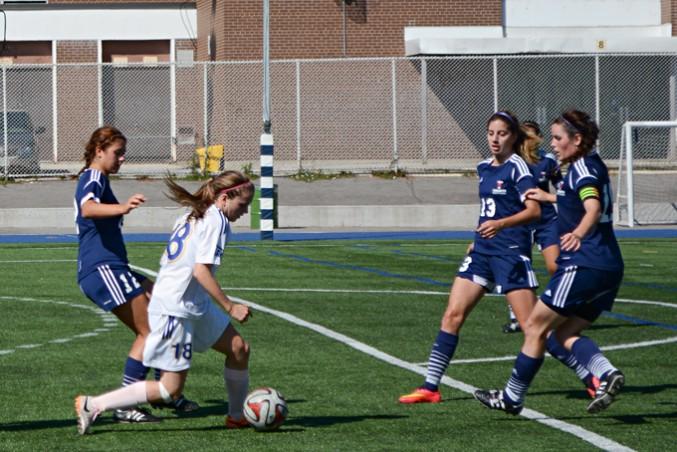 "It was a hard fought battle, we had a lot of (scoring) chances on them, " Clendenan said of the team's performance.
As for her own performance, Clendenan said she remained focused throughout, despite rough play from Toronto and an intense September sun.
Ryerson's coach Kevin Souter felt his team played hard and deserved at least a tie for their efforts, but acknowledged that sometimes the ball bounces in favour of the other team.
"Sometimes it just doesn't go your way," he said.
However, in the final five minutes of the game Ryerson had a spirited comeback attempt, lead by forward Sarah Harvey.
After a quick turnover, the rookie sprinted up along the left side and fired across the pitch, only to see the ball deflect off the crossbar of the net. Ram's forward Soraya El-houni charged the deflection in an attempt to score but collided with Toronto's goalie, ending the rally.
"We get a lift from scoring chances, and we use that energy to finish it. Hopefully, they'll land." Harvey said of the team's energy after the close call.
Ryerson's next game is Oct. 1 at Trent University in Peterborough. Kick-off is at 6 p.m. at Justin Chiu Stadium.