Reading Time:
2
minutes
By Igor Magun and Julia Knope
The Google Glasses and Apple Watch met their competition last weekend.
The second annual Wearable Tech Hackathon was held at Google Canada's headquarters Oct. 3-4.
The Next 36, a program fast tracking a group of 36 undergraduate entrepreneurs, organized the event and were the judges of the teams innovation.
"[The Next 36] is honestly the most amazing opportunity you can have in Canada," said Sami Dalati, fourth-year Ryerson engineering student and The Next 36 alumni. "They have this combination of seed funding, mentorship, and academic development."
Dalati co-founded Brizi Inc. during his time with Next 36, a company selling social drone technology for events.
Beginning on Friday night, teams of developers were given 12 hours to come up with a unique way to use featured technology at the hackathon and were judged on Saturday. Technology featured at the hackathon included the Muse, a headband that senses brainwaves, the MeU, a display for your clothing, and the Nimi, a wristband that authenticates your identity through an electrocardiogram.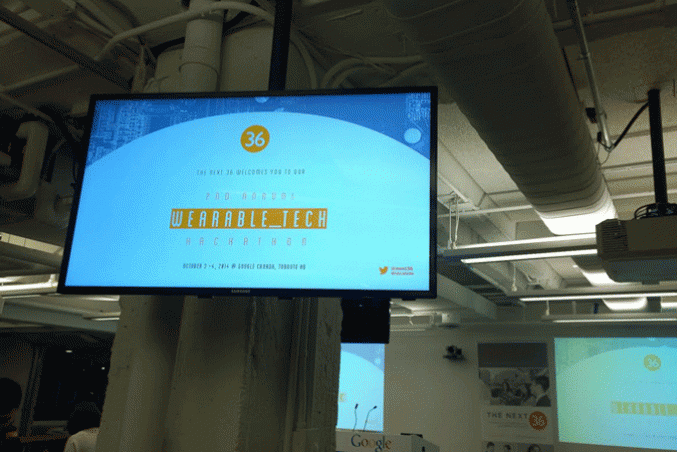 Teams at the event competed for cash prizes with the top team receiving $1000, a set of wearable devices and tickets to WEST Conference 2014 — a wearables convention. They would also score a chance to be a part of The Next 36 program with at least three team members receiving finalist spots at their National Selection Weekend.
Participants came up with some interesting solutions with the wearable technology. One of the finalists used MeU together with Myo, a gesture armband, to allow bicyclists to communicate with other road users. The winning team — dubbed their invention as Tipsy Lock — combined Muse with Nimi to lock users out of their car when they were found to be intoxicated.
The event gave companies a great way to test their products and prove their usefulness. "It's an amazing opportunity to really test our prototypes… we really wanted to see what people do with them," said Robert Tu, designer and engineer at MeU.