Reading Time:
4
minutes
By Michael Grace-Dacosta
One of Dayvon Reid's classmates spots him walking on campus in his Ryerson varsity gear. He asks what sport he plays. When he tells his classmate he's on the badminton team, his jaw drops.
No one expects a six-foot-one, 185-pound African-Canadian to play badminton. Fellow players have confessed to him that when they first saw him on the badminton court, they thought he was lost.
"They'll come up to you and say 'the first time I saw you [I was going to tell you] oh man, basketball is over there,'" Reid says.
But after seeing him play they quickly realize he's right where he belongs.
"They'll come up to you and say 'the first time I saw you [I was going to tell you] oh man, basketball is over there'"
Reid won bronze medals at the Ontario University Athletics (OUA) championships in men's singles and mixed doubles events last season. He's been named an OUA all-star twice and was selected as the Male Player of the Year in the Ontario Colleges Athletic Association when he attended George Brown College in 2012.
"He's a real natural more [so] than anyone I've coached by far," says Robert Fullerton, head coach of the badminton team, who has been with the school for more than 20 years. "[He's a] very intelligent and tremendously athletic guy. He's great to coach."
Reid grew up playing soccer in Jamaica but when he was 15 his friend convinced him to try badminton. After one match, he was hooked. He couldn't quit, no matter who tried to stop him.
"My family was completely against it," says Reid. "The sports you play [have] to be a means to get out [of] whatever class you're in … there was no money in badminton so they were against it."
Reid made Jamaica's national junior team two years later. After that, Reid's parents had to accept his love for the sport.
Halfway through Reid's quarterfinals singles match against the number one seed, Osleni Guerrero, in the 2007 Pan-American Junior Games, Reid notices the other six matches have stopped and everyone in the gym is focusing on his match. They expected Reid to be a push over, and instead he was giving Guerrero a run for his money.
"Even though I lost to him I was happy. I felt I accomplished something," says Reid. He scored 18 points each set against Guerrero that match. After that game, Guerrero didn't allow a single opponent to score more than 12 on route to winning a gold medal.
Reid is being considered for Jamaica's national team at this year's Pan-American games. He'll hear back from the board at the end of the month.
In 2012, four years after moving to Canada, Reid reached out to Fullerton about joining Ryerson's team.
"It wasn't a badminton choice," says Reid. "Other schools wanted me to go for [longer]. Ryerson took me for [less]."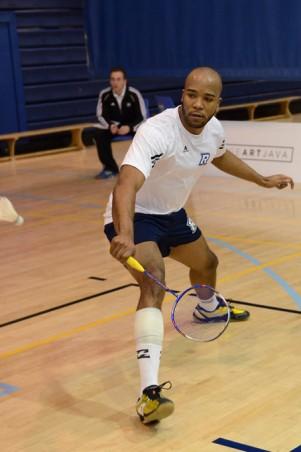 Although Reid dominated the OUA in his first year, his quiet nature accidentally rubbed teammates the wrong way.
"They didn't have a good impression of him at first," says Alex Fown, Reid's teammate. "Because he was quiet and so good it seemed like he thought he was superior. But this year… he's been more open to us."
Fown says Reid offers teammates advice and pep talks during tournaments. He also says Reid always reminds them of the mental aspect of the game and not to psyche themselves out.
Reid hasn't been practicing with the team because of a quad strain he suffered playing a tournament for Jamaica in December. He is unsure when he'll be medically cleared to resume practice.
Quad and knee injuries are common in badminton. Players run two to three kilometres during a match according to Fullerton and typically do about 500 squats a match because they are usually in a crutched position, Reid says. A birdie can reach the speed of 200 km/h during a match which means players must explode quickly from those low positions to react to the birdie.
During a tournament, a player can play 15 matches in one day, says Reid.
The average badminton match lasts at least 45 minutes. That means a player will run at least 30 km while squatting and exploding from that low position for 675 minutes in one day.
"The part that's most upsetting is it's like that for a long time now and it's not getting any better," says Reid.
Once Reid is cleared, Fullerton will have to decide whether to send him to compete at the OUA championships or the national tournament. An error resulted in the OUA tournament being scheduled the same weekend as nationals. An individual can compete at nationals without playing at the OUA championships. However, a team must compete at the OUA championship in order to qualify for nationals.
"The part that's most upsetting is it's like that for a long time now and it's not getting any better"
Despite his doctors orders, Reid is training lightly to remain in shape.
"I know after training I'm going to have severe, excruciating pain. To the point I can't walk," says Reid. "I couldn't walk home I have to hobble home. But I'm okay with that pain."