Reading Time:
5
minutes
By Charles Vanegas
The 2015 Canadian Interuniversity Sport (CIS) Final 8 Men's Basketball Championship closed last Sunday like the previous four: with Phil Scrubb and the Carleton Ravens raising the W.P. McGee trophy as national champions.
"Each individual [title] is special," said Scrubb, after his Ravens dismantled the Ottawa Gee Gees 93-46 in a rematch of last year's final.
While "Raven domination" continued – Carleton has now won 11 of the last 13 CIS titles – Ryerson had a plethora of its own firsts while hosting the tournament at the Mattamy Athletic Centre. Despite Toronto's position as the epicentre of Canadian basketball, this was the CIS Final 8's first foray into the city (a point emphasized by the organizing committee's long-running slogan #TOisBBall) and Ryerson's first time holding a national championship in any sport.
Despite being ranked #3 by the CIS rankings all season, a fourthplace finish at the Ontario University Athletics (OUA) Championships the week prior meant the Rams (17-2 in the regular season) would enter the tournament as the #7 seed, with fellow OUA schools Carleton (17-2), Windsor (15-5) and Ottawa (18-1) slotted in the top three spots, and rules guaranteeing that the respective champions of Canada West, Atlantic and Quebec conferences could be seeded no lower than sixth – despite having worse records against easier opponents. If the Rams wanted to win it all, they'd have to go through the other three OUA squads.
"We're familiar with them, they're familiar with us. That's what the fans want to see: the best teams playing against each other," said five-time all-star point guard Jahmal Jones on the seeding.
And on Thursday night, fans came in droves – with floor seats and the 2,600-seat bowl at Mattamy Home Ice almost entirely filled. In addition to a basketball scene audience that included Toronto Raptors Greivus Vasquez and Bruno Caboclo, the MAC saw for the first time a much sought-after student presence.
Perhaps no one took advantage of home-court advantage like third-year guard Adika Peter-McNeilly, who led the Rams with 19 points and 10 rebounds. The two-time all-star relished the spotlight, often raising his arms to rouse the crowd to its loudest in the team's three-year stay at the MAC.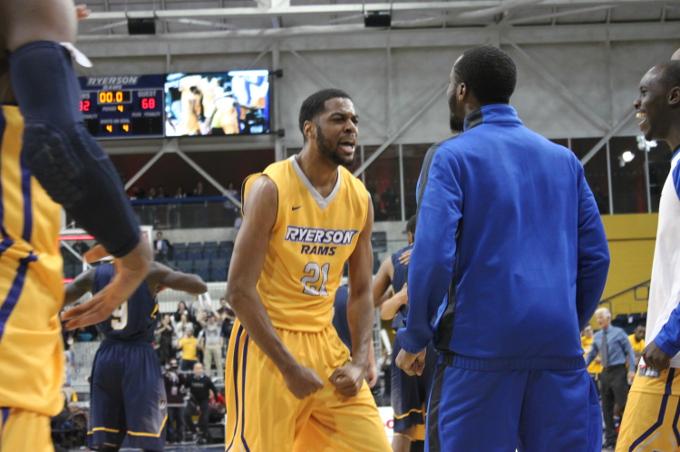 "[It was] fun. When the lights are on and a lot of people are there, you want to get the crowd going," said Peter-McNeilly. "You see it in the NBA, the NCAA, so I just wanted to have that atmosphere for this tournament."
While many national media headlines referred to the Rams 82 68 victory as a "shock" or "upset," it was anything but that. The game was a rehashing of the Nov. 15, 98 78 drubbing on a Windsor team that was ranked fifth in CIS for the majority of the season. For the first time in team history the Rams were off to the national semifinals, facing their biggest rival during Roy Rana's six years with the team: the Ottawa Gee-Gees.
For three straight years (2012, '13, '14) the Rams and Gee-Gees met in the OUA quarterfinals, with the winner — winning by four points or fewer — going on to play in the OUA Final Four before earning a spot in the CIS championship by winning at least a silver at OUA.
This season, led by OUA and CIS MVP Johnny Berhanemeskel, the Gee-Gees finished the regular season with the best record in the nation and earned their CIS berth after beating Ryerson 79-66 in the OUA bronze medal game.
"We've known all season that the road to a national championship would probably go through Ottawa and Carleton," said Rana.
So the grudge match was played Saturday night in front of a sold-out crowd – 4,000, according to Ryerson sports information coordinator Jim McLarty – and a national TV audience, with the semifinals and final broadcasted on Sportsnet.
Once again leaning on Peter-McNeilly for offence, the Rams headed into halftime leading 45-38. Second-year guard Jean-Victor Mukama was able to keep Berhanemeskel in check — holding him to just 5-for-14 from the floor — but clutch three-point shooting and a defence that managed to hold all-stars Jones (2 points) and Aaron Best (12 points) to shoot a combined 4-for-20 kept Ottawa in the game.
While a missed dunk attempt by Best was seen as a turning point, it wasn't until after Peter-McNeilly, the Rams' only viable scoring option, fouled out with just 3:43 left with the game tied at 67 that the Gee-Gees were able to pull away for an 84-75 win and spot in the final.
"[I feel] sadness for our kids, but immense pride. You feel for them, they're young men, some of them are still kids, it's an emotional time for them," said Rana after the loss. "You wish it could have been a different result, but that's sports. Sometimes there's great glory and sometimes there's great heartbreak."
With less than 14 hours between games, the Rams came out strong against Victoria in an attempt to earn medals for seniors Jones, Jordan Gauthier and Bjorn Michaelsen – Rana's first recruiting class. Led by Jones' 25 points, the Rams were able to clinch their most important first of the weekend – CIS bronze – in an 82-68 win.
"[The mood] was dark, guys were still upset from yesterday, but we knew we'd have to conjure up some strength and not let this opportunity go to waste," said third-year forward Juwon Grannum. "It's not gold, but it's nice to win a bronze in the championship round." Many saw the win as validation of Ryerson's longstanding claim as the third-best team in the country.
"We were ranked third all season and finished third, so at least we were consistent," said Rana. "In November when we went to Ottawa [and lost to both Carleton and Ottawa,] we talked about the fact that we need to be 20 points better to have a chance. In the next two months, can we make a 20-point gain? And that's the approach we took every day in practice. Now we're at a point where it's 'can we get three possessions better?' And that's really what we're talking about between us and the top teams in the country."
Attendance totalled 16,874 for the 11-game, four-day event. The final, both semifinals and Ryerson's quarterfinal with Windsor were all deemed sellouts or near-sellouts – a far cry from the often near-empty arenas in recent CIS Final 8's held in Halifax and Ottawa, or the barely there crowds of Ryerson's past.
"I take it personally that this event was a special one for Toronto," said Rana. "When I got here we'd have 150 people at a game, and we'd really have to beg them to come. To see this kind of support from our students and our community, it's really special."
It remains to be seen what, if any, profits were made, as hundreds of tickets were given to visiting Toronto elementary school students on the first day and Ryerson students got in for free. But the setting allowed for the most hyped championship in recent memory, with every major media outlet covering the event – a rarity.
And despite losing three significant pieces in Jones, Michaelsen and Gauthier to graduation, the Rams remain a threat to qualify and contend at nationals next season with seasoned players like Best (whom Ottawa head coach James Derouin refers to as "a top 10 defender in the country"), Peter McNeilly, Mukama and 6-foot-10 centre Kadeem Green all taking on greater roles. Their main rivals are losing star players as well – Berhanemeskel from Ottawa and Scrubb from Carleton.
"I think the [bronze] medal really put the cherry on the cake that we're number three," said Mukama after watching the championship. "I think people know by now that we're contenders to win it all, not just to be there."
Photos on Flickr:
Carleton vs. Saskatchewan
Dalhousie vs. Victoria
Ryerson vs. Windsor
Dalhousie vs. Saskatchewan
Ryerson vs. Ottawa