Reading Time:
3
minutes
By Jackie Hong
Dozens of Ryerson engineering students marched through campus, Dundas Square and the Ted Rogers School of Management (TRSM) on Friday to protest against the perils of warm peas.
According to a flyer, the "Freeze the Peas" "movement," a parody of the Ryerson Students' Union (RSU)'s "Freeze the Fees" campaign, aims to "pass a motion that makes peas more accessible to Ryerson students." It also asks students to make a donation to the Good Food Centre, Ryerson's student-run food bank, in order to "put the peas back into the hands of the students."
About a dozen students, including Ryerson Engineering Student Society (RESS) President Urooj Siddiqui, wheeled carts of canned food into the Quad around noon on March 25. After a short rally, the group, which had swelled to about 60 students, marched on to Gould Street, through Yonge-Dundas Square and to TRSM. After a quick walk around inside the building, with a short pause in front of the Ryerson Commerce Society's office, the group headed back to campus and held another rally in front of the Student Campus Centre (SCC).
Students chanted slogans like "What do we want? Peas! How do we want them? Frozen!" "Ryerson has a $14 million surplus, do you know how many peas that could buy?" and "Freeze the peas!" as well as several engineering-specific cheers throughout the march and rallies. Several people also asked passersby to sign a petition (which they dubbed a "pea-tition") demanding that peas be frozen.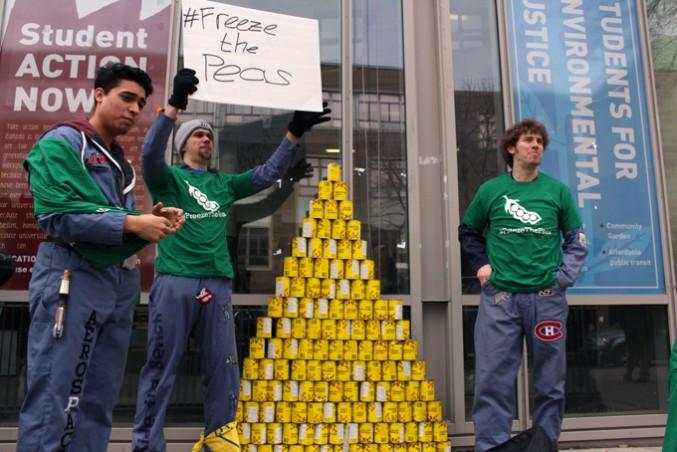 Third-year aerospace engineering student Massimo Mancini was among the students that participated in the event.
"It's something that I truly believe in. Peas should not be left out in the heat. They should be kept frozen in a cool, dark place so they can be eaten at a later date instead of wasted," Mancini said.
"I thought that what was happening to peas, the fact that they were melting, was totally cruel and unfair and I felt that it needed to be stopped right now," said second-year computer engineering student Marlin Tomskzi. "So I joined with my fellow Ryerson engineering crew to freeze the peas. We're trying to get a protest going to freeze those peas because it's very poor what's happening to them. It's very, very depressing."
The cans the group wheeled around and eventually stacked into "pea-ramids" in front of the SCC contained green peas, black-eye peas and chickpeas. The latter two are, in fact, beans.
An engineering student was unaware of that fact when The Eyeopener asked about it.
"We blame the person who went shopping and didn't check their facts first. But at the same time, we still have donations for the Food Room and that's all that matters," he said.
RSU President Rajean Hoilett said it was important that "Freeze the Peas" was raising awareness about student hunger.
"The Good Food report that came out from the good food center showed that engineering students were amongst the biggest population using the Good Food Centre services … Engineering students also pay the highest tuition fees on our campus for an undergraduate degree so I think that it's really important that we're continuing to protest against the rising cost of education and we're continuing to make food available for students," Hoilett said.
Hoilett said he didn't know about the event until the group stopped in front of the SCC, nor that the event was a parody of "Freeze the Fees."
"That hasn't been really communicated to us," he said.
Participants of the event emphasized that "Freeze the Peas" was just for fun.
"It's completely satirical …. It's completely bullshit … And then, yeah, we're just having fun," one student said.
By the end of the march, 200 cans of beans and peas were donate to the Ryerson Good Food Centre.
With files from Jake Scott.