Reading Time:
2
minutes
By Nicole Schmidt
Tickets in hand, over 1,000 horror movie enthusiasts line the sidewalk on Gerrard Street East. It's almost midnight. When the clock strikes 12, the Yakuza Apocalypse will begin. As expected in any apocalypse-type scenario, there will be blood — even vampires… and gangster vampires. But perhaps more unusually, there will also be a fire-breathing man in a frog suit, along with a knitting circle.
Welcome to Midnight Madness, home to the Toronto International Film Festival's (TIFF) strangest movies. Yakuza Apocalypse, along with other films that have a similar "what the fuck" type of plot, have premiered exclusively at the Ryerson Theatre during the festival for the past 27 years.
TIFF after dark seems to draw a unique crowd. By day, A-list celebrities walk the red carpet and movie buffs sit contently through the screenings. They clap when they're supposed to clap, stand when they're supposed to stand and speak when they're supposed to speak. But by night, those parameters are tossed aside. Some attendees dress up — not in formal attire, but in full costume. Inflatable objects are tossed around the audience, spectators stand up to yell things at the screen and the cheers are a few decibels louder.
Davida Solomon, who has been attending Midnight Madness for the past five years, said that she has been to daytime premiers but thinks the late night showings are more fun to go to.
"Midnight madness is different than the typical TIFF premiers," Solomon said. "People come here to have a good time, not necessarily to watch a good movie. It's about the experience."
Directed by cinematic extremist Takashi Miike, Yakuza Apocalypse follows the story of Kamiura, a kindly businessman who has a secret alter ego as a vampire. After being exposed for his true, blood sucking self, his protégé takes to the streets with a new gang of formerly regular citizens. "Yakuza" is the Japanese word for gangster — more specifically, a Japanese gangster. Everyone in the cast gets punched at least once — others aren't as lucky and have their heads torn off. Perhaps the least fortunate are those who get stepped on by the giant man in a frog costume after he emerges out of a volcanic eruption.
Earlier in the week, a Russian/American film about a cybernetic super-soldier who punches and parkours his was across Russia to save his wife from a paramilitary psychic premiered at midnight madness. Last year, It Follows, a now-popular horror movie about a sexually transmitted serial haunting, made its debut on the Ryerson screen.
At the most prestigious film festival in the country, Midnight Madness has carved out its own special place. It celebrates the strange, the misunderstood, and perhaps most importantly, it captures the importance of having a good time at the movies.
"I always have a good time, no matter how terrible the movie is," Solomon said. "You take the good with the bad. "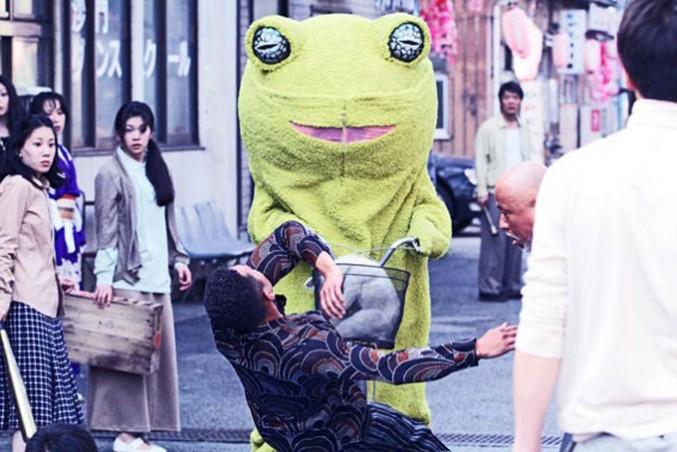 Photo courtesy TIFF