Reading Time:
7
minutes
By Fatima Syed
Set against a romantic backdrop of a gazebo in a garden of barren trees and ground with traces of melted snow, the rented hall just behind St. James Cathedral is a sea of black suits, perfectly coiffed hair and high heels. Here at the Ryerson Women in Leadership (RWIL) conference there are only a handful of men: I count five in the audience, and see one as a guest speaker. "Shout out to all the men who showed up," says one of the conference's hosts and organisers. The almost fully female audience cheers and applauds enthusiastically.
The theme of the conference is "blank canvas," a testament to starting fresh — not over — as the executive team explains to me. It's the idea that a woman's next step up can be her new step forward — a change in perspective, a boost in self-confidence, a strong will from within.
The first group activity at the conference is a problem-solving exercise to start thinking about this. A recent Pew report stated that women are as capable of being business leaders as men; they have the intelligence, capacity for innovation and the honesty to lead. "Everyone does better when women are part of the team," says the host of the session.
The challenge she sets for the group is to create a realistic business idea that promotes the success of such female ventures in under 10 minutes. The sunlit hall is overcome with a buzz of activity as groups of women gather around big white paper boards. The ideas they come up with all attempt to solve the same problem: How do we help support women around the world to get inside the doors their ancestors tore down?
I
have spent almost two years at Ryerson in a master of journalism class that only has four men in it. The other 23 members of the class are all women. It's arguably a fitting ratio for a university whose undergraduate students are 54 per cent female, according to 2014-2015 figures. In almost all fields of the faculty of communication and design, including journalism, fashion, graphic communication management and media production, women outnumber men.
The same cannot be said for the Ted Rogers School of Management — the school with which most of members and attendees of the conference were affiliated. TRSM is almost 43 per cent female. Unsurprisingly, the largest gender ratio gaps exist in the faculty of engineering and architectural science, where out of 4,590 students, only 961 are female.
There is also an argument to be made about faculty gender balance, where the male to female ratios are very unfavourably skewed against women. Having said that, it also seems like more doors are open today to women than ever before. The Dean of science at Ryerson, for instance, is a woman, despite the student make-up of the faculty being predominantly male. Sixty percent of Ryerson's executive office is female. Countless other female students and staff make up the top ranks of the student union, the media zones and general faculty.
Somewhere along the line, very subtly, the fight for feminism, women's rights, or whatever term you want to use to describe the battle for gender equality, changed. It's not about how many women there are but about what women do when they get there. At the heart of today's feminist movement is a blank canvas, a multicultural female generation screaming to be heard. The battle today, it seems, is against perception. It's an intersectional movement — gender, race, politics, class, creed, colour. The door is open, but women aren't going inside because of the stigmas restricting their success and progress: maternity leave, wage gaps and female leadership. Getting inside the door means fighting with and through rape culture and sexism, the nuances of which have entered everyday discourse and implicate everything from the way a woman dresses to her role in society, culture and tradition.
On the same day as the conference, a 10-minute walk away, 23 female students from Ryerson's RTA School of Media took over a production room in the Mattamy Athletic Centre for the first all-female sports broadcast. Leandre Vermeulen, a fourth-year RTA student, found that there were very few women in sports broadcasting when she was covering basketball last summer at the Pan Am games. "Women just need to know that there are other people who will support them," says Vermeulen, who credits RTA instructor Brian Withers for doing just that.
The notion of the "takeover" was to increase the visibility and put on display the capabilities of the female students who make up 50 percent of the RTA program. The same ideas would "take over" the streets of Toronto almost a month later, on March 5, when women rallied together to commemorate International Women's Day, starting at the OISE building at the University of Toronto and ending at Ryerson. It was partly organised by the Feminist Collective — an advocacy group for the women and trans community on campus. Headed by fourth-year social work students Jackie Mlotek and Alyson Rogers, the idea for the group came from an absence of a Ryerson group that was working to address larger systemic issues.
In the same spirit, the theme of this year's International Women's Day rally was "All Women Rise Up: Proud and Strong" to tackle issues ranging from ending gender-based violence, the Black Lives Matter movement, poverty, Truth and Reconciliation for indigenous peoples, equal pay and employment injustices, poverty, Islamophobia and racism. That's a whole lot — but that's the point.
Feminism is "about the ways that multiple systemic forces affect our lives," says Mlotek. "People don't live single issue lives, so I think racism, transphobia, colonialism, all those things are inextricable from how you experience gender."
A woman who bakes bread can also access launch codes. A woman who takes care of her kids can also run a multi-billion dollar empire. A trans woman of colour fighting for social justice can also fly a rocket to Mars. If the movement doesn't address homophobia, racism and ableism, says Rogers, "who's it for? Really, who's it for?"
E.M. Adams is a 40-year-old woman who attended the Women's Day rally with her three-year-old daughter and believes that "if we keep standing together something will change." Adams wanted to expose her daughter to the many issues women face so that she would be able to tackle them head on if the time came. For Adams, the fight is against the "taboos." Yes, we've made strides for equality, she says, but we still have to fight to be recognised as an equal partner in all branches of society. "Strides come with circumstances and consequences," says Adams, "we have offices in high places but there are still barriers there." Then there's marriage issues and being perceived as a lesser human and competition for jobs on an unequal footing to deal with as well.
Fighting such subtle "taboos" requires a support system, both personal and professional. That's part of the reason why the university has appointed Farrah Khan as its first coordinator for the Office of Sexual Violence Support and Education. Khan's aim, first and foremost, is to engage the conversation about issues of feminism and sexual violence. "There is no one-woman experience," she says. "That's why we need an intersectional approach that realizes this."
It's a goal the Feminist Collective aims for as well. Recognizing, for instance, that sexual violence is not only an individual problem but a systemic one. "These are not women's issues," she says, "they're community issues."
In February, a protest was held at the Student Learning Student supporting a new mother who was laid off from the RSU three months into her maternity leave. Gilary Massa filed a complaint to the Ontario Human Rights Tribunal against the student union she's worked in for seven years for sexism, claiming that she was terminated so that they avoid paying her replacement's salary and employment insurance. Ironically, it's been 15 years since Ontario government legally enforced year-long parental leave, yet women still routinely lose their jobs while pregnant or on maternity leave. Even more ironically, it happened a day after RSU co-hosted an event with the Feminist Collective called "Take Back the Campus" — an attempt at raising awareness about safe spaces for women.
Cases like this exemplify why Khan sees her job as an extension of the tools and voices, from the activists on campus to the leadership. Cases like this are why the Feminist Collective decided not to become an official student group, to be able to independently and widely address such issues across campuses. "We all have similar issues even though the universities are at different places in the process of addressing sexual violence on campus," says Rogers. "But everyone feels the need that we should be connecting and sharing resources and organizing together."
The collective joined several other groups, such as organizers Silence is Violence, to gather in court in support of the sexual assault trial of Mandi Gray, a York University student. Forty women stood outside the courtroom, all dressed in pink, to support and stand in solidarity with Gray for four days. "People were connecting," says Rogers, "People were talking." But that didn't detract from the fact that Gray was on trial for her actions, according to Rogers, more than her attacker.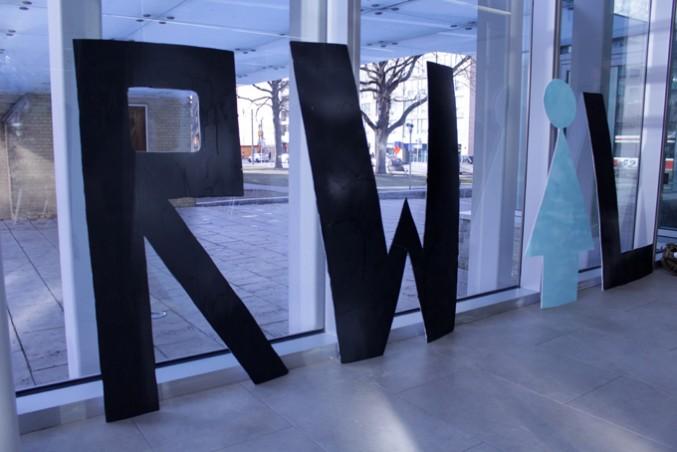 We're almost like a support group," says Martina Trilin, a third year Marketing student and the chair of the RWIL conference. "We give women the resources, contact time, workshops and anything else they want to develop themselves."
Most of the ideas that come out of the group activity parallel this notion. One is a non-profit for single mothers or immigrant women to build "skills for success" (the hypothetical name of the app). Another is called WTF or "Women's Task Force" — a semi-annual interactive meeting to bring women together to discuss gender-specific issues and solutions. There's a participate-via-Skype option for mother and app alerts for busy women. The third is called "Pro-women," a social media for women to help other women with professional issues, groceries or whatever else they need. These are global, intersectional initiatives. The underlying theme is support.
But it's also about accepting limitations introspectively. The conversations at the conference, at the rally, with many other girls I've spoken to informally about this are about stereotypes against women, the glass ceiling, social justice and self-confidence. But the speakers tell stories of losing faith in themselves, the struggle to be heard and the will that made them succeed. Demographics are changing but women are still intimidated for whatever reason. They face sexism, racism, class-ism. They have rules and behaviour to adhere to.
Learn to say no to things that don't go along to your plan. Offer suggestions and criticisms without doubt. Find the line between bossy and commanding. Work hard. Stay pleasant. Be on your own side.
Still the women at the conference and at protests and rallies have hope. "Every time we're down, these women are our inspiration to move forward," says a member of the audience at the RWIL conference. All the while, groups of women sit entranced at the stories told and the lessons learned on tables where the centrepiece is a miniature model of the generic symbol of a woman: a blue circle on top of a blue upwards pointing arrow.