Reading Time:
7
minutes
By Karoun Chahinian
Rolling over the cement, Jim Lahey lifts his feet in the air and flips his skateboard underneath. A perfect kick flip. With a smile, he readjusts his snapback and rolls toward a friend on the other side of Lake Devo.
"Yo, you made it!" says the first-year medical physics student, while high-fiving his friend.
It's a crisp fall evening. The water from the lake is drained and it's too early for the outdoor ice rink, which means it's skateboarding season at Ryerson. Skateboarders start rolling into Lake Devo from all directions. Some are coming from class, some from work, some from other skateparks. The smell of weed lingers and the scratching sound of skateboard wheels gliding against the concrete pond harmonizes with the surrounding bustle of the city.
It's a familiar sight on campus. Students walking along Victoria Street avoid being run into by the skateboarders practicing flips and jumps over traffic cones.
Ryerson University is known for its hands-on programs. What's left out of the recruiting brochures is that Lake Devo, more commonly known as "pond" in the Toronto skateboarding scene, is one of the only skate spots left in the city.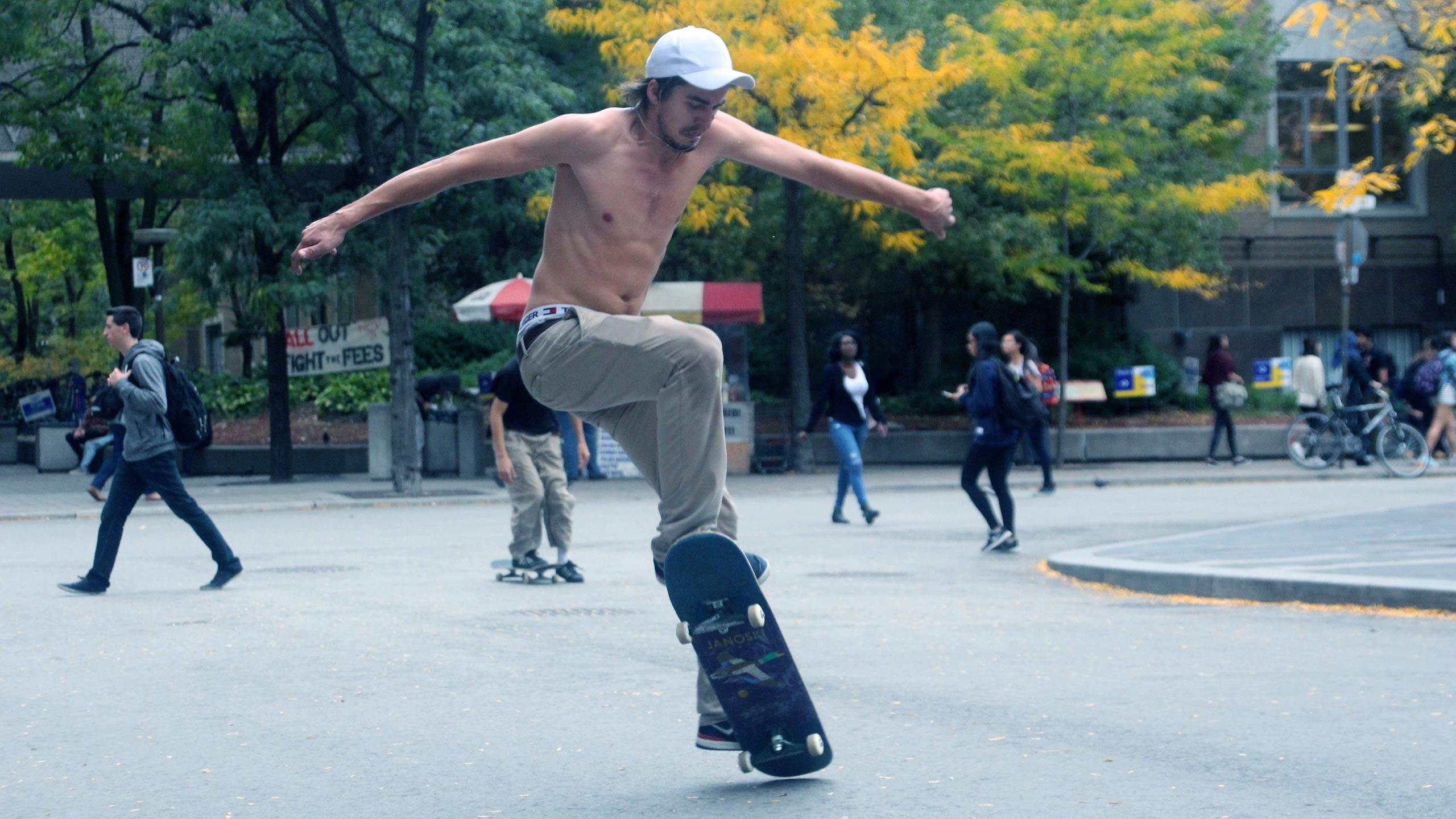 Boarders from different parts of Toronto have created a community here; it's where many of them have formed close relationships and learned more about their craft. But more importantly, it's a microcosm of skateboarding's personal nature. Skateboarding surfaced in California during the 1950s, when surfers came up with the idea to attach rollerblade wheels onto wooden boards. (At the time, they often referred to it as "sidewalk surfing.")
Skateboarding became associated with anti-establishment and many subcultures, and as the number of participants grew, it branched into Europe, Asia and Canada. In Toronto, skateboarding began dominating the public sphere through large, city-wide competitions and events, such as the Toronto Board Meeting, where skaters go down Yonge Street in dress clothes.
But skaters have always struggled to find space.
For inner-city skaters, finding good public skate spots is difficult because of the strict municipal bylaws. Most designated parks are tucked far away from central locations.
Skaters needed a home. And at Lake Devo, Ryerson carved one out for them.
Boarders from different parts of Toronto have created a community here; it's where many of them have formed close relationships and learned more about their craft.
At Ryerson, skateboarding's history dates back to 1977, when the school proposed the creation of the $3 million urban park that would sprawl across campus and the down- town core. This proposal included plans to close down Victoria Street between Gerrard and Gould and to transform what was formerly a parking lot into the outdoor area most of us are now familiar with.
A $1.4 million donation from the Devonian Group of Charitable Foundations of Calgary made it possible for Devonian Square, commonly known as Lake Devo, to officially open on Oct. 13, 1978. Its surrounding ledges— which are perfect for flip tricks—large rocks and closed-off street come together to make it the ideal location for boarders. Better yet, it has no restrictions against skaters.
Pond is also appreciated for providing a perfect amount of shade for the skaters— other skateparks around the city, such as Dunbat at Dundas St. W and Bathurst St., blind boarders with a bright glare. Dunbat is still popular because of boarders' limited options, but what makes pond superior to other skate spots is that skateboarders never get kicked out.
Over the winter about two years ago, third-year Ryerson media production student Graeme Leung and six of his friends went to the First Canadian Place downtown to skate and film in the basement of the plaza. During the winter, it's popular for skateboarders to find spacious spots indoors. In the middle of their session, a group of security guards sprinted towards them from all directions.
Instinctively, Leung and his friends picked up their boards and dispersed as fast as they could. Leung got out first because he was carrying all of the camera gear and the others followed behind. When the rest of the group also ran towards the revolving doors to run outside, a security guard locked the door to stop them from leaving.
Not willing to give up, one of Leung's friends pushed all his weight into the glass and snapped the door open, but a few others fell behind and their names were taken down and they were banned from the plaza.
"They must have planned it before coming down because they came from almost every exit," said Leung. "Usually when we go to PATH, there's more of us so we can block security guards out while people get last tries in."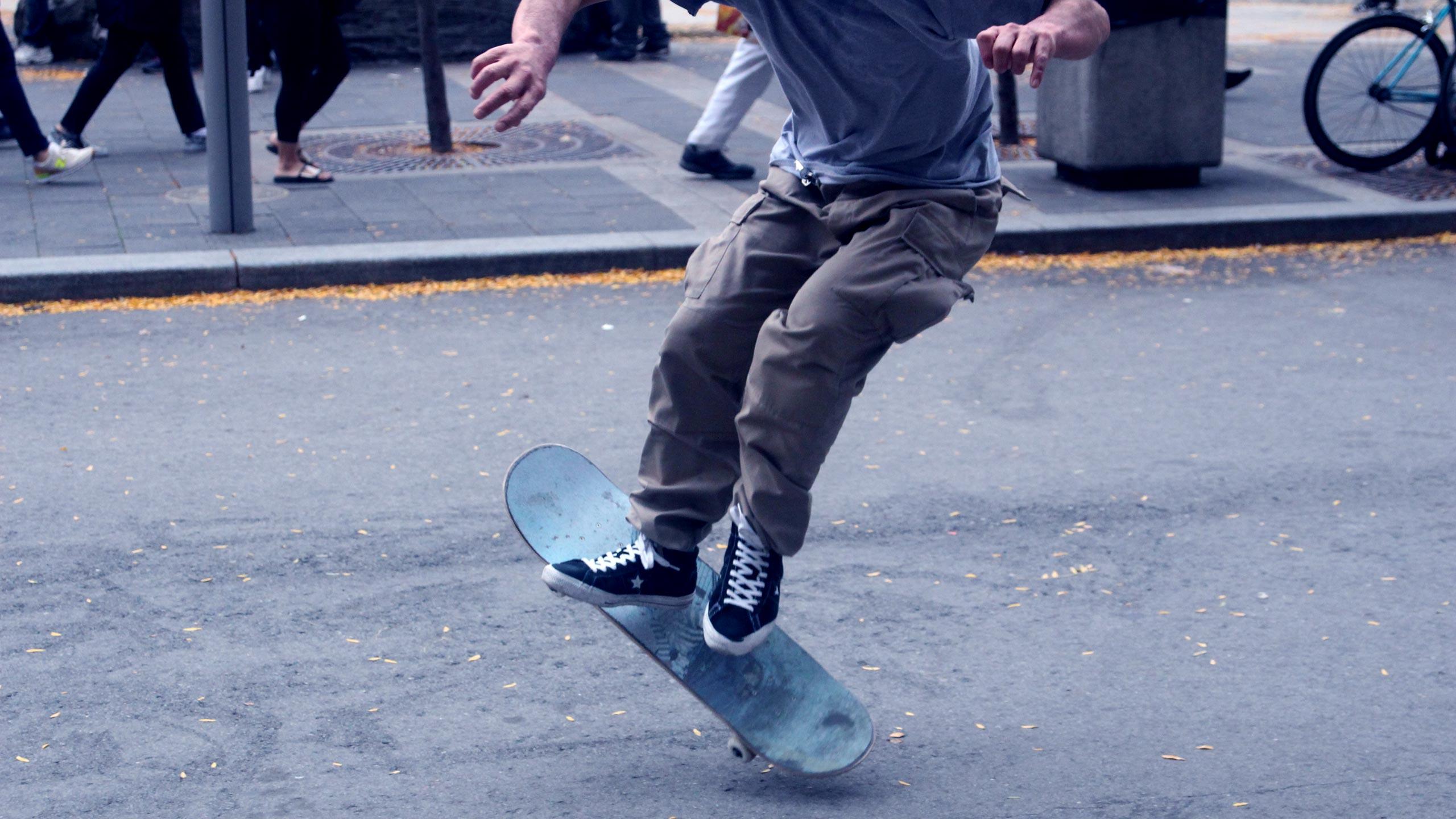 According to the City of Toronto, it's prohibited to skateboard or rollerblade in city parks, along with "inconveniencing or endangering other users of the park while operating or utilizing roller blades, skateboards or similar conveyances." Sometimes, simply existing on a skateboard is an inconvenience for others and being kicked out of a public property has become a norm.
Standing on his skateboard, Lahey talks about his early days at pond. He was 14 when he started coming to Ryerson to skate—long before he decided to enrol. "I actually decided on Ryerson because I knew this spot was here. Ryerson's not even a science school," he said. "If I really wanted a notable institution, I would've gone to U of T or McGill, but I just liked the scene here for skating."
While holding his laptop unsteadily in his hands, Lahey rolls from one side of the pond to the other, avoiding other skateboarders while clicking his trackpad.
He yells over to his friends that he needs to finish a quiz before class, but shakes his head and shoves his laptop into his backpack.
Lahey skates at Ryerson almost every day. He says the first time he came with friends, he was intimidated by the number of well- known professional skateboarders. But he quickly learned that everyone is equal when at pond.
Whoever comes to skateboard on campus knows not to take it too seriously.
For that reason, members from Ryerson's skate community were upset about the recent decision to make skateboarding an official Olympic sport at the 2020 Summer Olympic Games in Tokyo. Many fear that the sport is becoming overly-commercialized, and that the competitions will become robotic and catered to the judges.
Noah "Tee" Tynes, 30, is among the group of well-known boarders that skate at pond almost everyday. Currently sponsored by Converse Cons, Hélas Caps and Kadence Distribution, he also participates in local competitions and events, such as the All City Showdown on Sept. 11, which took place at several down- town Toronto locations, including Ryerson's pond.
Tynes eyes a striped orange and black traffic cone lying in the middle of Victoria Street, adjusts his baggy Chicago Cubs baseball jersey and hops onto his chipped board. Tynes kicks against the ground with his worn-out black sneaker and begins gliding through the street towards the cone. In one swift motion, he slides his foot up the board, kicks the other  foot up and flies straight over it. He lands with no hesitation and makes his way back.
A friend waves him over.
"I actually decided on Ryerson because I knew this spot was here. Ryerson's not even a science school"
"It's Rob!" the other skater says while handing him a phone.
"Yo what's up?" Tynes yells into the phone. "Just reach pond. We're going to skate at pond for another hour or so, fucking with the cone. We'll get lines over the thing. So I'll see you in a bit. Peace."
He hands over the cellphone, goes back to the cone and resumes fucking with it.
Tynes has been skateboarding for over 20 years and thinks it's too subjective to be rated by a panel of judges.
"I'm not fucking with the Olympics. It's an unbeatable game, it's so subjective. I can't be like, 'Yo, I'm better than you at skateboarding!' to that dude, cause he might have a different take on it … Nothing can be categorized," says Tynes. "It's basically not a sport. You can win the NBA championships and know you can't go any further on this earth in basketball, but skateboarding never ends."
But not all skateboarders are completely against the recent Olympic updates.
Keith Simmons, 27, who is a current manager at the country-wide skateboarding gear and clothing store Zumiez, believes it's a positive thing that the sport is gaining recognition on an international stage.
"I think the more people skateboarding the better," says Simmons. "It's always been on some level of a sport, but becoming a part of the Olympics brings it to a whole new level, which is great."
While he admires the strides skateboarding is taking in the world of athletics, he says he hopes it does not become overly commercialized and get stripped of its meaning. At pond, this isn't the case. No one is here to train for the Olympics.
Tim McFerran, President of the World Skateboarding Federation and one of the main individuals involved in the request for skateboarding to be voted in, was motivated to bring skateboarding onto the Olympic stage to support skateboarders, and didn't expect a negative reaction from the community.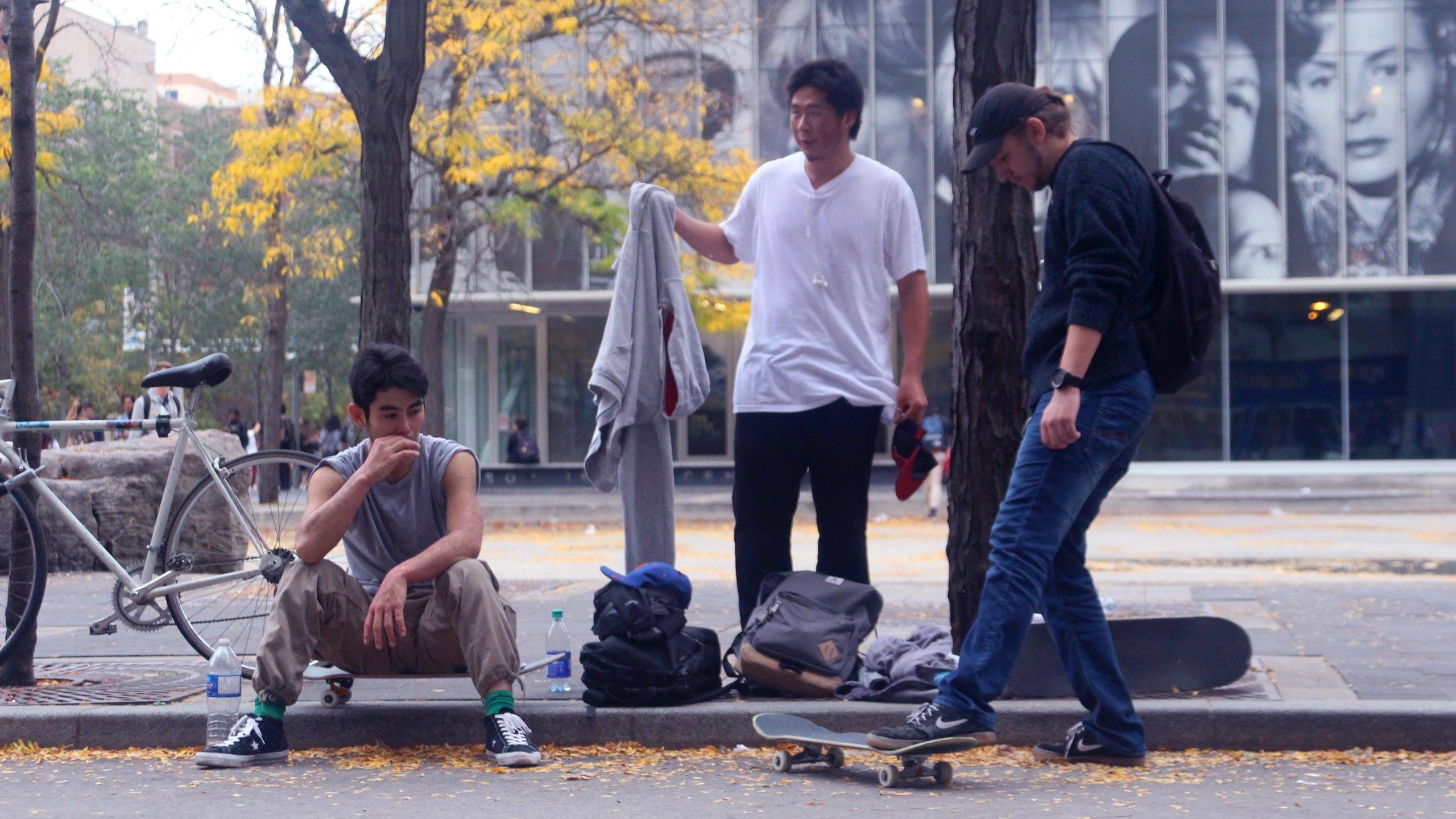 Due to the lack of government funding for skateboarders in the U.S. and Canada, McFerran has been working towards gaining government recognition of skateboarding and to support more competitive skateboarders.
The International Olympic Committee (IOC) has also been pressured by the National Broadcasting Company to gain a younger audience due to "the Olympics growing older," which is where the program of allowing countries to nominate additional sports popular in their country for the next Olympics was inspired from. Tokyo nominated five sports for their games; skateboarding, baseball/softball, surfing, karate and sport climbing. All were later approved.
Because skating is a sport that is mostly self-taught, McFerran says that it has the power to motivate kids to get themselves out of their situation through competing and pushing themselves to learn the craft more and more. He hopes this idea will be put on a global platform through the games.
"They don't have many opportunities, but I think skateboarding gives them a great one," he says. "Plus, it's a great source for transportation and teaches many life skills such as perseverance, entrepreneurship, to take risks and I believe those are all lessons that are very important for the youth of today."
Simmons grinds his board against the ledge of the pond and flips back onto the smooth cement and rolls towards the orange cone that found its way into the middle of Lake Devo. Like he's done hundreds of times before, he slides his foot onto the top of his dusty skateboard, lifts his back foot with a swift kick and jumps straight over the cone, landing perfectly near his friends on the other side.
He eyes another skateboarder successfully landing a flip trick and whistles in his direction, a unique form of applause.
Back in the zone, he drops his board in front of him and hops back on. With one foot kicking behind him and the other planted firmly on his skateboard, he makes his way back to the cone, but this time, jumps too early and trips onto the cold concrete.
Seconds pass, Simmons breathes out a chuckle, dusts off his T-shirt, picks up his board and rides again.