Reading Time:
5
minutes
The Eyeopener previously reported that in an effort to refund students their 6 Fest ticket money, Ryerson Students' Union (RSU) vice-president student life & events Harman Singh transferred almost $80,000 into his personal account, and then into several different non RSU-affiliated accounts.
After five months of the executives trying to complete these refunds, the board discussed a motion regarding the removal of Singh from his position.
By Sarah Krichel
The Ryerson Students' Union (RSU) board of directors meeting took place on Jan. 31. The largest topic of discussion—which extended the meeting by one hour—was the motion to discuss the possible impeachment of vice-president student life & events Harman Singh.
The motion, put forward by board member Kelly Kitagawa, was brought up because according to RSU bylaws, there must be one board meeting worth of notice before the motion to impeach is put to vote. The next public meeting to discuss the impeachment process will be on Friday, Feb. 3.
The motion cited Singh's lack of fiscal responsibility in dealing with 6 Fest, including his general lack of communication with board members regarding the planning and financing of the event. Kitagawa also cited Singh's failure to apologize to the student body and his inaccessibility for in-person conversations, as he "cannot be found in his office during operating hours of the RSU."
Decision to issue 6 Fest refunds through e-transfers instead of cheques
Natasha Campagna, former general manager, said that issuing refunds through cheques was the better option because everything is overseen by the RSU finance coordinators and all backups are easily visible with this method. She said her concern is that there is no easy print method for auditing purposes where you can see the amount, sender, recipient and the total that was sent. The e-transfer method only includes the amount.
Singh said Campagna's bank account was also involved in the transferring of funds to students. Campagna resigned from her position last week because she accepted employment elsewhere.
Board member Naveed Khan brought up that "proper practice" must be cited to the RSU bylaws and not just Campagna's opinion.
Singh said that the reason for going against Campagna's advice was because cheques would take longer. RSU President Obaid Ullah said that despite Campagna's advice, both signing officers approved of the decision.
"I did not break any bylaws in place," Singh said. "Several times before we have taken a cash advance … and we have provided backup later on."
As for e-transfer fees, Singh said that there is a $1.25 to $1.50 fee and a $5 cancellation fee. Singh said he is unsure of the accumulated cost in e-transfer fees.
Singh said that they are currently working on providing backups for the e-transfers they are issuing, as well as a master list of all refunds that still need to take place.
No approval from the board for the $30k that was transferred into Singh's account
Singh said the reason for the extra $30,000 transferred into his account was to pay the many people that did not ask for refunds until later. The single transaction of $30,000 took place after the initial calculation totalled $50,000 in refunds as necessary.
Board member Katii Capern questioned why they couldn't say it would take 30 days to issue refunds and to go the simple cheque route.
"As an elected official you campaign on transparency," Capern said.
Muthreja said that back in November, Ullah and Singh said that it's better to avoid using cheques to issue refunds due to students providing preferred names instead of legal names. Singh added that it's a "case-by-case" scenario. He also said that he was not involved in the issuing of e-transfers because he trusted Ullah and Singh as executives to issue them as they were heavily involved in the organizing of 6 Fest.
Singh added that the executive team has apologized to students personally and through email communication.
Vice-president equity Tamara Jones, who conference-called into the meeting, said that the board should have been notified on the extra $30,000 into Singh's account.
"Why was that not drafted in a motion and emailed to us? Why did I not find out about this until January 10? Why did you think it was appropriate for you to make that decision without notifying me?"
Jones was cut off when she said Ullah and Singh had "no morals behind this," and board members started to audibly react, saying that her turn to speak was beginning to sound too trial-like.
Board member Will Fraser questioned why Singh decided to put money into bank accounts that had no affiliation with the RSU, without any approval from the majority of the board.
"It's largely that we feel you haven't been [transparent]," Fraser said specifically about Singh.
Singh said that the executive team as a whole should be perceived as at fault for the lack of transparency and communication with the board, and not just Singh himself.
Ullah said he was focused on getting students their money when he overlooked getting the board's approval of the extra $30,000. "I oversaw that step of asking the board to do so and I want to apologize to the board," he said.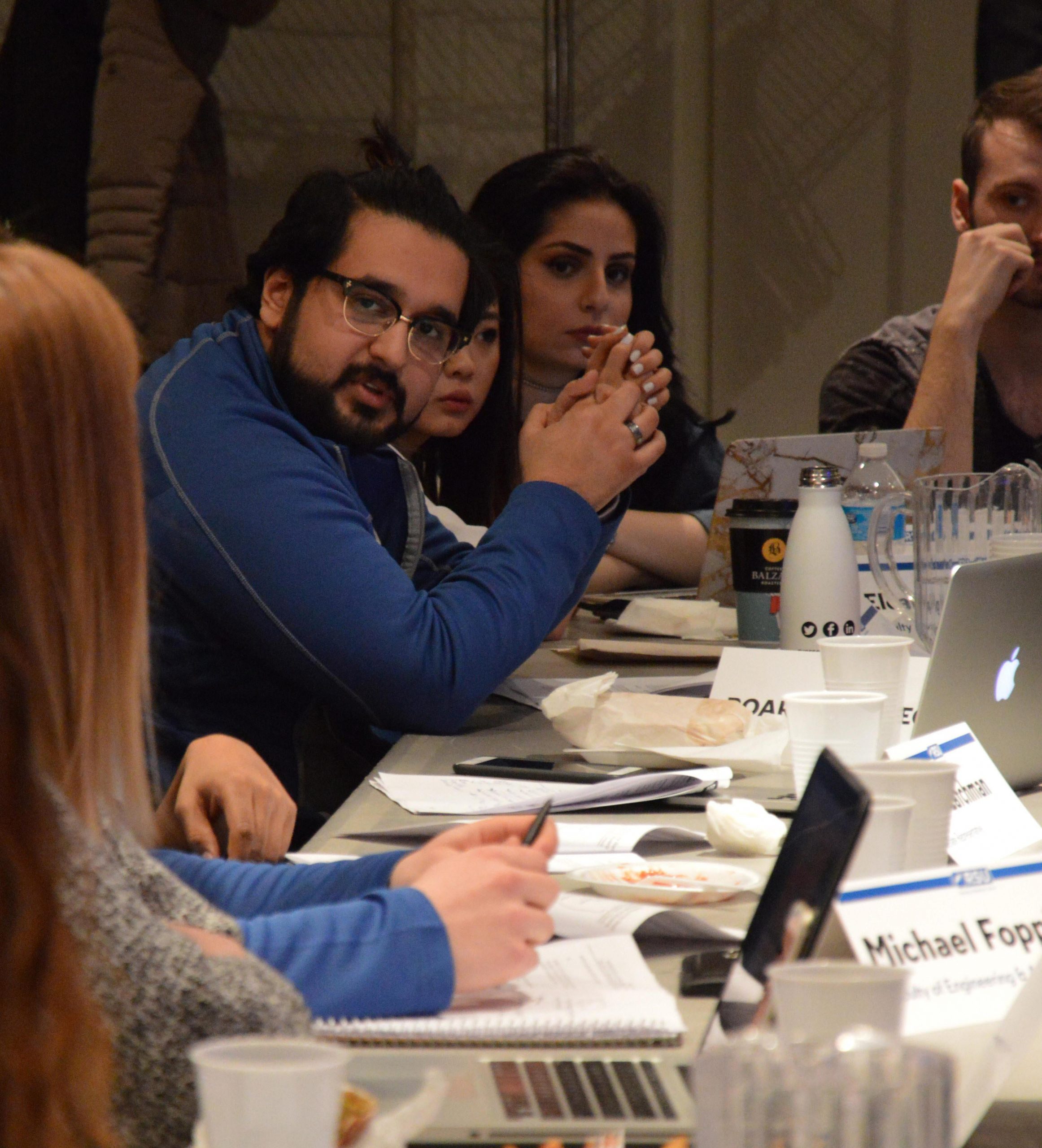 Singh says the situation is part of a critical agenda
Singh said that accusations of him not being accessible are false as he has skipped personal holidays and has worked on weekends without overtime pay just to meet with students who have reached out to him.
"I shouldn't be impeached just because one event went wrong," Singh said. "I think this whole thing is a critical agenda, it's put in [during a] time when elections are going on. It's defamed me and it's slandered me."
Discussion of University of Toronto student threatened to take RSU to small claims court
Amanda Khan, a medical student from the University of Toronto, sent an email to RSU executives and staff on Jan. 29 stating she would be filing a complaint against the RSU with small claims court for not receiving her 6 Fest refund. In her emails she referenced a recent Eyeopener article breaking down the 6 Fest refund methods.
"The lengths that I have had to go to to try and get my money back is ridiculous," Khan said in the email. "Everyone who has had a part in this should be ashamed of themselves."
Singh responded on Jan. 30 apologizing and said that the RSU has tried issuing refunds multiple times but there was "an issue with the email."
Khan has since received her refund.
Vice-president education and vice-president equity were not kept in the loop
Vice-president education Victoria Morton said that she and vice-president equity Tamara Jones were not properly communicated with in terms of the progress of refunds. Morton said that it's been "incredibly frustrating."
"I want everyone to fully understand that we have done everything internally to try to solve this as an executive team and it's been literally impossible," Morton said.
Jones said every time she tried to make a statement, she was told to shut up. "All I want is complete transparency and if you're not willing to do that then I'm sorry, you're not doing your job," she said. "I am embarrassed to be a part of this organization."
Singh said that he thought providing a statement to students via Facebook was redundant because they had already emailed everybody the update on refunds.
Board member Anna Stevenson said that this is more than one person's wrongdoing. "This is a union. This is a team."
According to Singh, refunds should be completed by the end of the month.
Other motions discussed
Other motions passed at the board meeting were the ratification of the RU Star Gazers, Arab Students Association and New Normal—a social justice safe space discussion group.