Reading Time:
2
minutes
By Michael Mazzei
Three Ryerson Rams alumni were selected to Canada Basketball's Development Women's National Team for a pair of tournaments in August.
Ceejay Nofuente, Mariah Nunes, and Kellie Ring were among the 12 who were chosen to play for Canada. As part of the Development team, they'll travel to Tokyo, Japan to compete in the U24 Women Basketball League Four Nations 2017, starting with a matchup on Saturday against the home country at 3:30 a.m. ET.
After their appearance in Tokyo, Canada will play in the 29th Summer Universiade in Taipei, Taiwan tipping off Aug. 21, at 3 a.m. ET against Portugal.
"We are pleased to confirm the twelve players who will represent Canada and gain international mileage against a variety of styles and levels of development national teams," said Denise Dignard, director of Women's High Performance, in a press release.
"We look forward to seeing their progress as individuals and as a team as we grow our athlete pool and provide our Canadian coaches with valuable international experience."
The Development team required that the selected players be between 17 and 25 years old. Along with being a Canadian citizen, they also need to be either working towards a post-secondary diploma or be a year removed from completing their program.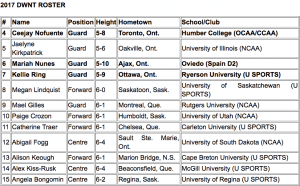 Nofuente, who's now studying at Humber College, played one season with the Rams in 2012-13 en route to winning the Ontario University Athletics (OUA) East Division Rookie of the Year award.
Nunes spent three seasons with the Rams, helping them capture their first OUA Critelli Cup in 2016. After graduating from Ryerson at the end of the 2016 school year, Nunes went pro and signed with the Oviedo Club Baloncesto of the Liga Española de Baloncesto in Spain.
Ring only played one season with the Rams in 2016-17 during her final year of eligibility, and was named an OUA First-Team All-Star before graduating this past spring.