Reading Time:
3
minutes
By Julia Ranney

Living in the heart of the city, Ryerson struggles with finding natural spaces to farm. With the quad being the only green space on campus, Ryerson has resorted to a more urban approach to traditional agriculture.
Feast your eyes (and taste buds) on Ryerson's Urban Farm (RUF)—an agricultural oasis that provides 10,000 pounds of fresh produce to Ryerson cafeterias, the Community Supported Agriculture (CSA) program and the Gould Street farmers' market.
Sitting and farming on top of the Engineering building, the farm is like any other farm equipped with harvested crops, the necessary tools and eager workers.
On campus, approximately 50 per cent of food served comes from locally grown gardens such as the Urban Farm. That means the kale in your salad or the sweet peppers on your pizza were probably grown a short elevator ride away. It's hard to get any fresher than that.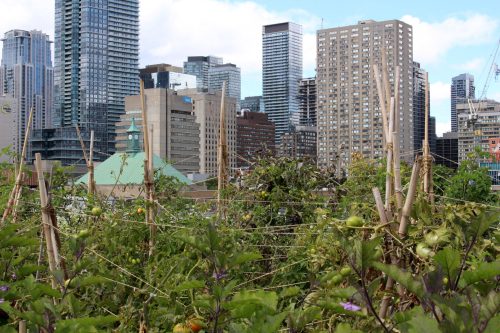 Since starting out as a pilot project in 2013, workers, both students from the community, have mulched, irrigated and fertilized soil for crop production. In a five-year rotation, 30 crops are grown consisting of produce like squash, potatoes and edible flowers.
"We have to maximize the number of things you can grow as we are growing in such a limited space, but we make it work," said Jayne Miles, the Urban Farm Programs Coordinator. They're doing this with a few changes to their space.
In 2004, the primary green roof was built which later transformed into an ecological market garden by the Urban Farm in 2013. This developed out of a student-run initiative to produce fresh food on campus.
After only a year, the project was so successful that the RUF began to convert the entire green roof into a small market garden. The expansion was completed in 2015 and is still going strong due to a carefully designed garden.
The garden uses companion crops— produce grown together like carrots with onions and basil with tomato—that improve the flavour and growth of their neighbouring crop. Two beehives were also installed at the end of June, producing 35 kilograms of honey that was sold to donors and are planning on being sold at this year's Harvest Party in October, as well as Farmers' Market in the spring.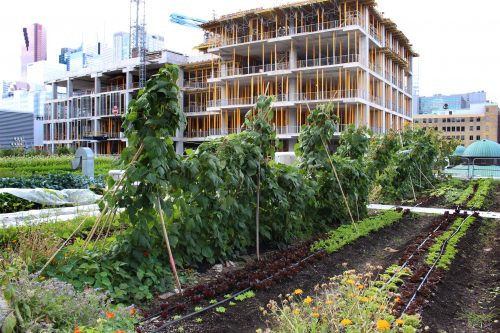 But this initiative isn't just for starving students. The RUF aims to connect food and agriculture with the campus and community. Members of the CSA get a small portion of the produce, which is also sold to local chefs and restaurants. Notably, RUF produce is served at the swanky downtown restaurant, Richmond Station.
Recently, the RUF's candy cane beets and cayenne pepper won first prize at the Canadian National Exhibition's veggie competition. "Now we can say they are prize-winning as well as ecologically grown," said Miles. "Everything we do is ecological, natural, totally non-GMO."
In the last five years, more than 1,500 people have visited the roof through staff, who maintain the ground level gardens, and run public and private tours every Friday from May to September. Tours cost $7 for Ryerson students and general admission is $10+HST, with the proceeds supporting ongoing operations on the farm.
The RUF also runs a ten-week ecological market garden training, including mushroom fermentation and floral arrangement, which start in the spring. On top of all that, the RUF runs seasonal open farm events, the next one being the Fall Harvest Party on October 27th. There, attendees will learn the ins and outs of garlic planting. These initiatives help promote urban agriculture issues such as space and drainage within the community.
Looking forward, this creative initiative establishes potential for green roofs and gardens to yield produce while simultaneously providing a link between the environment and the community. The RUF is also working with structural engineers to set up larger spaces, more greenhouses and proper washing stations.
So if you're done stuffing your face with greasy fries or chocolate bars, hit up one of RU Eats' cafeterias for a clean, locally-grown meal that doesn't leave you with a regretful, bloated food coma.
Your parents will be proud you're eating your vegetables.
To learn more about contributing to the Ryerson Urban Farm, visit https://ryersonurbanfarm.wordpress.com/volunteer/
Correction: A previous version of this article incorrectly stated that one beehive was installed in the RUF in June, when in fact there were two, also RUF is not currently selling their honey, they will begin their sales in October. The Eyeopener regrets these errors.