Reading Time:
3
minutes
This article has been updated since published to include Kristy Neville's TIFF win for her work producing Cardinals. Neville won the Indiescreen Emerging Producer Award. 
By Izabella Balcerzak
The Toronto International Film Festival (TIFF) hit home for a group of Ryerson Image Arts alumni and their feature film, Cardinals.
The feature drama is the directorial debut for Aidan Shipley and Grayson Moore, who graduated from the film studies program in 2014 and first worked together on Shipley's fourth-year thesis short, Dorsal later that year. They then co-directed Boxing in 2014, which also premiered at TIFF.
The rest of the creative team was also made up of alumni, with producers Marianna Margaret and Kristy Neville, production designer Thea Hollatz, editor Daniel Haack and director of photography Jackson Parrell.
The 84-minute film stars Canadian icon Sheila McCarthy as "Valerie Walker," a former convict and mother of two who attempts to move on from her past, but quickly discovers it's not easy—especially when the son of the neighbour she ran over and killed is still living across the street and demands closure.
The son, Mark, is played by Noah Reid, alongside Valerie's two daughters played by Katie Boland and Grace Glowicki, who were both TIFF Rising Stars in 2016.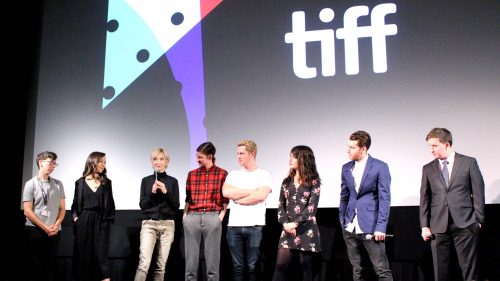 The inspiration for Cardinals "came from wanting to make something where you could take one problem with the justice system and handle it using another problem with the justice system," said Moore.
A bit of dark humour lightens up the mood cast by the film's staunch location, Stratford, Ont., the city where Shipley grew up. Moore grew up in Kitchener, which he describes as equally cold and uninteresting.
Location helped shape the music played in the film. "The classical music came because of what we were shooting and where," said Moore. "Stratford [is] a very classical and antiquated town where even though they have this famous art scene, the rest of the town is famously not very progressive."
Choosing places that were known to both directors helped with the budget for the film. Ryerson chose Cardinals for the micro budget program which financed the entire movie.
Shipley also said they took a good cop/bad cop approach to co-directing at times.
"With this many actors and a crew after every take looking right to you, it's quite nice to have a debrief moment to collect your thoughts [and] talk about it with someone who knows the story just as well as you do."
They even took things to the extent of moving in with each other to edit the movie.
"You're at the editing table here and you have a fight on when to cut and you're like, 'let's call it a day' and then you move ten steps and sit down on the couch and you're like, 'so what do you want to do?'" Moore adds that they're still good friends thanks to having an open and honest dialogue throughout the film process —"sort of the opposite of the film we were making."
Although both directors, their cast and crew had experience TIFF before, they say the nerves and excitement return every time.
"When you have a feature, the stakes feel so much higher," said Margaret, who has previously premiered a short at TIFF. "People are more interested in the film and are more critical, which is great and that's why you want people to see it but it's just a very different experience."
Moore adds that seeing a film he made on the big screen "still has the same magic about it and it's no less magical than it was the first time three years ago."
Cardinals premiered at TIFF on Sept. 7 and had four more screenings after that. Neville, 2013 image arts graduate, and her co-producer Matt Code, won the Indiescreen Emerging Producer Award for their work on the film. The award is given out each year by the Canadian Media Producers Association. 
Along with Shipley and Moore, other Ryerson alumni also premiered shorts at TIFF, including image arts graduate Dan Browne's experimental film Palmerston Blvd., which the world outside a bay window over the course of a year.
Film studies graduate Kazik Radwanski returned to the festival with Scaffold, a short fiction on the habits of Bosnian-Canadian construction workers.