Reading Time:
4
minutes
By Kourtney Meldrum
It's Friday night. You're sitting around with the crew and looking your best for a fun night out in the city. Except, the clock keeps ticking and you realize you've been sitting around for hours with still no clue of where to go or what to do. 
Maybe you're all underage and frustrated with the fact that you can't hit up all the bars and clubs that Toronto has to offer—or you're just over the nightlife scene and the thought of another drunken Friday night out sounds exhausting. 
Sound familiar? Whether you're planning for the weekend or a random free night, we've listed five cool and trendy places to hang out with your friends and have a great time—without the ol' alcohol.
Infuse Cafe 
While the name suggests coffee and soft background music, it's actually a board game cafe designed to switch up a night out with friends! Try new games, get a little competitive, and sip and snack on all the great treats this cafe has to offer. 
Although it's probably a little quieter than your traditional night out, it's not any less fun! The cafe closes at 9:30 p.m. during the week, but stays open till 10 p.m. on Friday and Saturday nights. The best part? It's only a five minute walk from campus. 
If you're willing to make a longer trek, there are game board cafes all over the city, with the closer ones located along Queen Street (A Game Cafe) or near Kensington Market and the Annex (Snakes & Lattes).
Art Gallery of Ontario (AGO)
Switch up the booze and loud EDM music for culture and history, right in the heart of the city. Every Wednesday between 6 p.m. and 9 p.m. (probably not your typical rowdy night), admission into the AGO is free. That's right, I just said free. 
Any other day of the week, general admission into the AGO is $11 for students with valid ID, and $16 for special exhibits.
Their upcoming special exhibit is Guillermo del Toro: At Home with Monsters, opening to the public on Sept. 30 and running until Jan. 7, 2018.
So grab all of your friends and make a night out of it! Who knows, you might just learn something along the way. 
Roundabout Escape Rooms
If having to find your way out of a locked room with your friends sounds like your ideal Friday night, then Roundabout Escape Rooms is right up your alley.
Open until 1 a.m. on Friday nights and about a three minute walk from campus, this is sure to be an evening you'll be talking about for a while.
You get to choose from a series of different rooms to be locked in with your friends and you will have to use your logical skills to work together to get out. Afterwards, grab some food to celebrate making it out alive, or have a snack to soften the blow of not being able to free yourself!
SPINCO
It's not a nightclub, but it may as well be. With flashing lights, blaring music, and cheering people, SPINCO is the best place to get fit and have fun doing it—and they even have a disco ball. 
Skip the drinking and dance for an hour on a spin bike. You get a killer workout in and have an absolute blast.
A class will cost you $25, and will include cycling shoes and a towel to catch your sweat.
Since the last class on Fridays is at 5:30 p.m., this still leaves you loads of time to grab a bite to eat with your friends after. We all know you deserve it. 
Mocktail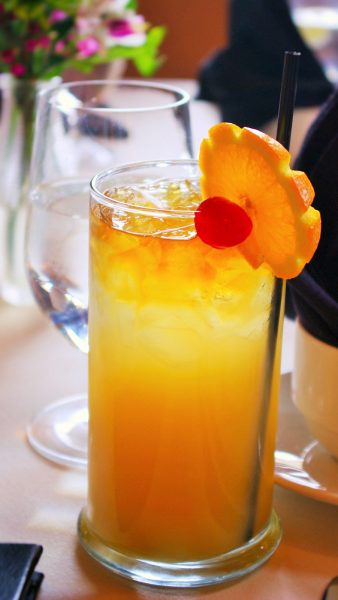 There are plenty of trendy spots in Toronto where you can sip on a tasty mocktail without the worry of being carded, paying ridiculous prices or having to face tomorrow's hangover. 
Some notable places to check out are the Shameful Tiki Room and their "Designated Driver" mocktail (a tasty blend of lime, cinnamon, orange, pineapple, bitters and soda), the swanky d|bar for a "Not Normal" (a sweet mix of pear juice, cinnamon syrup, ginger beer and rosemary) or The Drake for a "Wanderlust" (a harmonious blend of grapefruit, cucumber, mint, raspberry, lemon and seltzer water). If you're feeling extra adventurous, you can even try your hand at mixing up your own fun mocktails. 
So don't sit around this Friday night trying to think up plans, only to end up in the same old routine and petting your cat named Steve. Try something new with your crew! Remember that Toronto has so much more to offer than its party scene, and going out without drinking can often be just as (if not more) fun.