Reading Time:
3
minutes
By Kintaro Skinner
Rookie Diary is a series in which three first-year Rams bring us along for their rookie season at Ryerson.
After a 52-point performance in the 2017 OFSAA final, Zubair Seyed will suit up for Ryerson's men's basketball team to start his post-secondary career.
On a team filled with experience and sky-high expectations, the Cambridge, Ont. native will provide an extra boost to the Rams' backcourt once the team opens the 2017-2018 season on Oct. 27.
But before he does, Seyed took the time to update The Eyeopener on his legendary high school performance, what it's like at team practice, and his goals for this year.
Q: First off, how are you enjoying Ryerson?
Zubair: I'm really enjoying it. It was a bit of a transition from little Cambridge to the big city of Toronto. It's been really good to me.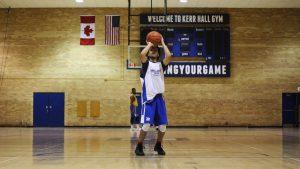 Q: What made Ryerson different from other universities when you were making your decision?
Zubair: Just everything about Ryerson. They've won the OUA championship two years in a row and I wanted to join. I could have gone to a little program and got as much playing time as I wanted to, but I wanted to be coached by the best; I wanted to be coached by [Roy] Rana. I also wanted to learn from other players, and I wanted to join a winning program and have a winning mentality.
Q: Speaking of mentality, a lot of people like talking about your 52-point game in the OFSAA final. What inspired that performance?
Zubair: We went into that game, St. Mikes was No. 2 and we were No. 1 at that point…We're down by 24 points with seven minutes to go in the fourth quarter and coach calls a timeout and says, "This is the last run, if you guys want an OFSAA championship."
And basically I put my head down and I prayed to God, "Please, help us, help me." I went on and scored 30 in the fourth quarter and I ended up hitting a free throw to put us up by one with 10 seconds left. Then there was a controversial call and looking back it wasn't a foul at all. The guy made the free throws with two seconds left and I missed a shot from three quarters court.
Q: That focus and determination, how do you think that'll help you here at Ryerson?
Zubair: Coach Rana always spends time talking about how you need to play with the most heart and the most hustle, stuff like that. And during that 52-point game I think I played with the most heart on the court. I'm around six-feet, five-foot-11, but I'm a different type of player in the fourth. And that's what I want to bring to Ryerson. Coach Rana told me to come in and play with as much heart as you can and that's the style of play that I have always preferred.

Q: In order to help the team, what parts of your game have you been developing in preparation for the season?
Zubair: I've been working on my body, putting on a few pounds of muscle in the weight room, eating good and I've also just been working on my defensive game as well.  We're going to be pressuring a lot of teams this season.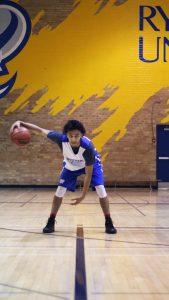 Q: There are seven rookies, including you. Has that made the transition easier, especially at practice?
Zubair: With the new players, it is obviously easier. At the beginning I was mostly talking to the rookies. We also have a new guy, [Tanor Ngom], a seven-foot-two player from Senegal. We've been pretty cool as well. And the practices have been good. At the beginning it was really challenging, I wasn't used to a coach being so upbeat….yelling all the time, but I think after the first week I got in the full swing of things, I was nervous at first and now I'm still a little bit nervous but I'm starting to get much better.
Q: What excites you most about the season? Individually, what are some of your goals?
Zubair: For this team, I'm a rookie so I have to find my way and I have to earn my minutes. But when I get on the court I'm just looking forward to finding guys, throwing alley-oops, scoring when I can and just have as much fun as I can because basketball is all about fun. And hopefully that will translate to winning an OUA championship and then nationals.