Reading Time:
2
minutes
By Noushin Ziafati
The Ryerson Students' Union (RSU) semi-annual general meeting (SAGM) is on Nov. 24 and some board members say they know very little about it.
The deadline for RSU members to submit general motions is on Nov. 10 at 5 p.m. The deadline to submit bylaw amendment motions for the SAGM was on Oct. 18 at 5 p.m.
RSU vice-president operations Ali Yousaf made a Facebook post on Oct. 19 stating that he was unaware of the deadline to submit bylaw amendment motions. He said he was in hospital, but before he was admitted he said he had a conversation with other RSU executives about how the RSU hadn't made a public call out for motion submissions.
"As an executive, I wasn't updated about the SAGM; and I'm sure a few of the board members didn't know about the SAGM deadline either. I found out this morning that the deadline to submit any by-laws amendments has already passed, and I find this extremely disappointing when everyone ran in the elections, promised that we would run a transparent office, but we have failed to do so," Yousaf wrote in the post.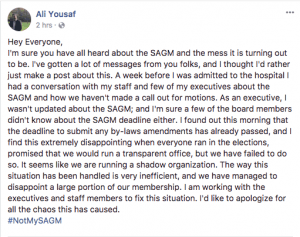 A similar Facebook post made by the Rhino Party, one of the four slates that ran in last year's elections, on Oct. 18 said that the SAGM was not advertised at all.
"Fun fact the RSU SAGM is on November 24th 2017. Also fun fact, apparently today at 5pm was the last day to submit by-law amendments. But how would any of us know that, when they didn't bother to advertise it at all," the post reads.
"Shoutout to those execs who would rather you don't know that students have the ability to make changes at the RSU without having to rely on the very people who didn't tell you about the deadline. You know who you are. So much for being different, huh. Same old RSU, same old story."
The post also mentions that if students want to check out the times for submitting motions and meetings themselves, that it's at the bottom of their meetings page on the RSU website.