Reading Time:
9
minutes
By Stefanie Phillips
Emily Wrigglesworth sits at a computer desk with her son Greyson on her lap. The 23-year-old quietly bounces him up and down on her knee while he chews on her right index finger. The six-month-old finds relief from the pressure of his mom's finger against his gums, where his first few teeth are pushing their way out into the world. The saliva from Greyson covers her hand and soaks into her clothes, but her finger keeps Greyson quiet for the time being. This is exactly what she needs, because she and her son are sitting in the middle of a crowded classroom.
The silence doesn't last for long. Greyson easily becomes excited by someone in the classroom and screams out, ah-ah, flapping his arms up and down. This is when Wrigglesworth notices one of her male classmates peering over at her from across the room. He squints his eyes in confusion, a look that would quickly become familiar in the next few weeks of the class. She focuses her attention back on the professor, who is asking a question she knows the answer to.
With her right hand securely around Greyson, Wrigglesworth lifts her left hand into the air and waits to be called on. She has been coming to the multimedia reporting class with Greyson by her side since the first week of fall semester. In the weeks since starting, she has quickly become used to the balancing act of one hand around Greyson and one hand in the air.
Wrigglesworth is part of a troop of hard-working student parents who have chosen to come back to school to ensure a better life for themselves and their families. Many of those students can't afford the cost of child care in Toronto or are burdened by the city's long wait lists for licensed places. In some cases, the cost and long waits have forced them to find alternative methods of care to the city's licensed programs or leave them with nothing at all.
Ontario has the highest child care fees in the country, with Toronto parents paying an average of over $20,000 a year for infant care, according to a 2015 study by the Canadian Centre for Policy Alternatives. That works out to be an average of $1,736 a month. For Wrigglesworth, that monthly price tag is worth an entire month's salary on maternity leave.
She can't help but feel a twinge of sadness rounding the corner onto Gould Street in a hurry to the library.
Wrigglesworth came back to school this year after deferring her degree back in 2014. Finally, she is just two classes away from completing her bachelor's degree in journalism at Ryerson University, which she has been working towards on-and-off since September 2011. This semester she is taking one three-hour journalism lab while on maternity leave from her job in property management. She admits her decision to come back to school was last-minute, unexpectedly leaving her with little time to find childcare for Greyson while she goes to class and does her assignments.
Her search for quality, affordable child care started in May 2017 when she enrolled in her fourth-year journalism class. She thought the search for care would be easy given the convenient location of the Early Learning Centre (ELC), a licensed service tucked away in Kerr Hall. She imagined Greyson to be among the other kids being pushed around in a stroller through the quad.
She thought wrong.
After a quick search, Wrigglesworth discovered that the ELC has a 12-to-15-month long wait list and only offers care for children aged 16 months to five years old. Knowing Greyson wouldn't get into the centre, Wrigglesworth continued looking for child care centres near her home in Toronto's east end and around the University until late August. From her search, all of the options were too far, too expensive, too "sketchy," had a long wait list or didn't provide care for infants younger than 14 months. She turned to family members, asking if they could care for Greyson during her class, but none of them could.
Desperate, she approached her professor and asked if she could bring Greyson to class. To her surprise, he said yes. "I don't know what would have happened if I got another professor that didn't like kids or if I was in a class that didn't lend itself to this," she says with a sigh of relief.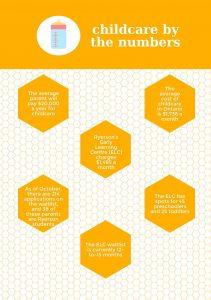 But accomodation is a different challenge for Christa Leeder, the ELC's program director. When she receives an application for care, there is usually no baby name associated with it. This is because most parents jump on the wait list at multiple centres before their baby is even born. The Centre gives priority to Ryerson faculty, staff and students over parents who are not part of the institution, and has enough resources to care for 65 children. There are spots for 40 preschoolers and 25 for toddlers.
As of October 2017, there are 214 applications sitting on the ELC wait list—three times the Centre's maximum capacity. The application form given to parents provides the option to indicate if the applicant is a student at Ryerson. Of the 214 applicants on the wait list, 38 indicated they are students.
Leeder says the long wait list has become a norm for the ELC and reflects wait lists in the city of Toronto.
Ryerson belongs to Ward 27, which has 21 licensed child care centres. Licensed centres are regulated and inspected by the province to guarantee the centres meet provincial stadards. All other services are classified as unlicensed or are home care services.
Every morning, Victoria Ingram and her two-year- old daughter Tahlia climb into their car outside their home near St. Clair Station. Ingram, 35, buckles Tahlia securely into her car seat, leaving her with some crackers to snack on during their drive to Ryerson. Ingram is a mature student, working through her second year of graduate school studying clinical child psychology. This year she was fortunate enough to score Tahlia a spot at the ELC.
They pull out of their driveway and head south toward the University stopping along the way at each red light on Mount Pleasant Road. Ingram slides a CD from Tahlia's weekly music class into the CD player and pushes play. "Old MacDonald" comes on through the car's speakers and the two bob their heads as they sing along to their favourite parts.
"E-I-E-I-O!" Tahlia shouts waving her crackers in the air.
Ingram drops Tahlia off at the ELC in the Kerr Hall Quad just after 10 a.m. Around this time, the other kids are usually on their morning walk around the quad with the Centre staff. Ingram says goodbye for the day with a hug.
"See you later, alligator!" She says letting go of her daughter's hand. Tahlia hasn't quite learned the "in a while crocodile" response but they're working on it.
The two-year-old grabs onto her teacher as Ingram runs off for the day to work on her thesis. She can't help but feel a twinge of sadness rounding the corner onto Gould Street in a hurry to the library.
Before landing a spot at the ELC, Ingram says she was on the centre's wait list for 10 months between October 2016 and August 2017.
"I'm very lucky," she says about getting a licensed spot at the centre and being able to afford it.
The ELC charges parents $1,927.10 a month for full-time toddler care and $1,485.42 a month for full-time preschool/ kindergarten care. The average of the two rates is $1,706.26, an amount that is over the average monthly price for toddlers and preschoolers in Toronto.
Ingram says the convenient location and quality of care at the ELC make it worth the high cost. It was her own advisor in the graduate psychology department who recommended she apply for a spot at the ELC and to do it as soon as possible.
The student-parent says she can't blame the ELC for their wait list problem. "I don't think [the wait list] is unacceptable given this is essentially the way it is all over Toronto. I do recognize that the staff there are doing their best to move children through the wait list but help must first come through the province."
She has quickly become used to the balancing act of one hand around Greyson and one hand in the air.
The Ontario government announced in June 2017 that they will be investing $1.6 billion over the next five years to create 45,000 new licensed child care centres in the province. Ryerson and the ELC have the opportunity to apply for funding to create some of those spots here in the Ryerson community. However, the University has not yet decided if they will be applying for more space. The deadline for applications is next month, on Nov. 30, 2017.
Marivic Victolero feels extremely lucky to have her son's grandmother take care of Xean while she studies, works and goes to class. Victolero, 21, knows the high price of child care in Toronto would be unaffordable for her student budget. The second- year biomedical science student says she has 24 hours of class each week, plus an additional 40 hours of weekly professor-recommended study time and a part-time job at the CF Toronto Eaton Centre.
Last year, four days before a midterm test, her two-year-old son Xean came down with a fever of 100 degrees F. In the days leading up to her physics midterm, Victolero gave Xean Infants Tylenol to bring down his fever but the pain kept him up through the nights crying uncontrollably. The night before her midterm, the Tylenol stopped working and Xean's fever reached nearly 102 degrees F. The two-year-old started throwing up all over Victolero and the bed they were sleeping in.
Victolero said she tried looking on Ryerson's academic accommodation website to see if Xean's illness counted as grounds for academic support. But found she didn't fit into any of the required categories. She said the site only showed access to accommodation on the basis of a physical, mental or religious needs.
Victolero said she didn't approach her physics professor individually because of the stigma against young mothers that casts judgement on them for choosing to be parents early on in life.
"I don't want people to ever look at me that way," she says about the judgment from others. "I want people to know that I am taking responsibility. What happened, and I'm doing the best I can."
Currently at Ryerson there is no institution-wide policy that addresses academic accommodation for students with children. The assistant director of Academic Accommodation and Learning at Ryerson said being a parent doesn't qualify a student for Academic Accommodation Support services because they do not consider being a parent a "disability."
At York University, the school has a policy for accommodating the family of York community members, including students, faculty and staff. The policy strives to give the caregiver an equal opportunity to succeed in their pursuit of education. York has two child care centres on campus with about 119 licensed child care spaces, ranging from infant care to 10 years old. According to their website, there is immediate availability for preschool, toddler and school-age children between the two services.
The University of Toronto (U of T) does not have any policies like York, but students, staff, faculty and postdoctoral fellows have access to the school's Family Care Office, a department dedicated to providing services and resources to families within the institution.
There are three on-campus child care services at the U of T-St. George campus with a total of 223 licensed child care spaces. Of the services, two of them provide infant care starting at six weeks old and all of them give priority to university students, faculty, staff and postdoctoral fellows. The website advises parents to apply for spots at multiple child care centres because of long wait list times.
For Wrigglesworth, that monthly price tag is worth an entire month's salary on maternity leave.
For all three women—Victolero, Ingram and Wrigglesworth—balancing school and parenthood has its challenges. But for all of them, educational support in the University has come directly from faculty members within their departments, not from the school itself.
As a new mom, Wrigglesworth is getting through her course as best as she can but admits finding the time to do assignments is extremely difficult. "A bachelor's degree is the new high school diploma," she says. "[I] need it to get any job, anywhere. So it's kind of out of necessity."
The day before a recent assignment deadline, Greyson went the entire day needing to be coddled by his mother. When Wrigglesworth put him down in his play pen so she could transcribe an interview
Greyson let out an endless, deafening scream. She tried to let him cry it out, but the screams only got louder. She tried feeding him but he wasn't hungry. She tried changing him but he wasn't dirty. She tried putting him to sleep but he wasn't tired.
Everything she tried just wasn't working. "I was totally stressed throughout the assignment," she says.
She got an email from one of her sources telling her to call within the hour but every time she put Greyson down to pick up the phone, his screams rang even louder. When her partner got home, he took Greyson from Wrigglesworth, but even the arms of his father weren't enough to stop the newborn from crying for his mother's attention.
Eventually, Wrigglesworth decided to hand in the assignment a day late with only half of the requirements done. But this student-parent says she is still determined to finish the class and get her degree next spring.
"I've invested this time and money," she says. "I started this so I will finish it."