Reading Time:
4
minutes
By Alice Yao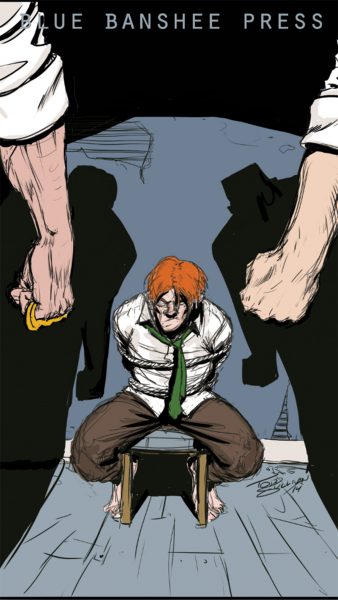 Not quite strict detective fiction, not quite horror, Malcolm Derikx (Miike), Todd Sullivan, and Ryerson grad Michelle Hong of Blue Banshee Press have created their own genre with the Prohibition-era comic, Tommy Gun Banshee.
This collection of three short stories follows The Tommy Gun Banshee, a notorious hit-man haunted by the wailing spirit of a beautiful woman, as he embarks on wild and supernatural adventures.
Malcolm and Todd met some years ago in a Comic Book Bootcamp run by Canadian comic book artist and writer Ty Templeton and gelled instantly. Together with Michelle, a graduate of Ryerson's Early Childhood Education program, the trio forms Blue Banshee Press.
"I'm a big fan of old gangster films and that whole Prohibition era. Me and Todd met up in a class and had a common interest in this style. We wanted to write characters that were ambitious and a little rough around the edges so we felt like it would be a good fit and went from there," Malcolm said.
After seeing Malcolm's panels for what would become their story, "What the Doctor Ordered", Todd knew this was a project he wanted to work on.
"[Malcolm] was a writer that would do doodles for drawing and I'm an artist that would do doodles for writing, so it was nice for me to meet someone that could write and for him it was nice to meet someone that could do the artwork."
Set in Prohibition-era Toronto, Tommy Gun Banshee reminds local and global readers that Canadian history is cooler than they're led to believe.
"It's based in Toronto because a lot of people don't realize that Canada had prohibition. We had it first and we actually had it for longer. The only difference was that we could still make it, we just couldn't sell it. You could get it if you had a doctor's note, which one of the stories in here describes," said Todd.
The misadventures of Tommy Gun Banshee also illuminate the fair share of gangster problems Canada faced in the 1920s.
"It was kind of glossed over because American gangsters were flashier and they had the movies, but we had criminals and gangster activity happening here too," said Todd.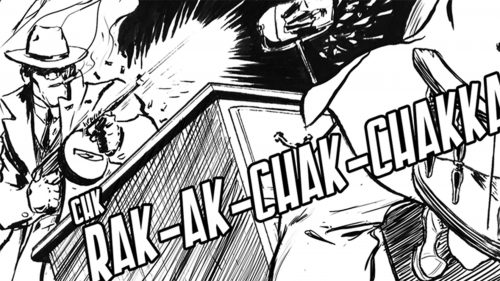 The duo drew inspiration from a variety of sources including gumshoe detective fiction, original horror such as The Mummy and Frankenstein, as well as folklore during the making of Tommy Gun Banshee.
Malcolm and Todd's singular vision and style led them to jumpstart Blue Banshee Press, their own indie-comics publishing house in Toronto.
"We just have these ideas we wanted to tell our way, so we're a little hesitant to give it to someone else who might want to change it. So Blue Banshee is us trying to tell our own stories in our own particular aesthetic," Malcolm explained.
Tommy Gun Banshee is Blue Banshee Press' first publication, but set for release in 2018 is Wytches of Rupert, a coming of age adventure story taking place in Canada's historic Rupert's Land (the main site of The Hudson's Bay Company during the Fur Trade).
"We love the Canadian landscape. We're going to be doing a lot of research into the territory and make it look nice with a Canadian aesthetic to it," Malcolm said.
"The landscape itself is as much a character as the human characters," Todd added.
Unlike Tommy Gun's local Toronto landscape, Wytches of Rupert will venture further into the great Canadian north, offering readers a unique taste of Canadian mythology and landscape.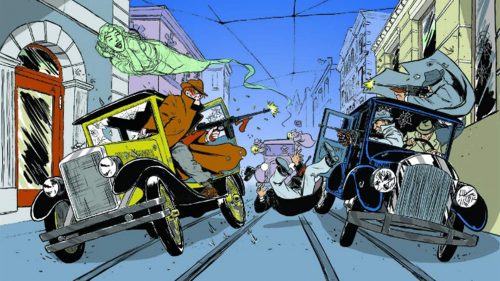 The Blue Banshee team has big dreams for the publication, and Malcolm and Todd are hoping to make it a full-time career. However, they're progressing with cautious steps to ensure they stay true to their vision.
"Eventually, it would be great if we could hire other artists and other writers, but we don't mind starting slow."
On October 25th, the team launched a month long Kickstarter to help fund the next issue of Tommy Gun, and at halfway through, they've nearly reached their goal.
The campaign is packed full of enticing pledge rewards, including a custom roaring 20s style mug-shot as well as your very own cameo in the second issue.
"It's crazy, we keep getting people who back us for ridiculous amounts of money, and it's really flattering to have that kind of faith put in you by someone else," said Malcolm.