Reading Time:
3
minutes
By Dania Ali
"In order for reconciliation to truly work, we must first reconcile the truth within us. This is necessary in order to recognize the veil of denial, intolerance, anger and hurt," said Elder Joanne Dallaire at last week's ceremony where the community consultation report was released.
The report, titled "Truth and Reconciliation at Ryerson University: Building a New Foundation for Generations to Come," had been in the making since 2015. The report included consultations between Ryerson vice-president equity and community inclusion, Denise O'Neil Green, Dallaire and the Ryerson community.
O'Neil Green outlined six themes that were part of the larger 15 goal report, which contains recommendations to improve inclusivity at Ryerson and were suggested by the Indigenous community. This included developing and implementing a strategic vision to "Indigenize" Ryerson, by changing teaching and learning processes, to deepen engagements and establish partnerships with the local community and to increase Indigenous visibility at Ryerson.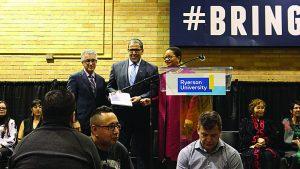 "Events like this bring our community together, and what's extremely important about it is that it helps us to indicate that it is a shared responsibility. It is not just left up to the president and the provost, but left up to everyone to share and take their part in this endeavour," O'Neil added.
Ryerson's president and provost accepted the report on behalf of the larger Ryerson community. They outlined their own plans, saying they would be "implemented immediately." The seven key initiatives included providing more awards and scholarship funding for Indigenous students and doubling the number of Indigenous faculty at Ryerson.
"Ryerson has what it takes to make a difference," said Ryerson President Mohamed Lachemi. "We must change Ryerson's culture. Each student, faculty member and instructor must make their own commitment to reconcile."
Michael Benarroch, provost and vice-president academic, talked about the next steps, where a working group will be formed to develop an action plan based on the report. The actual actions should be ready by June 2019.
During the ceremony, the new historical context of the Egerton Ryerson statue was unveiled.
"I thought that the pain and trauma of my ancestors was being silenced," said Danielle Sinclair, an Anishinaabe graduate of the social work program on seeing the statue of Egerton Ryerson,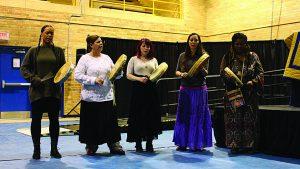 "There are bodies, spirits and voices who are not safe in these spaces, and until we can address that we cannot truly say that we are on a path for reconciliation," said Sinclair.
Sinclair was alongside Sarah Dennis, an Anishinaabe student and a second-year studying social work. She felt the ceremony meant that, "there is a possibility that this institution will help create a culture of freedom that is real about not maintaining the status quo."
"I came to know that I am not alone, nor have I ever been alone. In reaching out and speaking my truth, I was shown that strong Indigenous spirits have been moving mountains in this place long before I got here," said Sinclair.
"What Indigenous people want is what everyone needs, and that is to connect, to love and to support. You can't ever give up on that," said Dallaire.
"This is one of many steps forward, but it is a big one."