Reading Time:
5
minutes
By Libaan Osman
These days, everybody calls him Cabbie.
But before he was on television screens across Canada, interviewing sports legends like Kobe Bryant, Wayne Gretzky and Michael Jordan, he was just Cabral Richards, and he came very close to staying that way.
Growing up in Cambridge, Ont., Richards wasn't particularly interested in becoming a well-known personality, but at a very young age, he fell in love with acting. Vividly, he recalls making home videos with his friends while his parents were away. But it wasn't until Grade 10, at the Galt Collegiate Institute when he realized acting could lead to a legitimate career.
In his final year of high school, Richards figured it would be smart to gain a background in production if he wanted to become an actor some day. That's when he heard about Ryerson.
"A guidance counsellor said to me, 'Hey, you should think about Ryerson. They have a really good TV program,'" says Richards, 40, who now works as a host for TSN.
After doing some online research, Richards decided to take the counsellor's word, and he applied to the Radio and Television Art's program (RTA).
At Ryerson, he realized just how prestigious the RTA program was. In his first year, he studied radio and audio; in his second year, television production; and in his third year, Richards specialized in writing documentaries and TV segments.
He couldn't have been happier to take his counsellor's advice.
Even though he loved the televisual aspect of his studies, Richards was less enthusiastic about the electives and add-ons he needed to continue his degree. He took microeconomics, macroeconomics, and other similar classes.
"Nothing excited me," he said.
After three years in RTA, Richards failed English, so Robert Gardner, the school's chair, asked him to take a semester off. He thought it would be for the best.
"I was like, 'Alright," he shrugs.
When Richards attempted to return a semester later, Gardner told him to take some more time and to come back in the fall. But it was too late for Richards. He never came back.
Which makes where he's at now even more impressive.
Though he admits he wasn't the best university student, Richards found a way to make a name for himself during his time away from school, interviewing sports figures in a light-hearted way. "Cabbie" cared less about goals and assists than he did about player's personalities, and he's become known for establishing rapport through his exuberant interview style.
In July 2001, he successfully pitched his own show to Headline Sports, a network which soon became known as theScore. Cabbie on the Street would feature its star interviewing people and professional athletes in five-minute segments that would air right before midnight. "It wasn't a glamorous spot in the programming grid," Richards says. "Whoever is up this late is gonna see something that's kind of weird."
He worked for free at that point, but Richards was doing something he unexpectedly fell in love with; he was OK with his acting dream taking a backseat.
"I felt accomplished," he says. "I was just someone that looked a lot different than your traditional sportscaster. I wore T-shirts and baseball caps, and I spoke the way that I speak."
A classmate, Steph Gagnon, had given Richards a heads up about an internship opportunity at theScore. One day, Gagnon approached Richards at school and practically demanded he apply that instant.
***
Richards didn't have many credentials on his resumé, but he credits getting his big break due to his status as a Ryerson student.
Gagnon now works at the Rogers Centre, and Richards is always sure to thank him for giving him the push he needed.
"Every time I see him, I'm like, you're the reason I'm here going to interview José Bautista," Richards says. "I need to take [Steph] out to a nice, adult dinner with a big-ass steak, whisky, and just tell some stories."
Now, nearly two decades after Ryerson, Richards hasn't been in contact with any professors, but distinctly remembers one teacher, Denis McGrath.
McGrath, who passed away last March, was Richards' writing instructor, as well as a producer and screenwriter who won the Canadian Screen Award for Best Dramatic Writing for his series, Across the River to Motor City.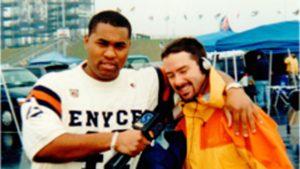 "He was funny, and then we could go off and talk about Quentin Tarantino movies," Richards recalls. "That just made it a lot more fun and engaging for me specifically."
During his second year at Ryerson, Richards found a group of like-minded individuals he'd soon consider lifelong friends. They called themselves the "Hard Eight," and members included Saving Hope actor Husein Madhavji and Adnan Virk, a future colleague at theScore who's now an anchor at ESPN.
The group would hang out until two or three in the morning, Virk remembers.
When Richards got his first gig with theScore, Virk was ecstatic. "I remember when he and I were hugging and were like, 'Dude, we're 19 years old and we're gonna have a job in the industry," Virk says.
Richards spoke at Virk's wedding. "If ever anything happened to me, he's one of the first people I'll call," Virk says. "There's nobody else you'd rather have in the room."
"I had no idea I was gonna meet these guys, and I'm so happy I did," Richards says.
"I was just someone that looked a lot different than your traditional sportscaster. I wore T-shirts and baseball caps and spoke the way I speak"
While the Hard Eight members made names for themselves, Richards did too. On theScore, his light-hearted interviews with Michael Jordan, Mike Tyson, Kobe Bryant, and Sidney Crosby made him a fan favourite.
"I was there with my antics, being a knucklehead, but people got to hear what Sidney Crosby's laugh sounds like," he said.
Richards found his niche going against the common sports interview tropes, and athletes responded to his fresh approach. Getting notoriously steely players like Bryant to open up isn't easy. It's safe to say that Richards is now one of, if not the most, prominent sports interviewers in Canada.
In 2011, Richards jumped to CTV as a "special correspondent," but he currently works at TSN, where he hosts and produces his own show Cabbie Presents. He still works with many of the people who were there in the early days, when he did it all for free.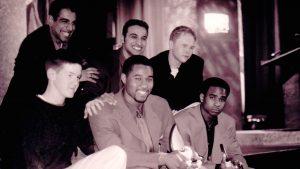 Though he's proven to be one of the best at interviewing athletes, Richards hopes to step out a bit more and make a name for himself in areas other than sports. He looks up to late night hosts like Jimmy Kimmel, James Corden, Stephen Colbert and Trevor Noah for their ability to constantly improve their content, adapt, and learn from one another.
"I wanna be a legend," Richards says. "I wanna create videos that resonate in the culture like those guys."
Richards has gotten to this point in his career through a combination of luck and endless hard work. His advice? "Try to make videos on your own. They're gonna suck at first, and they may only get 100 views, but you just gotta stick with it and get your reps in."
He's grateful to have the chance to do what he's always wanted to do.
"At some point it's gonna be over," he says. "I'm still doing a dream job. You gotta keep that perspective."