Reading Time:
2
minutes
Ryerson breakdancers talk about how they've made the desolate hallways of Kerr Hall their rehearsal space and a breakdancing haven.
By Adrian Bueno
For Ryerson B-girl Tiffany Truong* the worst part of Kerr Hall is how uncomfortable the floors are.
"It's so painful," says Troung. "[It's] the worst floor in the world."
But Truong and other dancers comes back to the surface of the second floor of the west side, right in front of the gymnasium every week to work on their flow. The entire hallway echoes with the rhythm of thumping beats.
Despite dealing with the painful surfaces, constantly having to relocate in the winter time due to dirtier floors and the constant presence of passer-bys disrupting dance flow, Ryerson's b-boys and b-girls calling this hall their home for busting moves. 
"If you want to see b-boys in their natural habitat, you head to Kerr Hall West. You can see the top breakdancers in Toronto," said Eric Tran, a fourth-year Human Resources student who break dances in his free time.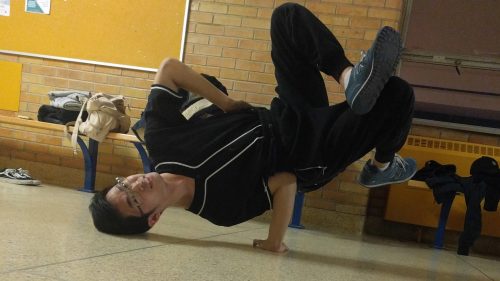 Breakdancing, originally known as b-boying, features dancers known as b-boys or b-girls. The athletic street dance is one of the four original elements of hip-hop and is described as the "kinetic counterpart" to the other elements – DJing, MCing and graffiti.
"B-boys usually start out in middle school or high school, so the hallway area is more in touch with what we began with. We're familiar with it, so it's one of the most ideal spots," said Tran.
Romeo Viltard, a former professional b-boy from France, heard about the spot from other dancers who used to practice in the same hallways.
"I used to practice in a spot like this. Here, there's no BS. It's always open, music playing, and there's lots of b-boys. It's a good spot," said Viltard.
Practicing in  public spaces, like the hallways of a university, is also rooted in b-boy identity according to Tran.
"Back in the day, when dancing wasn't accessible, people would actually practice on concrete. B-boying came out of poverty, so people could really only do it out in the streets," said Tran.
Ryusei Kimura, a Ryerson B-boy of Japanese origin, says he found the spot after another international student invited him there. While also being a convenient location, Kimura says the sessions which expose him to other students, also helps him improve his english. By word of mouth, more international students find out about the spot, and the hallway practice sessions become a place for students from all communities to bond over a common activity.
Most importantly, for many of the dancers, the practice sessions in Kerr Hall provide an escape from the stresses of school and work life.
"Once you get down on the floor, it's a great balance of physical and mental release," said Tran.
*Last name has been changed to protect identity.